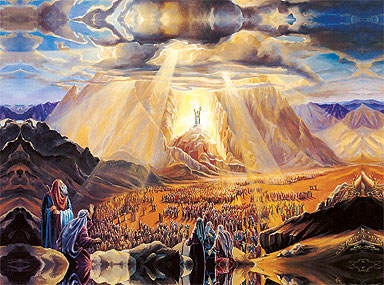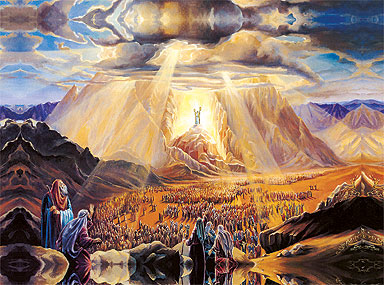 ROCK ISLAND, IL
This is the second of a two-part post on Owen Barfield. See part one here.
[Note: In an appendix I respond briefly to comments from last week's essay.]
For you biblical scholars and theologians, a brief word in these grossly attenuated notes on Owen Barfield about the implications he saw for inspiration and revelation. [7]
A willing suspension of disbelief for the moment might help us to imagine in the gaps here an argument that takes us from the world of St. John the Evangelist, for whom no chasm yawned between "wind" and "spirit," to our own, in which there yawns what seems an unbridgeable chasm; such an argument (we may imagine) concludes that, historically, two types of revelation are possible, one that necessarily comes from without (when there was no felt alienation between mind and matter) and another that necessarily comes from within (when there is nothing but this felt alienation). Those who will countenance no talk of revelation—for they themselves of course have no metaphysics—will tell you that 'revelation,' if we must use this word, obviously comes from within and has always come from within, and they posit something like the 'animistic projection theory' that has proven so mischievous for unsuspecting and vulnerable anthropologists. Our forbears, thinking themselves to have been visited by a transpersonal agent, so the theory goes, were really projecting onto the sun, or the moon, or the wind, their own mistaken notions of a deity, which they invented to explain the phenomena to themselves. But if we can put aside for the moment this untutored and unreflective appropriation of the past, recognizing it for what it is—the old Cartesian arrogance and ignorance of calling what is earlier false and what is later true—and if we can keep in mind that the world is not, that it cannot be, structurally different from what we think about it, then we can save for ourselves a concept of revelation that takes into account both earlier and later modes of consciousness, and the evolution thereof, and (having imagined a sound argument actually inhabiting the gaps here) we can begin to affirm that "there was a time when mere perception itself"—the perception not of things but of images—"contained an element of disclosure" ("CR" 235), and that such a time starkly contrasts our own, when there is no disclosure in perception, only idolatry. All this follows, I think, if "human consciousness itself has been evolving in a direction that entailed transformation of the old kind of revelation (from without) into the new (from within)" ("CR" 229).
Coleridge, who taught this to Barfield, put it thus: inspiration means, in one sense, "Information miraculously communicated by voice or vision," and in another sense, the use a writer makes, "without any sensible addition or infusion," of "his existing gifts of power and knowledge under the predisposing, aiding, and directing of God's Holy Spirit" ("CR" 233; and Coleridge, by the way, considered most of the Bible to be of the latter sort). Put another way, "two different kinds of disclosure are possible, one by communication and the other by inspiration" ("CR" 233)—one from without and one from within. Inspiration, formerly (and etymologically) 'a blowing into,' necessarily came from without, even as now, for us who are alienated, inspiration wells up from within. Long ago a great poet was said to have a genius; today he is said to be one. The trick is to bear in mind that within and without "do not stand for a spatial antithesis, but contrast the immaterial and the material, the perceptible and the imperceptible." Barfield held that "all the evidence proclaims that the older modes of revelation did in fact occur from without, through a phenomenal medium. For what is revelation," he asked, "if it is not a macrocosm imparting knowledge of itself to the microcosm? Either it is theophany, or there never is nor ever was any such thing as revelation" ("CR" 229).
Back of this—and I have space to mention it only in passing—is Barfield's contention that meaning, ultimately, is "given." The burden of Poetic Diction, or much of it anyway, was to show that as Bacon (of all people) said, such putatively metaphorical relations as "wind" and "spirit" are not "only similitudes, as men of narrow observation may conceive them to be, but the same footsteps of nature, treading or printing upon several subjects or matters" (PD 86). Such similitudes are not what Shelley called them—the before-unapprehended relations that poets invent; rather, they are the prior relations that poets restore. "Primary meanings," as Barfield called these similitudes, are not, or were not originally, a human creation but "were given, as it were, by Nature, but the very condition of their being given was that they could not at the same time be apprehended in full consciousness; they could not be known, but only experienced, or lived. At this time, therefore"—Barfield is referring here to what he called the "myth-thinking" stage of human history—"individuals cannot be said to have been responsible for the production of poetic values. Not man was creating, but the gods—or, in psychological jargon, his 'unconscious.'" Metaphor, Barfield said, is "a real creation of the individual—though, insofar as it is true, it is only re-creating, registering as thought, one of those eternal facts which may already have been experienced in perception" (PD 102-03). Elsewhere he said that such 'eternal facts' are meanings that come down to us as words at first comprised of both a tenor and a vehicle; the tenor and vehicle, in the course of the evolution of consciousness, divide into separate constituent parts, one semantic and the other lexical or grammatical. [8]
This is a grossly attenuated account of Barfield's claims, I know. But, again (constraints of space being what they are), this is only a reminder from Owen Barfield—and perhaps an attempt to resuscitate an interest in his work.
For it is Barfield's contention that revelation, if it is to mean anything at all, must indeed accord with the facts of evolution—with the facts of the evolution of consciousness, that is. To know them, we must study evolution from within, not from without, and to do that we must be able to read the 'fossil record' left to us not in the earth but in language. What we will discover is that consciousness, far from being a little piece stuck on to the rest of the world, is in fact the inside of the whole world. And this inside is precisely what the metaphysics of the current cosmology bracket off from all inquiry and so ignore.
II
I should mention one way Barfield anticipated some of the objections that naturally arise when our common sense has been challenged in this manner: the planes fly. The bombs explode. Our extraordinary ability to control, to manipulate, and to predict nature tells us that Thomas Paine was right and that Dante was wrong.
Forgive me for moving so quickly here, but we have only to look at what the control of nature has done to nature to see that our knowledge is seriously flawed. Barfield, for his part, called such knowledge "dash-board" knowledge. By pulling levers and pushing buttons and pedals, we have learned how to make the 'automobile' of nature slow down and speed up. But dash-board knowledge is knowledge for the sake of manipulation only and is no guarantee against a crash.
In fact Barfield feared a crash inevitable: "No doubt the experience of the outside world as something 'which goes on by itself,' and appears to have lost all connection with human imagination," Barfield wrote in his preface to Poetic Diction, "was burnt into many modern poets by the combined violence and passivity of trench warfare; and today the objectized nothing, which scientism supposes at the base of the phenomenal world, is taking shape as the spectre of nuclear fission and scientific warfare on a world-wide scale. . . . [I]t is no part of my case that push-and-pull empiricism is weak or ineffectual," Barfield said, "only that it is, like other giants, ignorant." Then, in one of his most poignant sentences—and bear in mind his claim that the world is not structurally different from what we think about it—Barfield said this: "The possibility of man's avoiding self-destruction depends on his realizing before it is too late that what he let loose over Hiroshima, after fiddling with its exterior for three centuries like a mechanical toy, was the forces of his own unconscious mind" (PD 36)—not, or not only, the bits and pieces that putatively comprise the "outer" world.
There was often some such warning vibrating beneath the surface of Barfield's books. Because of course there has been much done in all the fields Barfield criticized, especially in the field of cognition and the study of brain states, I will add this warning. It is the last sentence of "The Coming Trauma of Materialism," the essay to which I referred in the previous post: "we should do well to reflect that the presence among us of a powerful impulse no longer to deny the spirit but to impound it, or rather no longer to doubt it but to deny it—to materialize as it were the immaterial itself, or in other words to turn from theoretical to practical reductionism, may be pregnant with the gravest possible consequences for humanity as a whole" (RM 200). He was anticipating, of course, the reduction of consciousness to chemical reactions in the brain.
III
What exactly have I done in these two essays besides break the sound barrier? I have sketched the main features of Owen Barfield's dissent from science and highlighted especially his attempts to point out the hidden metaphysics of all enterprises predicated on the Cartesian assumption. I have also sketched something of what he put in its place, namely, an account of things that (1) implicates the perceiver, (2) saves older modes of consciousness, and (3) considers the implications of the foregoing for inspiration and revelation. I hope I have also enlarged a readership for Barfield. I believe (obviously) that he is worth knowing. And, of course, I have implied something that bears significantly, I think, upon The Porch. We all have some stake in what the university in the twenty-first century ought to be doing: I have implied that universities have secured, and continue zealously to secure, freedom for science to proceed on the basis of its own faith claims.
Why, therefore, should universities cease zealously to secure freedom for other disciplines to proceed on the basis of theirs—especially those disciplines that don't lie, or that try not to lie, about their metaphysics?
______________________
7 I cite one essay in particular, "The Concept of Revelation" (Anglican Theological Review 63:3 [July 1981], 229-239; hereafter, "CR") and refer readers to another, "Philology and the Incarnation" (in RM).
8 See "The Meaning of 'Literal'" in RM. This essay clarifies, in terms different from those used in the early work, Poetic Diction, the "given" (as opposed to what we would now call conventional) nature of meaning.
Appendix
I think it needs saying for the sake of Barfield's honor that Barfield (whom I knew and on whom I wrote a Ph.D. thesis) is unlikely to have supped with those who hold that all things are socially constructed—all things except, of course, the immutable and unassailable doctrine that all things are socially constructed, which alone came down from the mountain with Moses. The people engaged in that horseshit are not in any meaningful way attempting to solve one of the most important problems in the post-epistemological era—namely, the problem of getting the subject and the object back together, which you have to do if, for example, you want to do physics or philosophy or anything else credibly.
If you are uninterested in the relationship between the knower and the known, then you are also, ultimately, uninterested in knowing. If your description of that relationship is nothing more than the publicly permitted clap-trap about an unalterable objective reality that exists independent of thought, then you're simply not addressing the problem.
Thomas Paine, whom I mentioned in the first essay, is a good case in point. A kind of proto-STEM advocate, he announced that there was no reason to study ancient languages and in doing so cut himself off from all that such a study could have taught him about the evolution of consciousness, which in turn could have tutored him (as it did Emerson to some degree, though imperfectly) on the relation of subject to object. The result was the usual blather: Paine said that the vast machinery of the universe goes on independent of thought and that we have no other choice but to conform our thoughts to it. This is a metaphysical assumption that–as Barfield spent a lifetime attempting to show–doesn't hold up under scrutiny.
(I agree with Caryl Johnston, who notes the importance of "original" and "final" participation to understanding Barfield's efforts in this vein. It simply wasn't my point in the previous essay to explain what it means on Barfield's account to "participate the phenomena" in very different ways at different moments in human history.)
I would therefore suggest this to anyone who wants to pronounce upon the nature of things: learn what Coleridge meant by "primary" and "secondary" imagination. In speaking of that "esemplastic power" or "shaping spirit of imagination," Coleridge provided what might be the most important response to the Lockean notion of mind (inside which almost everyone is locked up unawares); Barfield was working right out of Coleridge in his attempt to trick out the implications of active–not merely passive–human perception, one implication of which I stated in the first essay: that the world we perceive "is not something unshakably and unalterably given, but is largely the product of the way we collectively and subconsciously think. It is correlative to our mental habit" (History, Guilt, and Habit 71). In this regard "shaping spirit of imagination" is no ornament of discourse. The imagination for Barfield, as for Coleridge, is the "prime agent of human perception"; it takes a world that is without form, and void, and presents it to us as the "familiar face of nature." How this happens is sometimes possible for us to grasp; keeping it present to our minds is more difficult, for, said Barfield, we are all smeared with what he called the Residue of Unresolved Positivism (or RUP for short).
You will note that on this account no one is denying an "outer world," only an outer world in the ordering and making of which we are not implicated. The name for this account is "objective idealism," which Barfield shared with the Austrian philosopher and anthroposophist Rudolf Steiner.
I think those who can't understand what Wordsworth meant by a world that we "half perceive and half create" are doomed to view Romanticism not for what it was (and is), namely, the last great stand against the tyranny of modern science, but as so much "spilt religion" that produced a lot of incomprehensible and irrelevant nature poetry. And they probably need a few nocturnal visitations from William Blake, who saw through, not with, his eye.