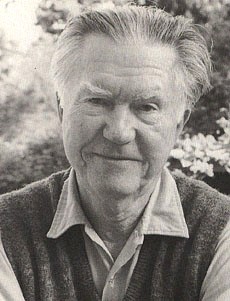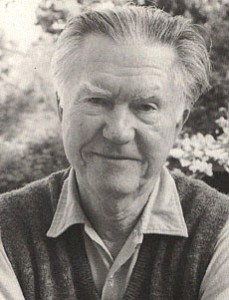 Rock Island, IL
The poet and pacifist William Stafford was a Kansan, later an Oregonian, who knew something about the culture of the soil. He worked the fields through the depression to supplement his family's income and did alternative service during the second world war in forestry and soil conservation.
He was a quotidian poet, strictly speaking, precise and exacting, who came to public notice fairly late in life: he was almost fifty when he won the National Book Award for Travelling Through the Dark, the title track poem from which remains one of his most well-known works. His friend, Robert Bly, still making the circuit, is fond of reciting Stafford's poem "A Ritual to Read to Each Other," in which we encounter these fine lines:
If you don't know the kind of person I am
and I don't know the kind of person you are
a pattern that others made may prevail in the world
and following the wrong god home we may miss our star.
It is difficult not to credit the point: that only intimate knowledge of one another and lives built to scale can fend off "a pattern that others have made" and prevent it from "prevail[ing] in the world." When such patterns prevail we are plenty likely to pledge fealty to the wrong deity.
(I say 'difficult not to credit the point,' not impossible. Allowing the point is not the same as declaring the defense unassailable.)
Long an admirer of Stafford, I have never got round to making a comprehensive study of his work, which perhaps is just as well. I have always been drawn to his poems not as the bold critic who murders to dissect but as the timid admirer who approaches to adore. Were I to meet a tenured Stafford Explainer, I'm sure I would run away as quickly as possible, though I would certainly like to understand as well as appreciate this fine poet.
Some years ago a friend of mine with roots in the heartland (and with whom I would later visit the Flint Hills of Kansas) directed my attention to Stafford's poem "A Certain Bend"; it is a poem I have admired ever since and returned to often. It begins thus:
A certain bend in the road, swayed willows
beyond a fence, and a flat farmyard
waiting—we come around and that instant
freezes: years later I remember.
Why? Why did a lifetime pass, two wars,
a family move and scatter, the country
skid where it is—and only now
that scene return?
It's a deft move on Stafford's part to juxtapose the "waiting" farm scene with the skidding country that has suffered two wars. And how else but by asking "why?" would the speaker—after the passing of "a lifetime"—react to the sudden surprise "return" of that scene? I love how the return arrests and unsettles him, makes him stop, collect himself:
I put my teacup
down here to hold it all steady. Was that
the day I became the person I am?
Father, you should have held my face
in your hands and stared into my eyes. That farmyard
or one like it could be ours, in Kansas, or
Alaska, or anywhere. You would be there
now, I would hold out my hand
for whatever came, and the willows would bend
still in that picture we saw that day.
"Anywhere" does not, I think, suggest indifference to location. The point is that the speaker would have his father "there / now," be it in Kansas or Alaska—would have him, and others too, rather than admit of a family moved and scattered because of the wars. He who has known penury would hold out his hand "for whatever came"—if only all could be unmoved and unscattered, if only all could be restored.
And note the three pairs of successive accented syllables: "two wars," "there / now," and "bend / still." The second answers the first—and judges it—and the third could answer the previous two if only there were a farm in Kansas or Alaska from which to give an answer. But there isn't, for no one took the speaker's face in hand.
And notice that "bend" has been moved. It qualifies not the road, as in line one, not the way there, but the swaying willows, which are there, bending, adjusting, accommodating whatever comes.
So one certain bend gives way to another, and "still" carries its usual double sense, recapitulating the speaker's motionless arrest and suggesting what might have abided still, had a certain pair of hands held a certain face—and had two sets of eyes met in a certain decisive way.
But they didn't, and the heart nearly cracks to think on it.
"A Certain Bend" argues in its way for 'a ritual to read to each other.' Here's how that poem ends:
For it is important that awake people be awake,
or a breaking line may discourage them back to sleep;
the signals we give—yes or no, or maybe—
should be clear: the darkness around us is deep.