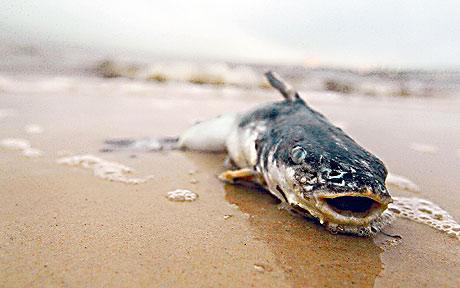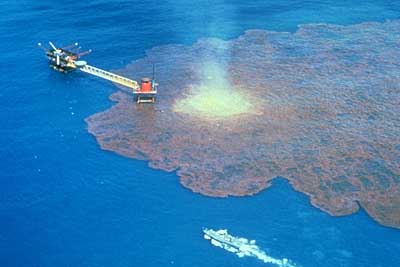 Rock Island, IL
The top headline in our local paper on Mother's Day (which, by the way, is poor excuse for picking a man's pocket, but that's grist for another mill) was "Containment Fails." It referred, of course, to that little problem down in our Topsoil Collection Basin once known as the Gulf of Mexico.
Later that morning, walking to St. George, Inc. (another poor excuse, it often seems to me, for picking a man's pocket), I was passed by a shiny new Chevy pick-up truck sporting a "Palin 2012" sticker.
It is difficult to keep the headline and the bumper sticker separate, for containment may continue to fail if the candidate from the school of "drill-baby-drill" gets a berth in our next electoral charade.
Which is only to say that things could be worse. Not different, mind you, but worse, for it turns out that on our political landscape the difference between an elephant and a donkey—so far as energy is concerned—is a difference (if difference there be) of degree, not kind. The pachydermic Proboscidae and jackassic Perissodactyla are standing on our southern shores and looking at the most recent oil disaster as a technological rather than as a moral problem.
There is neither trumpeting from the former nor braying from the latter about how we shouldn't be drilling offshore in the first place. There are only mixed noises about being more careful and better prepared should such an unfortunate technological malfunction (somewhat akin to a wardrobe malfunction) ever happen again. Hypermobility, long-distance exchange of goods, orange juice in the cold Fargo winters—these, as our former Vice President said, are non-negotiable.
But what we are staring at off our southern shore is most assuredly a moral rather than a technological problem. It is a moral problem because we have presumed upon the earth to provide for us a standard of living no one deserves or is entitled to, a standard that has quite obviously been acquired on the credit cards of the unborn. It is a standard that is nothing less than a sickness unto death.
That we would use a steam shovel to pick up a dime, as Wendell Berry said long ago, was only the earliest indication that we have no idea what energy is for, except to issue us exemptions from our natural condition, which is to work. Having so used the steam shovel and all our other oil-fed labor-saving devices, which don't really save labor so much as evict laborers, we find ourselves with an apparently flummoxing unemployment problem. What is more, we're fat in an age of hunger and lazy in an age of ambition. We have exercise and weight-loss "industries" and aren't in the least bit embarrassed by their proliferation. We apparently aren't at all troubled by the fact that coal-powered electricity runs our elliptical machines and stair-climbers. We are perfectly reconciled to the moving sidewalks of the world of George Jetson, whose wife flexes no other muscle than her tongue but somehow still manages to have an eighteen-inch waist.
I often ask students, whom I frequently see motoring past me to the drug store just up the road from campus, "you can't walk two blocks for your birth control?"
Control is obviously at the heart of our recent technological malfunction down in the gulf. We presume everywhere to have control—and everywhere we are had by it. We would master that which in the end we are mastered by. We would squeeze every last drop of ancient sunlight out of the earth to preserve our supposed freedom from the limits of place, only to find ourselves severely limited—and in some cases poisoned—by our place. If in our pursuit of such control we destroy an ecosystem and the livelihoods of those who live in it, we'll call it a trade-off rather than a cost and look for the next place to drill, baby, drill—armed, of course, with better ways of containing the unintended consequences that eventuate when control proves once again to be illusory.
But then control is always illusory. Consider how little control we have over the one thing without which we are pretty much helpless. I mean cheap readily available oil. Most of the world's available but rapidly diminishing oil is owned by people who don't like us. Our relation to them is precisely that of junkie to pusher, and, as is always the case in such a relationship, amicability depends upon the ability of the one who has no control—that is, the junkie—to pay. Once he runs out of cash, desperation sets in, and the corpses start piling up.
We're drawing ever-nearer that pathetic state of affairs in which, as Patrick Deneen has noted, we have to pick through the ash trays for a butt that has a little smoke left in it—either that, or suffer the DTs. This, I think, is no unapt emblem of what we're witnessing in the gulf. We're scrounging the ash trays of the globe with desperate unsteady hands, sometimes burning them on not-yet extinguished camels. How close we are to going, perforce, cold turkey no one knows—or wants to know.
But something else is happening. We're standing on those southern shores and watching the gulf fill not with one but with two kinds of aged sunlight: soil and oil. True, the gulf is also accumulating pesticides that are killing a large part of it. But just as it has been filling for a long time now with Midwestern topsoil, so today it is filling with the very drug that for half a century has enabled a certain kind of agri-addict to ship fertility south in singularly impressive quantities. Credit, cheap energy, and labor-saving farm implements evicted most of the farm population from the land, and the unintended consequence of that experiment in control has turned out to be another containment problem: the land itself has been evicted.
So either way the oil ends up in the gulf. The only difference is the dispatch with which we have invited the gulf—and the heartland and every other place we were told to toil in by the sweat of our brow—to go to hell.
If I am harsh on my students who can't walk two blocks to get their birth control, that is because, by and large, and like almost everyone else, they are unwilling personally to take the first reasonable step and scale back. No one else is taking that step (least of all Mommy and Daddy), so why should they? Or, as I often hear said, scaling back is a great idea, "but society isn't going to do it."
Let's be clear about one thing. You introduce "society," and the discussion is over. For what, when translated, does "society isn't going to do it" mean? It means "I am not going to do it." That's the great benefit of introducing an abstraction into the conversation. It puts an end to everything.
We may as well start blathering about "the millions of working class people the world over." But there is no way for us to know those millions, just as there is no way for us know "society." This we intuit exactly, perfectly, and when we see the "millions" doing nothing, when we see "society" doing nothing, we give ourselves easy permission to do nothing.
I absolve me.
This recent catastrophe in the gulf isn't the result of careless producers only. It is, as Berry said back in the day of the Exxon Valdez, the result of uncontrolled greed at the top and lazy passive consumptiveness at the bottom. Neither the top nor the bottom respects the limits of time, place, or intelligence. Neither respects the limits of Nature. Neither is interested in doing anything but excusing the body from its necessary work in the world—in this case, the work of getting from the dorm to the drugstore, or from home to the office, or from the vinyl-clad manse to soccer practice. Or from doing the work of work—the work, say, of hand labor.
It is certain, I think, that, given the world we've built, we need oil to help us come down from oil, just as the junkie, if he is going to break his addiction, will need fixes in ever smaller doses until at last he's clean. Our problem, or one of our problems, is that we use the car to get from A to B when maybe we ought to be using it only to get from A to T and U and V and right on down to Z. A to B or A to M doesn't necessarily warrant traveling by fire, which is the element of hell.
I, for one, would favor severe government-imposed mileage standards on new vehicles. I would support a massive transition to motorcycles. (Let commuters get wet, cold, and miserable, I say.) But what I wouldn't do is have us refuse the changes that are available to us regardless of what "society" or the "millions" will or won't do.
Toward the end of "Faustian Economics" Berry says that if we were smart we'd slow down a little and hit the natural limits that await us slowly instead of at top speed.
What is more practical than this? Why not slow down from fifty to forty? And then from forty to thirty? Each of us, individually, regardless of what the Joneses are doing, can slow down. The journey of a single mile begins with a thousand RPMs.
I confess that I am angry in a vague sort of way at BP and US policymakers and the general drift of things and several other abstractions, including the purveyors of Keystone Light. But demand is as much to blame here as is supply and its governmental abettors. And I, like everyone else I know, am a part of demand. Moreover, I can see without any naysayer's pointing this out that there are many more on the demand than on the supply side of our energy crisis. (Many on the demand side are much poorer than the few on the supply side, but that is grist for another mill.) But it's time to attempt the kind of containment that need not fail, not even on that unassailable and uncontainable holiday known as Mother's Day (poor excuse for picking a man's pocket). It is time to contain demand. It is time that each of us govern himself more severely, and then more severely still, and then more severely still.
As I've said elsewhere, I would have us remake private life in this country. That is an option available to anyone who drives two blocks to get his (or her) birth control or whatever it is he thinks he needs—or whatever it is that gives him the illusion of freedom from natural limits. It doesn't solve the whole problem, but then I have not been talking about the whole problem.