Taking the Porch to Salina, Kansas
By Jason Peters for FRONT PORCH REPUBLIC
http://www.frontporchrepublic.com/2010/09/taking-the-porch-to-salina-kansas/

Rumor has it there will be Front Porchers attending this year's Prairie Festival (Sept. 24-26) at Wes Jackson's Land Institute in Salina, Kansas. It so happens that two tutelary spirits of localism, Wendell Berry and Scott Russell Sanders, are on the ticket. This isn't one to miss.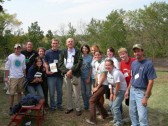 So I'm making the trek with a couple dozen students. As is our custom, we'll camp on the grounds there and whip us up one rip-roarin' good time.
If you decide to go, make yourself known in the flesh. My tent has a B-A. F.P. (but no rocking chairs).
Photo: Augustana Students and Yours Truly (front right) with Wendell Berry at the Land Institute a few years back