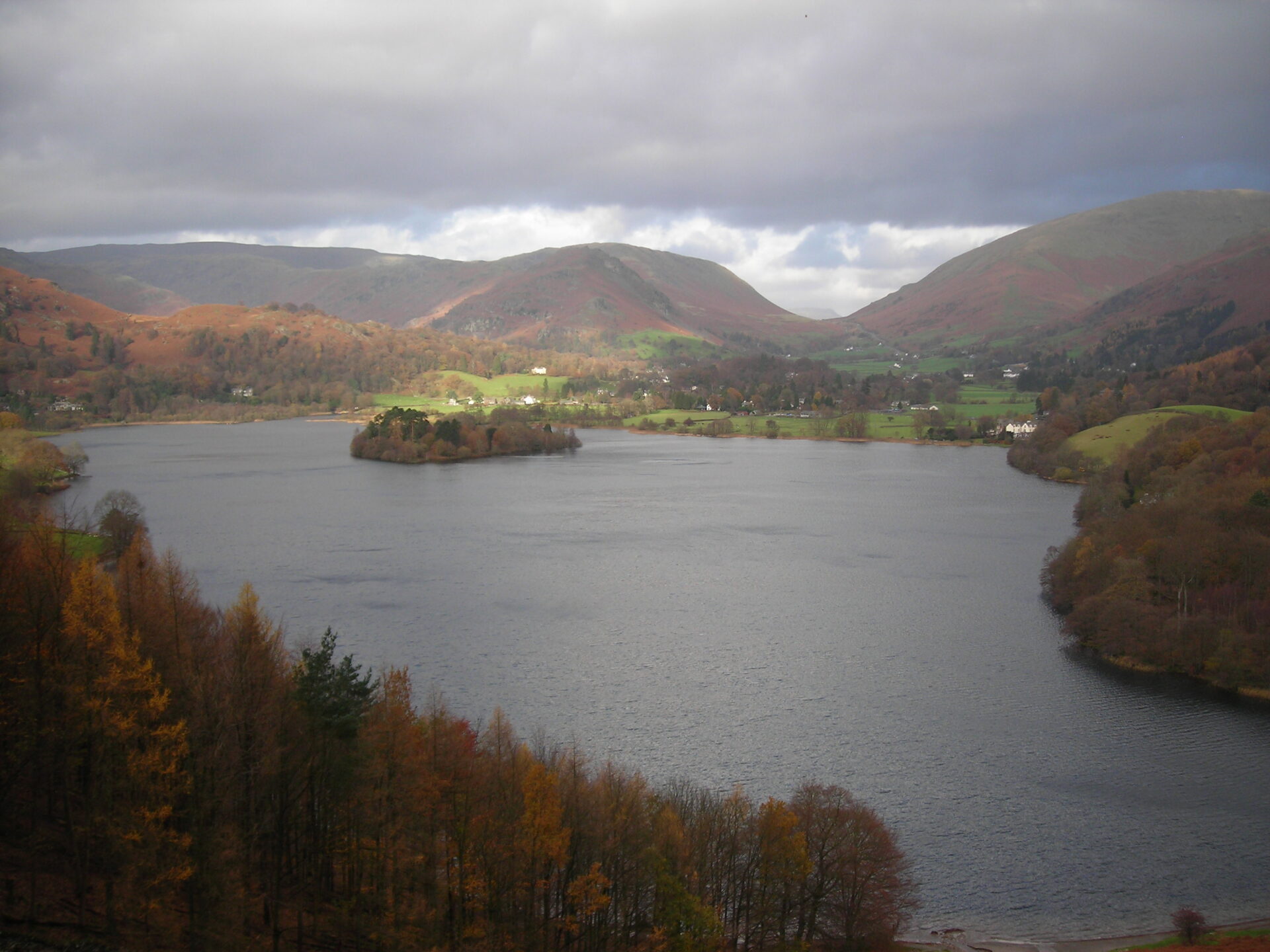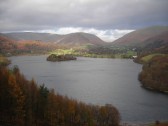 Grasmere, Cumbria, UK
A little over two hundred years ago Wordsworth left Grasmere to occupy a house in Rydal that no poet deserves.
Not that I deserve to be in the Lake District right now, hiking with students, all of whom are less than half my age, but here I am among these steep hills nonetheless, hoping that when we make our assault on Helvellyn, the second highest peak in the Lakes (Wordsworth last climbed it when he was seventy), I don't throw a calcium deposit.
What I mean to say is that as this little piece goes live, it's possible that I never shall again.
I could easily suffer a massive M.I. in that bold ascent up the tumultuous brook of Greenhead Ghyll, where the pastoral mountains front you face to face.
For I have embarked yet again on an excursion that takes place every other year at the end of my course on British Romanticism. And, every other year, usually as I'm trying to keep pace with some hard-bodied steeple-chaser or 440 anchor who for some insane reason is majoring in English, I am reminded of this one disturbing fact: the students on this trip are always the same age, and I am always two years older than I was last time around.
Two years closer to being dead—and maybe closer than I know.
So far I've been able to keep pace on the trails, even though the kids can't quite keep pace in the pubs, but at some point there's likely to be a shift in the balance, a little tectonic grumbling almost as loud as the grinding in my knees.
And then what? Let's hope the shift won't be career-ending. This is great fun—even if several strange fits of passion do creep into the lover's head. (O mercy to myself I cried / If Peters should be dead!)
The trip begins with the assumption that cheap fuel is ours to squander, whereupon we board a big ol' jet air-a-liner that carries us too far away—Chicago to Manchester, to be precise.
I'll have a good detective novel with me for the nonce and, I hope, ample fortification in the "cabin," for I do dislike flying. There isn't anything natural about sitting in a chair in the sky.
From Manchester it's a train to Windermere, a bus to Grasmere, and a quick settling of affairs in a wonderful self-catering residence that also happens to be an organic farm run by incomparably accommodating hosts, whom joy attend!
Then the first matter of business is to take a quick jaunt into town as darkness falls to see the Wordsworth graves in the cemetery outside St. Oswald's and to orient ourselves to the village. Darkling we saunter—and wetly too, because there must be rain if there is going to be a lacustrine landscape. And, let me tell you, in November it can flat-out rain in the Lake District.
By now we're a tad spaced out, because it's about noon the next day on our somatic clocks, but few thoughts of sleep have we. We'll push through for another five or six hours, maybe even spend a few of them at a little public house appropriately named "Traveller's Rest."
Ah! Cumbrian beer! There is a God!
Then to bed to prepare for the first hike: from Grasmere to Rydal along Loughrigg Terrace, with maybe a stop at The Badger for soup or a sandwich. We'll visit the house Wordsworth didn't deserve (though we're thankful the family and trust maintain it), then we'll take another trail back to Grasmere, a trail that ends at what used to be called Towns End. There we'll tour Dove Cottage, which Thomas de Quincey occupied after the Wordsworths quit it in1809 (de Quincey's opium scales are on display there), and the Dove Cottage museum as well.
At the conclusion of which museum overload will set in.
So that will be enough for one day. Besides, we need our legs for tomorrow's jaunt to Easdale tarn, a lonely barren spot that ought to have been (if it wasn't) the place Wordsworth met the leech gatherer who starred in "Resolution and Independence." This hike is a little tougher, and one year we got so thoroughly drenched with rain that one student complained of having "swamp ass." (It was on that day that I vowed never to make this trip again without rain pants.)
The "path," such as it is (sometimes you can't find it for the flowing water), accompanies a lovely stream. The trail is gentle for the most part but a bit vertical toward the end of the "out" portion, where at last in a majestic bowl of stark Lake District fells the tarn sits, lonely, rippled, and cold. We half expect a leech gatherer, bent double, to appear.
No matter if one does or doesn't. We're in the Lakes. And, at any rate, we have to come back. But that's okay. There's a fairly good chance that God will provide a pub in town.
The next day we'll take a jaunt up Greenhead Ghyll, where Wordsworth composed "Michael," the best of his Grasmere poems. In the classroom back home the course began with "Michael," and today we'll see some stones that suggest the unfinished sheepfold that serves as that poem's primary image, an image of the broken covenant between a father and son whose cottage industry in this parable of economic ruthlessness comes to grief under pressure from outside forces inimical to local life.
And we're all localists in Grasmere. We're on Michael's side.
The hike is a bit trying but not long. Soon we're high above Grasmere, happy not to be among those prosaic accounting majors who are spending their unimaginative academic breaks back in the futureless suburbs watching movies, schlucking Anheuser-Busch, and dreaming of Porsches.
But that's a mean thing to say, so I won't say it.
This is also our day to catch a bus to Keswick to see Greta Hall, where Coleridge lived for a spell before his dull (if dutiful) brother-in-law, Robert Southey, later a "poet" laureate justly lampooned in Byron's Don Juan and "The Vision of Judgment," leased the large premises. We'll kick about this charming little town for a few hours, maybe hit the Dog & Gun, and then stock up at a grocery store for "'Michael' Night."
"'Michael' Night" is an evening of infinite magic. We gather in the reading room at the residence, to each his own potable, and the Aging Leader of the group, surrounded by the enchanted young and maybe a few candles, reads "Michael" aloud. If he's lucky he can get through it without weeping. The day he tires of that poem is the day he throws a calcium deposit or suffers a massive myocardial infarction.
Then we've got one day to assault Helvellyn. Sometimes we can; sometimes we can't. The weather decides. One year we had sunny skies—almost unheard of in November. One year a snowstorm made us abort the mission. We were losing sight of one another, and snow on a mountain is nothing to trifle with, so the Aging Leader—who is aging but not stupid—called it off.
One year a bus failed to show up to take us to the foot of the trail, so we took on Tongue Ghyll instead, which wasn't a whole lot easier on the Aging Leader, though he kept pace with two hale members of the track and cross country teams and well ahead of one amiable if well-known toker, whom we'll just call "Mo-reece."
Then, alas, it will be time to head south: a bus to Windermere, a train to Manchester, and a quick drop of the gear at a hotel so that we can hit Manchester for one night.
It is here that the Aging Leader marches the crew into a pub near Manchester Picadilly and buys a round of lemonades before going his own way for one night of peace and quiet. He bids the undergraduates farewell (reminding them to behave and to get up in the morning) and then he checks out all the retro-sneaker stores for Adidas and Pumas he'll never buy (but for which he harbors a goat-like lust) on his way to a small restaurant—the same one each time—for a quiet little solo dinner, a little wine, and blissful thoughts of children far away and of a certain graceful longsuffering woman alone in a cold November bed, who for the last week has probably never slept better.
And then, next day, onto another big ol' jet air-a-liner, this one carrying us home. We were never quite home at Grasmere, but now we know why Wordsworth was.
(If the return flight crashes, petition your local FPR representative for a better Wednesday contributor.)