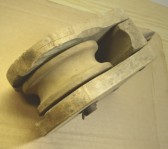 Rock Island, IL
No one by worrying can add an inch to his stature—or so claimed the son of a Palestinian carpenter a couple thousand years ago.
And if you can't trust the son of a two-thousand year-old Palestinian carpenter, I don't know whom you can trust.
But worrying isn't the same thing as cultivating a slightly audible hum of anxiety, a low-level base-line angst or unrest. And that, it seems to me (notwithstanding the carpenter's son's silence on the issue), is about the sanest thing a man can do.
For although the world, like love, is a many splendored thing, its four walls are also seriously out-of-square, and no one hoping to put up rafters or trusses and roof the thing can be entirely reconciled to it. Geometry must be observed.
To be reconciled to the world is to be okay with much that isn't. It is an attempt to square yourself with something out-of-square, which, as any carpenter knows, is a special kind of absurdity.
It may be that you can make the roof look as if it fits the walls, but be assured that somewhere along the way—when you try to hang your kitchen cabinets or trim out a corner—the out-of-squareness is going to assert itself and make you miserable.
Not to be reconciled to the world is probably to have taken your leave of it permanently, for the world is our home. If you're not reconciled to it, you're either dead or nuts.
But to be reconciled to the world is also to have taken your leave of it permanently, for if the world is our home it is also not our home. If you are reconciled to it, you're either nuts or deadened.
It is home and it isn't; we are and we aren't reconciled to it. It is the human condition to be stuck on this rock in a hard place. It's almost as if some Undelphic Oracle has said: You must be able in a single breath to contradict yourself. And you'll need a little of Keats's negative capability to get you through.
And once you've got it you can live with the slightly audible anxiety, the low-level angst or unrest. Or, rather, you can abide it. But you can't really live with it, for the walls are out-of-square, and you must square them.
Part of us should like the out-of-squareness of the world—it gives us something to go to work on—and part of us should be sorely pissed about it. God knows that too often I have thought it hip to be out-of-square, but then I've also put up enough walls to believe that I myself wouldn't have let things get this far off.
A lot of guys who wouldn't hire themselves to do their own finish work are nevertheless competent rough carpenters.
But here, of course, is the problem. As men and women we don't have the privilege of being either rough or finish carpenters. We don't have the privilege of being partial people or half humans. We've got no real choice but to be competent workers, from the first stone to the last shingle. It may be the case that at this particular moment of "late modernity" we have afforded ourselves the luxury of specialization—you lay the hardwood floor, you sweat the copper, you choose the wall art—but that luxury was never really granted us. We took what wasn't ours to take, and lo! the world proved to be out-of-square. And so began the finger-pointing.
Much as I enjoy finger-pointing, I have to say I like to indulge the low-level anxiety even more. I like measuring and re-measuring the diagonals and trying to figure out how to square the world, which is and isn't my home, which I am and am not reconciled to.
The metaphor of the pilgrimage has been especially useful in all this sweet unrest, in this locus amoenus-desperatus we're in. It was St. Augustine, more than anyone else, who stamped on Western consciousness the notion of life as a journey, a pilgrimage, and if he was clever enough to give us a telos, the City, he was also clever enough to emphasize the pilgrimage. Both the Old and the New Testaments had done as much: they had recommended passage through, not flight from, the world.
And so I have sometimes been at a loss to identify a more important paragraph in all of Western literature than the opening paragraph of the Confessions, which ends with that beautiful phrase that captures so precisely our restlessness—the necessary restlessness—which somehow manages to square itself with the out-of-squareness of the world. "You have made us for yourself," or so I read tonight from the Chadwick translation, which is the one that happens to be at my elbow, "and our heart is restless until it rests in you."
The restlessness is useful. It is the way to rest.
In the early modern period we have the example of George Herbert's "The Pulley," perhaps the most Augustinian of all English lyrics, which reminds us that our pining in eternal restlessness—our being at home and not at home, our being reconciled and not reconciled—is like the paradoxical operation of a pulley: you pull down to lift yourself up.
And even Keats, who had no God, would be
Still stedfast [sic], still unchangeable
Pillow'd upon my fair love's ripening breast,
To feel for ever its soft swell and fall,
Awake for ever in a sweet unrest.