I'm Dreaming of a Tight Christmas
By Jason Peters for FRONT PORCH REPUBLIC
http://www.frontporchrepublic.com/2010/12/im-dreaming-of-a-tight-christmas/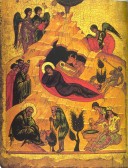 Rock Island, IL
Why quarrel this time around? As the song says, it's the most wonderful time of the year. We've decked the halls with boughs of holly for kids from one to ninety-two. The drummer boy and the night wind pursue their high callings. We've got snow and mistletoe and chestnuts roasting on an open fire. Herbie wants to be a dentist, and Cindy Lou down in Whoville loves Christmas a lot. Whose heart hasn't grown three sizes this very season? Perhaps the hopes and fears of all the years are met in one who shall speak peace unto the heathen. Peace would do for a change.
But as for me, I'm dreaming of a tight Christmas.
I don't mean what our friends across the pond mean by "tight." I'd just as soon not have to remove a C-clamp from my head the day after Christmas–or say, with Scrooge, that "the spirits have done it all in one night." No doubt they can do it all in one night. No doubt they have on occasion done so. But let them leave us alone. Mayhap we've had enough of their vengeance to last a lifetime.
I'm dreaming of a tight—as in tight-fisted—Christmas. Think of the two Dutch Calvinists who, fighting over a penny, invented copper wire and you've got my meaning. I'm dreaming of disappointing the analysts and economists and politicians who are crossing their fingers in hopes that spending will be up. I would not have us die of consumption. I would have us live, each in his place, each knowing it well and loving it too.
Again, not to quarrel, but how about less shit? How about less fill for the land fill? How about less combustible material for the day of wrath? How about fewer goods and more goodness? How about no goods and all goodness?
Let the ads in the paper go unacknowledged, the "last-minute" hype go unheeded. Can anyone with access to these trifling sentences of mine want for anything a retailer has to offer? I can hardly believe it.
Oh, do let us feast, for there is propriety in that. Feasting is sometimes proper to us, and just now it befits the occasion. But rather than finding closets to fill, let us find bodies other than our own to adorn, hearts other than our own to cheer. Do you have two coats? Give one away. Obviate the need for locks and security systems and see if you haven't been set free.
And however tight you may get, be tight toward yourself and toward all those who already have what they need. But be generous toward those who do not. The Incarnation was an ascetic, not an acquisitive, act. Let us likewise be ascetic. Let us dream of a tight Christmas and just see if it isn't the merriest Christmas of all.