To Warm the Frozen Swamp
By Jason Peters for FRONT PORCH REPUBLIC
http://www.frontporchrepublic.com/2012/03/to-warm-the-frozen-swamp/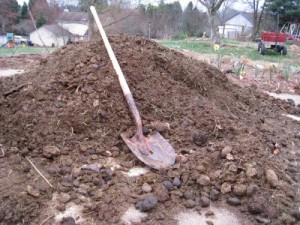 Rock Island, IL
My portion of the globe—which, I'm told, isn't warming—will hit eighty degrees by St. Paddy's day.
In honor of this boon of nature—the incipient buds of which a later frost will, I fear, behead—I went down to the campus garden to do something analogous to my usual work.
I went there to shovel horseshit.
I may as well have been teaching, marking themes, or sitting in a committee meeting, except the work seemed more meaningful and the horseshit higher in quality.
I tossed a load of fragrant manure off the bed of a three-quarter ton diesel pick-up run on converted fryer oil. (I don't think biofuels will save us, but I do believe in using fryer oil twice instead of once.) I'd retrieved the fertilizer a day prior from a local horse boarder. Intending to turn the haufenmist to good account, I dropped it near a strawberry patch.
And I do apologize to the PomoCons: I don't want to shatter their sure confidence that Porcher professors do nothing more than defend ideals about which they know nothing and do even less. And being consistently wrong, I hear tell, turns out to be pretty unpleasant, so, again, my apologies.
But I wouldn't be accounted bellicose. After all, it's the season of arch madness. It's springtime, when a young man's fancy, despite the darling buds and painted tribes, turns to basketball.
But, you know, I took a little jaunt through Robert Frost's "The Wood Pile" recently, which is a poem in which the speaker, by an act of will, extends his walk farther into the woods, following, perhaps serendipitously, a bird, until that bird alights behind an abandoned woodpile, stacked four by four by eight, which then arrests the speaker's attention and becomes the object of his (and our) contemplation. "I thought that only / Someone who lived in turning to fresh tasks," the speaker says,
Could so forget his handiwork on which
He spent himself, and the labour of his axe,
And leave it there far from a useful fireplace
To warm the frozen swamp as best it could
With the slow smokeless burning of decay.
"Handiwork" is key. There isn't anything utilitarian here. The well-split and well-stacked wood pile is "far from a useful fireplace." In its gratuitous warming of the swamp "with the slow smokeless burning of decay" the hoary wood, its bark curled, practices resurrection.
The speaker of this poem is asked to understand that even the mysterious and absent woodcutter sees his useless and abandoned work as art: the split wood is stacked neatly. And nature herself collaborates in the effort: "Clematis / Had wound strings round and round it like a bundle." Nature itself, that is to say, participates in the good work.
When will we see that it is our obligation to do good work–to be artists? When will we look around us at the built ugliness and say, at last, "enough"?
Maybe when, for starters, we make better and more frequent acquaintance with horseshit and lend our hands to the secret mysterious ministry of turning death into life.