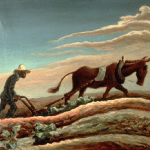 . . . Being an Installment on a Work In Progress Tentatively titled Dispatches from Dumb-Ass Acres, by a Dumb Ass
Ingham County, MI

Scene 1:
My brother steps out of his truck, a '92 Ford F-150. Like me, he likes new things only once they've begun to get old.
"I smell clutch," he says.
He says this not because his own clutch is going out, nor because he's a dumb ass, but because (1) he does in fact smell clutch and (2) two dumb asses have beat him to the job site.
The first dumb ass, whose identity we do not know, has dropped off a dumpster and left it so close to the garage door that the dumpster door, which swings out like a gate, has no room to open even if I raise the garage door and demolish part of the garage.
The second dumb ass, whose identity we do know—let us, for the sake of kindness, call him "the present writer"—having discovered the first act of dumb-assedness, has committed a second act of dumb-assedness. Or, rather, given the smell, he has committed a second act of dumb-acidness: he has attached a chain to this enormous iron receptacle (it must be 21' long by 8' wide by 4' high) and attempted to move it with a 2004 Ford Ranger equipped with a three-point-something V-6 engine.
Why? Because he refuses to join the ranks of cell-phone users and therefore has no way to call the dumb ass who left the dumpster too close to the garage and tell him to come move his dumb-ass dumpster. Plus he (the present writer) is too stubborn to make such a call even if he had in fact joined the ranks of cell-phone users. And on top of all that he's too dumb-assed to wait for his brother, who has joined the ranks.
Plus he wants to see if the '04 Ford can move this monstrosity.
Which it can. It has moved the dump-assed thing ten feet.
All is good now. He can open the gate to the dumpster. He can load it with flooring from eight rooms. He can load it with nasty bathroom fixtures, with dry-wall, with dust, with a piece of original PVC impaled by a finishing nail but miraculously lacking any signs of leaks. He can load it with empty cans of mold-resistant paint, with empty cans of timber oil applied to the fencing, with decking nails, with half-assed shelving, with beer cans and ceiling fans & unused ampersands. He can do all this notwithstanding a certain odor in the air.
"Yes, you do," I say to my brother, who appears in gym shorts, running shoes, a t-shirt, and sun glasses. "You do smell clutch. Full marks."
And we get to work. We remove french doors from a place they don't belong—all they do is block access to light switches—and then enlarge an opening where a 32" door once swung so that a place formerly too dark and closed-in can be open and light with the addition of recycled french doors. All we have to do is fabricate a header from removed lumber, remake a stud wall, and reroute a little wiring.
"Piece of cake," as the driver of a '92 Ford likes to say.
And this piece of cake takes us all day to frost.
Scene 2:
"Unbelievable," says the plumber. He shakes his head, looks down at the floor, and looks up again.
I've cut out the ceiling below a bathroom. I've also cut out the bathroom above. Were it not for the roof, the angels could look down at a bare kitchen floor and marvel on their way at the dumb-assed bathroom above it.
"These guys are idiots," the plumber says incredulously.
I've asked him to come take a look because, although I know something is amiss, I'm unfamiliar with the local codes and I'm looking at a rig-job so complicated that I'm pretty sure I can't fix it.
But he's sure he can.
He begins by cutting everything out. Meantime, I cut a piece of 5/8 plywood—recycled from the kitchen floor—to about eight feet long by nine inches high and then sister it by the glue-and-screw method to a much-mangled joist above me. This will give strength to the too-too drilled-through joist. It will also give me more joist width to drop flooring on in the bathroom above.
And as the plumber reconfigures the PVC (best leave the poop shoots to the experts) I lay flooring above. By day's end we've got the new construction done and pex threaded for the new water lines: a toilet, a tub, and two sinks. Tomorrow we'll need a couple of hours to finish the job.
"That's nice-looking work," I say, looking up at the PVC.
"Thanks," says the plumber. "Pex on the other hand—pex takes all the skill out of supply-plumbing, but it's a lot easier and faster."
"Nah," I say. "It just takes a lot of the artistry out."
I'm thinking of a conversation I had with a cement contractor several years ago. We were drinking beer and talking about jobs. I was saying something about the shed I'd built on concrete pillars, and he, as I recall, was a few beers ahead of me. "Are you trying to impress me?" he asked.
I think I was. I'm a dumb-ass professor, and I've always felt—and still feel—inferior to really skilled tradesmen, especially to really good plumbers.
Scene 3:
I can't find my tape measure. I'm one of those dumb asses who on occasion won't take the time to strap on his nail belt and thereby affix all the essentials of carpentry to a space in close proximity to the slow deft motion of one hand or the other. I'd rather kill half a day looking for my utility knife, my pencil, my speed square, and my tape than feel a pouch of useful tools pulling my blue jeans half-way down my dumb-ass ass crack.
"Where's my damn—" whereupon I see my younger boy in my periphery and change my rhetorical strategy—"where's my damp tape measure–the one you sprayed with the hose?"
I see the boy has it hooked to his belt. First they play at our work, then they learn to do it. It's the natural succession.
"Dad?"
"Yeah, buddy."
"You know what?"
"No. I don't know what."
"I feel more like a man when I have this on my belt." He taps the tape measure I've been looking for and smiles.
"I can see that," I say. "I know what you're saying."
"Dad?"
"Yeah, buddy."
"Can I have this?" he asks, again tapping the tape measure.
"Tell you what," I say, stepping over extension cords and power tools on my way to one of my tool boxes. I grab an old tape measure whose recoil has grown lethargic. "You can have this one."
"Really? For me?" he asks, proud and grinning.
"That's right."
"Whoa! Thanks, Dad!"
"Here. We'll write your name on it." I pull out a Sharpee (that I do have on me) and put his initials on the retired Stanley. 'WCP.' "See? All yours."
"Thanks, Dad!" And off he goes. He's going to build a teeter-totter. (His archipelago in the garden is finished.)
Where his older brother is is anyone's guess. Where there's trouble, you'll find him; where there's work, you won't.
And now I lie awake in my sleeping bag looking at the piggy-back wiring job I did the day before. Not recommended. I'm thinking of Willie Loman, who, somewhere in Death of a Salesman, says that a man who can't handle his tools isn't a man. If it's the only insight anywhere to be found in that play it's a good one nonetheless. Willie's a salesman who has been duped by and believes in the abstract economy. He's been convinced that "selling," no matter what you're selling, is how you make it big, and he is about to ruin his sons' lives by catechizing them in this diabolical gospel.
But Willie's best memories are of having built, not sold, something. Reread the play and you'll see what I mean. On the one hand there's the paper economy telling Willie to hitch his wagon to the star of salesmanship; on the other there's Willie himself who, duped by all this, still knows, somewhere, that there's a real economy not founded on paper.
More than twenty-five years ago I was in a book store and saw a man, a friend's father, perusing a book shelf. I walked up to him and looked at the books on the shelf he seemed to be studying. This man was a custodian—the head custodian of a school district from which he had graduated. He was a taciturn man, full of knowledge of the natural world, mechanically capable, unafraid of manual labor, and much given to reading.
I was in my twenties, and there before us was What Are People For? I pulled it off the shelf and showed it to him, saying to him that I thought he'd probably like it. He looked at the cover.
"That's a Thomas Hart Benton painting," he said.
How many custodians would have known that? How many professors?
In the course of our conversation there in the bookstore he said to me that in his ideal life he would spend half his time working with his hands and half his time reading. Clearly he'd done a fair amount of both, and I had no stories that would make him stop, look up in astonishment, and say, "you're trying to impress me, aren't you?"
Whether I impress him now I do not know. I doubt it. He's in his late seventies these days, not nearly as quick of mind or body. But he still impresses the hell out of me.
As sleep descends I hear echoes of my boy, tape measure strapped to his belt, hammering away at his teeter-totter. He's on the road to something meaningful and useful—and probably dumb-assed.