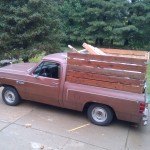 Being an installment on a Work-in-Progress Tentatively Titled Dispatches from Dumb-Ass Acres, by a Dumb Ass
Ingham County, MI
A man can hope that someday, high upon his barstool, or kneeling among his strawberries, or bent double beneath dead elms during the mushroom season, or elbow deep in a subterranean plumbing problem—that is, under such circumstances and in such places where his mind is free to search—he'll hit upon a theory that will explain why he and others like him are constitutionally incapable of calling things by their given names.
Among those giants of mischief I ran with as a boy there was one we called "Outdorr."  Like all of us he had a given name, but no one ever used it.  None of us answered to anything remotely like what appeared on our birth certificates.  We all went by and used other names, names given on the playground, the ball diamond, the hardwood, the locker room.  So elaborate was our renaming of all things—places, work-out drills, teachers, girls, sports teams, food—that no one not fully trained in our grammar could ever hope to understand our literature.
This prepared me to read The Battle of Maldon.
To this day Outdorr and I feud over who made the Ozark Mountain Daredevils popular.  It is true he was the one to bring to my attention the so-called Quilt album, which features such classics as "Country Girl," "Colorado Song," and "Spaceship Orion," a drug song to make "Horse With No Name" seem like a Vacation Bible School jingle.  But chronology is not causation.  I maintain that his discovering the album meant nothing to our legendary gang.  Only after I approved of it was the band of brothers free to listen admiringly.
Sometimes for men of good breeding the idiocy of adolescence survives into adulthood.
That is a somewhat circuitous but not irrelevant route to a Daredevil song titled "E.E. Lawson," a song not about drugs but probably written with their aid or hindrance.  Musically a bit—how shall I say?—dull, not to mention lyrically incoherent, "E.E. Lawson" nevertheless has the marks of what you might call a signature song—like "Chicken Train," for example, another Ozark song that isn't really a song.
E.E. Lawson at the general store,

Highway K with the red front door,

A pot belly stove and a hardwood floor.

You call E.E. Lawson and what does he send?

He sends eggs, chicks, chicks and hens,

Cocks and hides and butter-fat skins.
But what E.E. Lawson sends when you call him is not the most interesting thing about E.E. Lawson.  E.E. Lawson, we learn from the song, is "a helluva man."
But even that isn't the most interesting thing about E.E. Lawson.
The most interesting thing about E.E. Lawson is that he lends his name to a certain '83 Dodge Ram short-bed slant-six pick-up truck, primary means of transportation at Dumb-Ass Acres and sometimes also known, perhaps ironically, as "The Babe Magnet," the Shaggin' Wagon, and the, well, the truck modified by a preceding epithet not aurally dissimilar to "truck."
Lawson was about nine years old and had about 88,000 miles on him when a retiring cop in Texas sold him to me for $2,500.  He, Lawson, was clean in the manner of southern vehicles but not exactly tricked out:  no radio, no power steering, nothing but a big vinyl cab, a nice big engine cavity, a 225 cc engine with less pull than an old razor, and an ugly white topper atop his shortbed.
Who could resist—especially at that price?
I've had E.E. for twenty-one years now.  One of the first things I did when I got him—besides drive him to Michigan where he and all good things and all good folk belong—was acquire some power steering parts from a junk yard and improve him with a pump and a dubious jumble of belts, pulleys, and brackets.  It was that, or start lifting weights so I could actually make turns at intersections.  Maybe three years ago a power-steering bracket broke, so I had a guy weld the pieces back together for me.  But he put a bead on both sides of the bracket, and one side had to lie flush against the block, so I had to grind some of the weld off to get the bracket back on in a manner approximating its material, formal, efficient, and final causes.
Which I did.  The pulleys line up imperfectly now, which isn't good news for the belt, but I'd wager the system will last longer than the ferric oxide in the rear wheel wells.  Later that summer Lawson made it the 400 miles from Rock Island back to Ingham County, Michigan, where he's remained ever since.
A buddy who fell on hard times for about a year borrowed E.E. for a spell, which is when a lot of the additional 68,000 miles were racked up.   (It took me a summer to get around to fixing the speedometer cable one year, so there are probably a few thousand more on him than the Department of Motor Vehicle knows about, but that's not a worry of mine.)  I changed out a U-joint on the drive-shaft about twelve years ago when the truck began to shudder at take off from a dead stop. (It's a four-speed with maybe the worst clutch on earth, but so far as I know it's the original clutch, and like the carburetor it doesn't show any signs of giving out.)  I blew the rear brake line last summer and nearly ass-ended my buddy's Bravada two miles from the golf course we were headed toward after an artery-clogging breakfast, but I found a guy who would replace the line for the cost of the parts plus a case of beer.
Do not be forgetful to employ strangers, for thereby some have employed angels unawares.
And there have been rotors and plug wires and the usual stuff along the way, which even a dumb-ass like me can fix, but otherwise E.E. Lawson is still the same helluva man he was when I bought him in 1992.
I know a guy who says of his truck, which is almost as old as E.E. Lawson, that it's treated him better than any of his wives ever did.  I've been lucky enough to have only one wife (the long-suffering Chief Eye Roller, Counter of Cocktails, Goddess Excellently Bright, She Who Says "Uh-Huh" Disapprovingly), but I think I know what he means.
(Perhaps this is the place to admit that E.E. is my second pick-up.  I had a '72 Ford three-quarter ton once not long before E.E. came along.  But the Ford had steering issues of its own.  It took three guys my size at the wheel to make a simple right turn.  So I crawled under the cab one day to find that the body mounts were gone:  the cab was resting on the steering column.  A jack and a couple of strategically shoved two-by-fours took care of that problem.  I was turning the old Ford with my pinkie in no time.  But I wasn't taking corners very fast.  I didn't want the cab sliding off the frame.)
Fast forward to two weeks ago.  E.E. Lawson is doing hard duty at Dumb-Ass Acres one day while my third pick-up truck, a black '04 Ranger V-6 five-speed, acquired three years ago for only $500 more than E.E. in '92, loafs in the shade.  I have E.E. Lawson backed up to the basement-walk-out doors so I don't have to carry wet moldy dry-wall and framing timbers any farther than a man with all the normal urges wants to.  Not far into the job I discover that shit is going to start falling out of Lawson if I don't do something to remedy the height of his shortbed.
It turns out I'm lucky.  A prior denizen of Dumb-Ass Acres built three stud walls around the sump-crock—which any man might do—but this dumb ass built his walls on carpet.  We are talking, O Best Beloved, about the lowest point of the basement—the place toward which water flows.  So not only is the carpet wet (how many years has it been wet?) but so are the base plates, the studs, and the dry-wall.  And there's mold heading north.
I undo the electrical (three receptacles, two light switches, and a thermostat) and give these walls the Maul & Sawzall treatment.  I cut the removed studs to fit the rack holes in E.E. Lawson's bed.  And then I start tearing out old cedar trim boards—some nice, some not-so-nice 1 x 4s—and use them for the rails.  A scrap piece of trim serves as a spacer.  I've harvested enough screws from other demolition jobs to do this job on the spot.  So I do it on the spot.
It's a hiatus in the tearing-out, but a hiatus is what's called for.  At the end of the hiatus I engineer a back fence that can slide in and out from the top and rest just inside the tailgate.  This rig will triple the carrying capacity of E.E. and make him the envy of every other DIY guy at the dump or the Home Depot.
And, when the last load of bad construction has been hauled away, Lawson will be primed to bring in the goats that will provide milk and cheese for the lucky denizens of Dumb-Ass Acres.
I hear tires on the long drive.  I scuttle up the embankment and have a look.  It's Outdorr, who wouldn't be caught dead in a Dodge or a Ford.  He's a GM (Government Motors) man.  He's also one of the markers by which I know I've come home, even though he's wrong about who made the 'Zarks famous.
"What the?" he says haltingly, looking at E.E.  "You've got to be …" he adds, shaking his head.  "This looks like the syphilitic afterbirth of a mongoloid [the rest of this famous colorful saying isn't fit for print]."
"Shhhhh!"  I say.  I reach into E.E. and turn up the volume on the tape deck—for I've taken care of that factory-issue austerity measure as well.
E.E. Lawson

He got him a plan!
Bonus Photos (courtesy of Philomel):
The wiper linkage is broken, and there's rain on the way.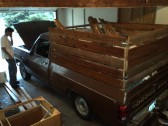 Lamont, you big dummy!