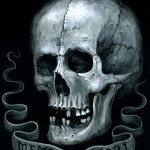 … being an installment on a work in progress tentatively titled Dispatches from Dumb-Ass Acres, by a Dumb Ass
Ingham County, MI

Maybe a luckier man than I would be sitting in his study, antique pine planks beneath his feet, dim light from a candle or two illuminating two fingers of a bosky, assertive, and buttery bourbon, golden and fiery in the flickering light.
Perhaps earlier that morning this luckier man's hens would have produced a few eggs, which his children would have collected after milking a goat or two. Perhaps for supper he would have served chevre cheese, made from his goats' milk, in a tomato and basil salad that came from his own garden. Perhaps the venison steaks, oiled and grilled and seasoned with rosemary, would have been cut from deer harvested in his own field.
And perhaps the evening milking will be sufficient for the children's breakfast the following morning, ere the school goes to work undermining their learning. Perhaps the children, gathered round a wood stove the night before, will have read their artificially colored history lessons under lights powered by solar panels lined up atop the south-facing roofs of the barns and house.
Perhaps the Chief Eye-Roller …
Well, it is a cold September night in Michigan, land that I love, and that's lucky for me, but I am not the luckier man whom I conjure in imagination.
I am I. I sit in the former master bedroom at Dumb-Ass Acres, soon to be the eldest's room, under electric light delivered along the grid by Detroit Edison. Detroit is distant, empty, and bankrupt, and Edison is dead, but for the moment the two of them light my way. There's saw dust atop the OSB beneath my feet. Bare stud walls surround me. A small space heater cuts the chill.
And instead of the bosky bite flickering in the candlelight, I have Stone's Götteredämerung Anniversary IPA, which is some consolation if you think about it, but you have to think about it. For there are no hens, no goats, no pine floors, only this endless unfinished project, vivid in imagination but in real life a mirage.
Except for the tomatoes and basil. They're real. They're right outside the dark impenetrable window I face.
But the window isn't the only thing I face. The FPR conference behind me, a spare audience adequately depressed, friends and colleagues amply entertained and besotted (excepting the ghost of FPR), I face a tear-off and re-roofing project on a roof that isn't steep enough to unnerve me. So no problem.
But I also face tearing off aluminum siding on the south side of the house, which means climbing a forty-foot ladder and clinging to the side of the house as if I were a cat clutching the teasing fleshy arms that hold it over the swimming pool. This climbing I do not relish—I, whose nightmares always involve falling.
And so this Deathwatcher comes to Deathwatching.
In my file is an aborted essay titled "Deathwatcher." It is a narrative essay about a friend of mine, now dead, whom I'll call Stephen.
Stephen was an underwriter for an insurance company. He was a southerner transplanted to the north, which I love but which he didn't. He and his wife were our friends. I want to emphasize that "friend" here isn't a verb, nor is it being used promiscuously as a noun. The friendship was real. It was deep, abiding, necessary.
But Stephen was given the opportunity to take a transfer to his native southern state, where he would be able to buy some land and raise a few crops, as he had always wanted to do. And so he did it: he took the transfer, he bought his acreage, and he moved.
He began anew to raise his young children there. He bought the tractor he always wanted and started a new and, it seemed, a better life, though we were not a part of it. We never had the opportunity to visit him, his wife, and their children there until one day the news arrived that he was dead. He'd been working on the tractor he had wanted for so many years. The tractor lurched inexplicably while he was in front of it, and it bashed his brains in.
On our way to the funeral—my wife, pregnant with our third child, was sleeping in the passenger seat—I began to think about the ways in which a man might invite his own undoing. Stephen had done it, or so it seemed. I might even be doing it, I thought then, as I drove to his funeral. I might come to grief on my way to share and attempt to relieve that grief, orphaning in the process two children, even as Stephen had when he went to work on his tractor that fateful day. And then others might drive to my funeral, and someone in doing so might die, and so on and so on and so on.
Deathwatching isn't a birthday party. But, like birthdays, it isn't avoidable either.
At the funeral and the blurred events surrounding it I learned only a little more about the sketchy details of my friend's death: its freakishness, his wife's too late arrival at the scene, her attempts to revive him mouth-to-mouth. He apparently gurgled at these last grim kisses, but his gurgling was probably nothing more than a somatic reflex, like those of a beheaded sixteenth-century English queen.
Strange things happened on the way to the interment. A man in a vehicle in the on-coming traffic stopped his car. He and his son got out, placed their hands over their hearts, and watched as the procession passed. Another man mowing his lawn stopped his lawn tractor, got off, removed his hat, and watched as we went by.
Later I asked the limo driver whether this were common behavior. He told me he'd never seen anything like it before.
At the graveside my friend's brothers took turns shoveling dirt onto the casket. I told myself that if my friend's seven-year-old son took the shovel in hand, I would do likewise. The boy took the shovel and threw a clod of dirt on his father's casket, and I, blubbering like a child at the sight of this, lost my nerve.
So tonight, amid the sawdust and the stud walls, absent the pine planks, the candlelight, and the bosky bite of bourbon, I can't help but wonder whether I have hastened my own demise. A man could wake up ready to climb a forty-foot ladder and not know that he's about to drink his last two cups of coffee over the box scores he's checking for the last time, that he's about to leave an Eye-Roller to raise three children on her own in a house half-finished behind which, maybe, neither goats nor chickens will ever produce any milk or eggs.
There is nothing macabre about any of this. The sages and monks and poets will tell you: memento mori. And Hamlet will tell you that the readiness is all.
But although I am lucky enough to be on this side of the sod still, I confess that I am not ready. I expect to cast that last longing lingering look behind that Gray described in his great elegy. I expect to weep when it is all done—for being done too soon.
If there's time for weeping. If I don't fall or get bashed.