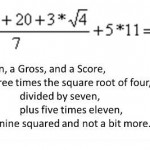 Rock Island, IL

An acquaintance of mine trained in mathematics and philosophy is fond of asking whether the limerick is formally inhospitable to seriousness.
It's a good question for the very simple but important reason that it takes the matter of form seriously. It worries itself about the relationship between form and content. You might say it wonders whether you can put new wine into old wineskins.
The only serious—or, I should say, the only quasi-serious—limerick I know is one that I penned when I was a college student half-interested, in a barely half-assed way, in the question of form. One night, reacting in some measure to the elaborate but (to me) increasingly uninteresting arguments about sanctification I was reading, I whipped off a limerick that, if memory serves, went something like this:
There once was the fellow called Christ,
Who (they say) was our sacrifice.
What should we do
Now that his work is through?
To believe and to eat will suffice.
I don't think anyone should be held responsible for anything he's said or written before the age of forty. This is a creedal article that in a few months I'll revise to fifty. But I'll credit the sentiment of the effort, wherein form reacts to dogma but does so with something like a dogmatic infusion: shut up and commune already.
But of course the form is the content, in this as in all cases. Think, for example, of that challenge handed (if I have the story straight) to Bertrand Russell: make a limerick using the word "Aberystwyth," which, for those of you who don't know, is the name of a coastal town in Wales.
Russell obliged:
There once was a maid from Aberystwyth,
Who took grain to the mill to make grist with.
The miller's son, Jack,
Took her out in the back
And united the parts that they pissed with.
As I think everyone knows, the form of the limerick has lent itself more to raunchiness than to religious fervor. And never, so far as I know, has the limerick been asked to bear the weight of the elegy or, for obvious reasons, the epic. It would seem that you simply cannot justify the ways of God to man in the formal constraints that give us this:
There once was a man from Belaire
Who was tupping a maid on the stair.
On the forty-fourth stroke
The banister broke
So he finished her off in mid-air.
Or this:
There once was a maid of Devizes
Whose breasts were of two different sizes.
The one that was small
Was of no use at all,
But the other was large and won prizes.
Or this—a cleaner limerick I learned in my youth:
There once was a woman from Ides
Who from eating green apples she died.
The apples fermented
Inside the lamented
Making cider inside her insides.
And there's the one about the brothers who fell together into the two-holed out-house and who are now "interred side by side," etc., etc.
I have three collections of limericks on a shelf not available to me at the moment. There are religious and theological send-ups in all of them, and all of them contain limericks that suggest someone was very serious about punning. But there are no serious limericks in any of them, as if the formal preclusions about which my philosophical-mathematical acquaintance worries do in fact obtain.
I like the limerick. I once composed one upon the plate of spaghetti I was eating at a friend's house. This was when I was in grammar school. As I recall it involved the words "confetti" and "machete" and wasn't exactly complimentary to the hostess. But I also like this question about form, the short and long of which is this: can anything be put in anything?
The answer is "no" for this reason: you don't put content into form the way you pour milk into a glass, or a leggy eye-roller into tight jeans (though let me tell you … whew!). Form doesn't enjoy an existence independent of content. They are one as soul and body are one. Scotch in a rocks glass is scotch. Scotch in a Dixie cup is just ETOH.
This may appear to be a meditation on poetry. It isn't. It's about the variety-show goings-on of a Sunday morning at the church of the hip Jesus, and I am venturing a claim: only in an age when soul and body are no longer one can a man tolerate a half-assed Lawrence Welk Show Hee-Haw religion.
But religion ought not to be half-assed. It ought to be whole-assed. That's the lesson of the limerick. Anyone who doubts this should consider the example of Alice.
There once was a woman named Alice
Who peed in the Archbishop's chalice.
'Twas widely agreed
'Twas done out of need
And not out of Protestant malice.
And let us not forget the lovely woman of Chichester,
Who made all the saints in their niches stir.
One morning at matins
Her ars on the satins
Made the bishop of Chichester's britches stir.
Now these half-serious musings come of thinking not only about form but also about an essay many readers are, I'm sure, familiar with: Allen Tate's "The Whole Horse," which took up what Tate called the "southern religion." In it he contrasted the full grass-eating animal in which he said religion ought to be interested with mere "horse power," something abstracted from the whole horse that diverts the religious mind from what it ought to attend to. We're going to muddle about, Tate said, until we learn once again to get interested in the full grass-eating animal.
The essay was unsatisfactory for many reasons, one of which is that Tate was too abstract in it. Another is that he did not write as a religious man at the time. (His conversion to Rome would come later.) But the image was and is a very useful one, just as, in my view, the question of form as applied to the limerick is a useful question. What Flannery O'Connor called the do-it-yourself religion of her region is mostly horse power and not much horse. It's half-assed rather than whole-assed. It's as respectable as the limerick, which does merit some respect, but only about half an ass worth.
Here's where a writer worth his salt would commence upon a conclusion that ridicules the Sunday morning carved up into "traditional" and "contemporary" worship services–or it's where a writer who feels charity draining out of him would stop.