The Neighborhood Bar and the Chief End of Man
By Jason Peters for FRONT PORCH REPUBLIC
http://www.frontporchrepublic.com/2013/12/neighborhood-bar-chief-end-man/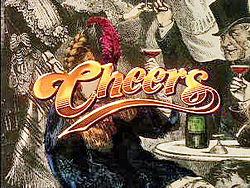 Rock Island, IL

One of the great casualties of the poorly-built human environment is the neighborhood bar. Due to a number of sinister influences both terrestrial and sidereal—from urban planners drunk on cheap oil to unhappy planetary alignments in the post-geocentric cosmos—the mixed-use neighborhood gave way to such unsustainable and inhuman living arrangements as suburbia. These are arrangements that, thank God, have no future, but in the meantime, as we wait for the energy-scarce years to rearrange things, we lack, among other blessings, meaningful destinations in walkable environs.
Such as neighborhood bars.
The well-built college or university town will sometimes accommodate the odd professor who wishes to slip out of his office, walk across an amply wide and tree-lined carriage-way, stroll half a block in a summer mood, and take the hit that will get him through a department meeting later that day (I don't happen to work in such a town), but the neighborhood he lives in will probably not be so accommodating.
It will consist of other houses, probably with no front porches, and certainly no barbershops or butchers or general stores or public houses amicable to conversation, places where jokes fly and beer flows. And this is a travesty. At their best such neighborhoods are cartons of the well-wrought human place.
Long ago, in the days before good beer existed, when I was paying my bills by fixing irrigation leaks on a golf course and studying for comprehensive examinations in areas of literature about which very few people care anymore, there was a neighborhood bar I would occasionally visit that, oddly, was home to two disparate groups of people: blue-collar men like me and women of the sort sometimes lampooned by Foghorn Leghorn. (I gather by their attire that they played a lot of softball.) This was a smoky bar with pool tables, a juke box, and a regular crowd for the shuffling-in part of the narrative. And on a certain stool you could count on seeing an amiable drunk who, though he was never sloppy, was never quite sober either. He lived on the golf course and would often offer me a beer if I happened to be edging the bunker near his back deck or changing the seventh hole location or mowing the fairway on the temperamental lightweight diesel fairway mower we named for the super's ex-wife. (It was a piece of perpetual perplexity to this local boozer that there were men in the world who didn't drink on the job, or all day long, or every day, or at breakfast.)
But now, in the era of good beer, when I'm armed with enough money to afford it, there are precious few signs of human flourishing.
By which I mean neighborhood bars.
There is a place on my walk home which, in the years before the Illinois smoking ban, you could almost stand to visit, but not for long, and it wasn't always hospitable in the necessary ways: there wasn't anything but see-through swill, and sometimes the unstable woman in see-through clothing serving it wasn't quite able to grab the tap on her first attempt. It was a place for old men mostly, and you could count on hearing good gossip or seeing a card game in medias res, but in it you never quite felt oriented toward you true end.
Now there's a smoking ban—about which I have mixed feelings—and the tap is keeping up with the inevitable social improvements that accompany the rise of craft beer, but, not having been habituated to frequenting this place, I have found it difficult to school myself in the particular virtue of entering it.
Then along came an ale house and nano-brewery a half-block away. There were zoning issues at first, and the folks in the neighborhood objected, perhaps understandably, to plans for a Biergarten, but this very small brewery and alehouse is so far flourishing in accordance with God's plan for my life. There are about ten taps, and not a bummer among them. The owner / brewer lured the best bartender in town away from his long-held job at a downtown bar, and there's hardly a beer-drinker in the area who can resist the urge to stop in when he sees the bartender's Jeep parked out front. He's quick with a joke—but not to light up your smoke—and if there's someplace that he'd rather be, you'd never guess it. If there's a better bartender on earth, I haven't met him. So hospitable is this place, and so deserving of success, that during the fasts you feel as if you should go in there and pay for beer you're not drinking.
Now one of the great things about beer, aside from its unerring capacity to achieve its true end, is that many iterations of human flourishing manifest themselves around it. There are days when you can count on seeing a few colleagues in this new establishment eager to share campus gossip (gossip being the one thing that makes academic life bearable). There are days when you can count on seeing the same two retirees and long-time residents of the city reliving their hour of splendor in the grass. And I know of two women, wives of younger colleagues, whom I can count on seeing each week on one particular evening. There they sit, attractive in their way, not entirely oblivious of scrutiny, pacing themselves through a single ale each, enjoying a brief reprieve from young children and childish husbands.
I may say hello to them if I happen to stop in, which is unlikely, because I prefer the five o'clock beer to the nine o'clock beer, but I'll otherwise leave them be. It's girl-time they're after, and they deserve it. And they deserve a place like this, and now they have one.
The neighborhood also features a coffee shop usually filled with people you know, though they're staring at laptops rather than conversing with other human beings. More and more you see them at the latest stage of evolution: with wires hanging from their ears. And there's a barber shop across the street, and a couple of antique and collectibles stores—the residue of former days when thinking was an important component of the urban plan. But walk a little further and soon you enter a newer development, and a worse one.
I wrap my scarf around my neck, don my coat, and pull up my gloves. Outside the ale house the wind congratulates me on my good behavior with its wonted friendly slap. I walk past a restaurant and a hardware store and a church, also remnants of bygone days when urban planners knew how to design neighborhoods, and then soon I've left, on foot, the well-built environment and entered the travesty. Now it's all cars and businesses with objectionable names frequented only by people who think their legs were made for sitting on, as Thoreau once put it. (They should be congratulated, he said, for not having committed suicide long ago.)
Ignatius J. Reilly opined that the world is in ruins for want of geometry and theology, to which I'd add walkable neighborhoods, craft beer, and good neighborhood bars. How, without them, can we achieve eudaimonia?