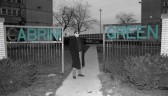 Valparaiso, IN. Annie Ricks, the last resident of the last standing building in Chicago's Cabrini-Green public housing complex, vacated her three-bedroom apartment. After 21 years of occupancy, her family's lights up on the eleventh floor finally went out in the fifteen-story building.
The ten building complex, with its steel-fenced open galleries, held as many as 15,000 residents since being built in 1962. Time Magazine once called it "one of the most dangerous places in America."
In the next few months, Annie's building will be the 36th of Chicago's 53 high-rise public housing projects demolished. By this time, Ricks hopes to use her housing voucher to relocate herself and her eight children to the brand-new $70 million mixed-income development called North Town Village, about 100 yards from the former site of her project apartment.
A total of 79 former Cabrini Green families will move into one of North Town Village's 261 condos and townhomes, next to someone who bought one of the top line homes at market rate. A three-bedroom, state-of-the-art town home like that—one mile from Michigan Avenue, the Gold Coast and Lincoln Park—costs nearly a half mil, as we say around here. (As one full-price buyer put it, "You go two blocks one way, you're in public housing. You go two blocks the other way, you're at Banana Republic.")
Should former tenant Ricks succeed in winning a place in North Town Village, the government will continue to pay most of her rent. On local TV news, she was tearful about uprooting herself. She explained that her family spent two weeks living in the waiting room of Cook County Hospital before they found housing in the projects.
Other former residents have put up blogs and websites full of nostalgia and "dueling memories" about the bittersweet life there. Even under what was usually portrayed as war zone conditions, a kind of mutual support system operated among residents. The developer of the nearby North Town Village sold out all its units before they were built. Finding buyers was easy, but convincing these public housing residents proved difficult, many of who thought this deal was too good to be true.
The project's physical location has always been a factor in the lives of Cabrini Green residents, especially as gentrification accelerated nearby. There was a downside to being only a few blocks from the downtown TV studios, for example: it was easy for them to send a camera crew out when one of the frequent gang shootings occurred. These evening news reports helped give the project its notoriety over other, even more dangerous CHA buildings. (I recall standing in a Chicago bar talking to an off-duty cop some years ago who explained, "I'd rather answer a call in Cabrini Green than go into one of the Latin neighborhoods on the West Side. The black gangs shoot straighter—the Latin guys tend to hit bystanders half the time.")
But the "gangsta city" image is not the whole story here. According to former Chicago alderman and HUD official Edwin Eisendrath, "the individuals living in Cabrini performed better on all sorts of measures than those living in public housing on South State Street" (several miles from any middle-class folk). "Cabrini residents did better in school," Eisendrath says. "They were more likely to work. They took jobs eagerly when they were offered. They lived, after all, surrounded by some very healthy communities. Now, as the last residents move out of the high-rises, Americans need to remember that Cabrini was home to many decent people whose voices never rose above the arguments about their neighborhood."
Still, no one pretends that even shiny mixed-income developments are the equivalent of owning one's own Chicago two-flat (or Boston three-decker or Brooklyn brownstone). Mayor Daley's Plan For Transformation does not include plans to house many hundreds of former project residents, a number of whom cannot pass the drug screening and other tests required as part of an application.
So we may ask: in the half century or so of this massive failure in "urban planning", was there ever a moment when anyone suggested that at least some of these individuals might want to own their residences? Surprisingly, yes. In 1987, a local banker, Craig Fisher, published a proposal called "Tenant Control of Public Housing: New Hope for Cabrini Green." At this time, the project's parent, the Chicago Housing Authority, was in scandal and disarray. Residents and bureaucrats felt a general sense of despair about whether anything could improve. "Almost everything here is broken," one tenant put it.
Part of the problem was the very design of the projects. Aping the bad ideas of Swiss architect Le Corbusier (Theodore Dalrymple suggests "Le Corbusier was to architecture what Pol Pot was to social reform"), CHA planners had created islands of social pathology lacking almost all human connections. Fisher reviewed the issues and then briefly outlined six approaches currently in discussion (new management of CHA, more money, a public/private program of rehabbing abandoned apartment buildings, a sell or demolish program, resident attrition, or hiring a private property management company. To these, Fisher added two more: tenant management and tenant ownership. His strongest recommendation was for the latter.
Fisher's idea came not long after Mrs. Thatcher's Housing Act of 1980, which offered a right to buy to public housing tenants in the U.K., an offer upon which two million tenants acted. He was also in synch with the new HUD secretary, Jack Kemp, whose notions of enterprise zones also included tenant ownership of public housing.
Fisher suggested either the cooperative (i.e., stock ownership) or condominium (deed-based) models. Tools toward ownership might have included sweat equity arrangements and homesteading. Obstacles, he noted, would be the demands of the Chicago building codes, the Davis Bacon laws regarding contractors paying union scale, and possible property taxes. Still, Fisher cited the historical experience of Chicago neighborhoods such as Lincoln Park, Halsted Street, Wicker Park, and Logan Square where "the energy of individual property owners working to improve their own piece of Chicago" had made those communities stronger and more vibrant.
Fisher's ideas were never taken up, perhaps because either tenant management or ownership would have moved Cabrini Green out from under the CHA and HUD. Nor does he mention the fact that through the 1960s, the median CHA family was working-class and two-parent. By 1974, however, over 80% of residents were dependent upon state aid in one form or another.
For Chicago's black community, it wasn't always this way, of course. On the South Side, the Bronzeville community was from the 1920s to the 1940s one of the premiere centers of African-American culture. The neighborhood supported several black newspapers and 731 business establishments in 61 lines of work, including this country's first black-owned bank and insurance company. By 1929, Bronzeville blacks had amassed $100 million in real-estate holdings. Despite the segregationist laws of the times, it was also a self-sustaining middle-class "enterprise zone" buttressed with many kinds of mutualist associations.
Bronzeville was also headquarters for the Chicago Defender, the newspaper usually credited for inspiring Southern blacks to move north for greater freedom and opportunity. Author Nicholas Lemann (in Promised Land) credits the change of Bronzeville to urban renewal, the interstate highway system and theories from the University of Chicago. Among the latter he lists the Marxist-inspired notion that poverty is a political condition and that with political "empowerment" will come economic betterment. The War on Poverty in the mid-1960s failed, as Lemann chronicles, because its main tool—community action—assumed this non-existent link between political power and individual economic improvement. Not that other, more humane social theories were not close at hand. Chicago's Monsignor Reynold Hillenbrand and Bishop Bernard Sheil's many Catholic Action projects called for social regeneration according to a distributist vision, for example.
Marvin Olasky once pointed out that every poor person once had a three-legged stool on which to sit: family, church, neighborhood. New efforts to restore their efficacy are the kind of urban planning we want to see—in Chicago and everywhere else.
—
Elias Crim did graduate work in classics at the University of California (Berkeley) before beginning a business and publishing career that has included management positions at Accenture, the Link Institute (as executive director), and Onvia.com. He's the author of Character Education That Works and has contributed to the American Scholar, the Washington Times and the Chicago Daily Observer. Currently he is part of a team working to create a U.S.-based affiliate of ResPublica, the U.K. thinktank focussed on new approaches to civic renewal.