Boise, ID. Bono, the frontman for the Irish rock band U2, has been a favorite enigma for me and countless other Christians of the Gen X vintage. Over the decades, he has somehow maintained that most fickle of celebrity commodities—cultural relevance. On St. Patrick's Day, Songs of Surrender debuted and added the 2020s to the 2010s, 2000s, 1990s, and 1980s as decades with a U2 album in the top 10. Speaking of top 10 lists, March 17 also saw the premiere of the streaming documentary Bono & The Edge: A Sort of Homecoming, with Dave Letterman. In February Bono was a highlighted guest at the State of the Union Address and upcoming U2 concerts were announced with a Super Bowl spot.
At the head of this content train is Bono's bestselling memoir Surrender: 40 Songs, One Story, which was released in October and is now the basis for a spring run of sold out one man shows in New York. With Surrender Bono has offered a deeply personal look at a life shaped by loss and a still ongoing search for God and belonging. As with any good enigma, the result is both endearing and exasperating. Bono's embrace by elements of the institutional church that he has long rejected serves as its own enigmatic lesson—while celebrities often do not feel that they need organized religion, religious institutions scramble for affirmation from the famous.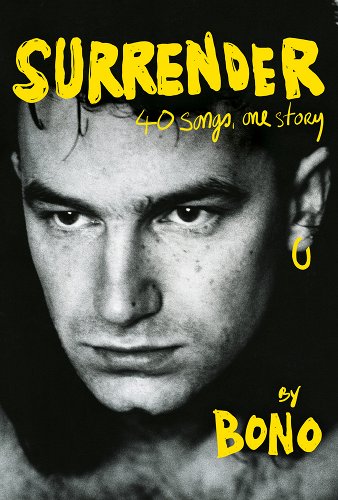 The theme of "home" runs through the almost 600 pages of Surrender. The boy born Paul David Hewson is a man marked by restlessness who can authentically sing one of his most famous lyrics, "I still haven't found what I'm looking for." Of the many invocations of home in Surrender, two strike me as the saddest.
In the first Bono writes early in the book of the fallout following his mother's sudden passing when he was 14 years old: "After Iris died, 10 Cedarwood Road stopped being a home. It was just a house." There, three males—Bono, his older brother Norman, and their aloof father Bob—stumbled through the work of grieving.
The second comes hundreds of pages later. Bono, raised by two church-going parents, is now a father himself and writes:
I remain more suspicious of religion than most people who'd never darken the door of a church. I've never quite found a church I could call home, and I tell the kids to be wary of religion, that what the human spirit longs for may not be corralled by any sect or denomination, contained by a building.
Bono himself will, though, occasionally darken the door of church buildings. Surrender includes reflections on his visits to the Chapelle du Rosaire de Vence in the south of France, where the stained glass reminded him of the church he would attend with his mother. And he writes movingly of being overwhelmed by the "genius" of the Nativity after slipping into the back of St. Patrick's Cathedral in Dublin on Christmas Eve in the mid-1980s. "Unfathomable power expressed in powerlessness." Despite such memories and epiphanies Bono is a church tourist rather than a regular.
Growing up in Dublin amid "the troubles" when religious identity was too often fused with violent nationalism, one can perhaps understand the roots of Bono's aversion to an institutionalized church. Yet Bono's formative years were spent at a rare multi-denominational school, Mount Temple Comprehensive, and he fondly recalls the impacts of the Charismatic Renewal Movement there and elsewhere. Derek "Guggi" Rowen gave his friend the "Bono" nickname that would stick for a lifetime, and Guggi also introduced Bono to the idea that "God might be interested in the details of each of our lives." Bono writes that this was a concept that "was going to get me through my boyhood. And my manhood."
In 1982, as fame was just embracing him, the 22-year-old child of a Protestant mother and a Catholic father was getting married to the girl, Ali Stewart, that he first asked out to a church youth club. The officiant was a man who Bono writes "saved my life"—a teacher (of the relatable and condom-providing variety) turned Anglican priest. The best man was Adam Clayton, a nonbeliever and the bassist for U2. The wedding scene was punctuated by the presence of "Holy Rollers" from Shalom, the radical Christian community that three-quarters of U2 at one time had frequented. This religious jumble seems to have been clattering in Bono's head ever since.
Shalom appears to be the last Christian community to which Bono has actively belonged. He writes of his church wedding that while he "didn't like church very much," he "did love its symbols," including "the idea of baptism" and the "concept of Communion." Later in the book, Bono recounts with awe a trip to the Holy Land and writes of taking a "swim" with his family at the site where Jesus was baptized, but we are not told whether his four children (including a daughter named Jordan) have themselves been baptized and where, if at all, the family takes communion.
Nevertheless, Christian institutions have long welcomed him. Several books catering to faithful fans have been written pondering the spiritual insights of the U2 canon. The U2charist, a communion liturgy incorporating U2 songs, has been a regular occurrence in Episcopal and other progressive churches. At the height of his activism in the first decade of this millennium, Bono spoke at the National Prayer Breakfast and barnstormed heartland evangelical mega-churches and Christian colleges like the Chicago area Wheaton University, drawing Easter Sunday type crowds.
Bono writes in Surrender of using scripture as both a personal "plumb line" and a connection point with the conservative politicians, from Jesse Helms to George W. Bush, whom he tried (often successfully) to befriend. And yet too often, in his career and in his book, Bono seems pulled out to sea by the far-from-biblical tides that also circulate in the world of entertainment.
Bono calls Paul a "spiritual master" and quotes all of the Apostle's rightly famous "love" chapter, I Corinthians 13. On issues of sexuality, however, the plumb line of scripture is not engaged, and Bono endorses "marriage equality" based on the deep truth (turned lyrical banality in this context) that "[l]ove [is] the higher law." In 2018, U2 publicly supported the sadly successful repeal of Ireland's constitutional provision protecting the preborn, at which point I determined that I had seen my last U2 concert.
On his recent book tour he has spoken to a packed National Cathedral in Washington, D.C. and has been the cover boy for Christianity Today. From his ecclesiology to his view of Christian sexual ethics, there would seem to be plenty grounds for probing questions. The cult of celebrity, though, usually creates a bubble of adoration that protects from pushback. Such was the case at the National Cathedral. Even when Bono engaged in a bizarre tangent extolling the AC/DC song "Highway to Hell" the resistance was merely playful. Interviewer and cathedral historian Jon Meacham later had Bono close by reading an extended version of Bono's "never quite found a church I could call home" lament quoted above.
A bit of that ecclesial self-loathing was also on display when Mike Cosper of Christianity Today led off his article with the story of Bono jumping at a 2002 invitation to meet the Rev. Billy Graham. The evangelist's protective son Franklin Graham had picked up Bono at the airport and "wasn't quite sure about his cargo," as Bono puts it. The younger Graham, set up here to play the heel in the pages of the magazine his father founded, asks Bono a number of specific questions about his faith and art. Cosper writes, "For four decades, Bono has found himself in conversations like this one, responding to Christians who aren't quite sure what to make of him or U2."
The CT interview would not be one of those times. Cosper, who has described himself as a "disillusioned evangelical" and who is best known for "The Rise and Fall of Mars Hill" podcast, does little to hide that he is a giddy U2 fan. Cosper sees Bono as an antidote to an evangelical subculture that often elevated the trite over hard truths in its music. I share many of Cosper's frustrations, but Franklin Graham's questioning approach seems quite appropriate. "Test everything," as Paul admonished the Thessalonians, "hold fast to what is good."
Christians who uncritically embrace Bono invert the errors of discernment demonstrated by those who categorically reject any figure with a whiff of heterodoxy. As I have said of FPR favorite Wendell Berry, one need not be right about everything to be right about some things. (As an aside, Berry is another enigma averse to the institutional church and its historical sexual ethics who has been lifted up by the likes of the National Cathedral and CT, but that is a topic for another day.)
Regarding Bono, there is certainly, in Paul's phrasing, good to hold fast to. Given a chance, Bono can often surprise, as when he gave a straightforward affirmation of the physical Resurrection and the divinity of Christ to a probing Irish public television personality in 2014. But in that same interview he also described his family's "irregular" approach to prayer, which might occur gathered together around a family bed or in an empty church.
It would seem fair game for those affiliated with religious institutions to ask just why the church needs to be empty? Is there no value for Bono in engaging regularly with a broader body of believers? Was Christ serious when he looked at Peter and proclaimed the establishment of his church? Was Paul serious as he perilously journeyed around the Roman world establishing congregations that transcended the nuclear family?
Bono himself might be open to more engagement on the topic. In the full audio of the interview with Cosper, Bono confesses that "I am finding myself in churches much more than I thought I would in my earlier life" and concludes that "maybe I'm coming around to a more traditional expression of faith." The singer, noting Jesus's retort to let the dead bury the dead, also highlighted that "Jesus wasn't nice" and Bono says that "sometimes it is kind to be truthful." Cosper closed, though, with a cascade of thanks rather than the kindness of truth.
Bono's embrace of churchless Christianity holds dangers for him, his family, and the Christian institutions that enable this sort of religious freeloading. An average church member might well ask, "If it is good enough for Bono (and good enough to garner praise from institutional elites) why should it not be good enough for me?"
I was reminded of the answer to that question the day before Bono took his seat at the State of the Union. At a service with Anglicans from across the country, Christianity Today editor-in-chief Russell Moore delivered the sermon and opened by asking what, if anything, was the church good for? After exploring Satan's first temptation of Jesus in the wilderness, Moore concluded that the church must link itself, as Jesus did when he quoted Deuteronomy 8, to the historical and ongoing story of redemption and be "the people who gather around a word, who gather around bread, who gather around an authority who actually feeds us the Word of God, not bread alone."
That idea of being "the people who gather" was then emphasized though the words of the African Eucharistic liturgy used by many Anglicans in America. The celebrant proclaimed, "We are brothers and sisters through His blood," and the congregation of hundreds responded,
We have died together.

We will rise together.

We will live together.
That drumbeat of together, together, together struck me as the best retort to the contactless Christianity that Bono has embraced. It is a concept that Bono should know something about. The chorus to "One" is essentially an extended present tense version of "We will live together":
One love, one blood

One life, you got to do what you should

One life with each other

Sisters, brothers

One life, but we're not the same

We get to carry each other, carry each other
Bono writes of the song's origin in 1990 when the band teetered on the brink of dissolution, "'One' was the song that saved us. We wrote the song that we needed to hear."
My prayer is that Bono hears something similar from believers on the need to be in fellowship with other Christians. In Hebrews, scripture says, "[L]et us consider how to stir up one another to love and good works, not neglecting to meet together, as is the habit of some, but encouraging one another." "The wisdom of the scriptures," Bono tells Cosper, "is sometimes tough love." To hear that message of tough love for which he seems to be yearning, those who represent the church to Bono will have to have the courage to break through the aura of celebrity and invite a searcher into the true home he is looking for.
Image via Flickr: Bono at Toronto Int. Film Festival, 2011