If you value FPR, consider supporting our work and subscribing to our new print journal.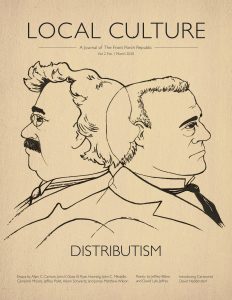 I am in love with my neighborhood because I am in love with the people, how resilient and complicated they are, and how they teach me how wrong I have been about the world. They have proven to me what Jesus said in his most famous sermon, the one on the mount: "blessed are the poor in spirit, for they shall see God."
Devon, PA. Thanks in part to the series of fine essays John Médaille has provided us during the last several weeks, the implicit economic...
In plant or animal life, a single virus or bacteria, a single destructive fungus or disease, a single hostile predator or pest would wipe out an entire monoculture without the barest resistance. It is the very nature of nature to avoid monocultures - indeed, it cannot be otherwise since any form of monoculture cannot long exist in nature.