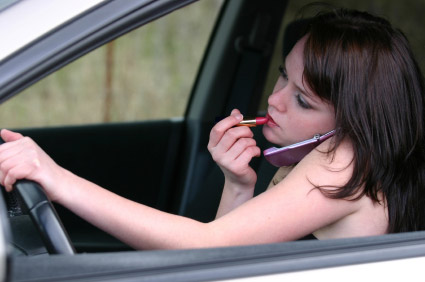 ROCK ISLAND Now that all public space is the exclusive property of cell-phone users and the deaf people they talk to, a jeremiad is in order, though I'm going to try to behave myself.
I am more than a little disturbed by the ways this pernicious little device has altered everyone's life–including my own, though I don't even own one. I note as a matter of first business what must surely be clear to everyone: to own a cell phone is to be owned by it. I think we ought to have one vender, "T-Mephistophile," and be done with the delusion. The servant has pretty much become the master.
I also note how few people have any sense anymore that they actually live in the world of fragrant trees and trilling frogs. I see students and colleagues alike walk across our campus, which is beautifully forested, staring at little screens or yammering on and on about some gross indignity they've suffered, utterly unaware that at that very moment, in the sycamores surrounding them, red-tail hawks are eyeing the black squirrels as they frolick in the fescue. In the early morning stillness I've observed the quiet stealth of owls ganging up on a fur-bearing varmint, only to watch the owls swoop off noiselessly at the approach of some garrulous scholar, who's probably never even seen an owl before, chirping loudly to the incorporeal air about what "is like totally obvious to everyone but her!" If it weren't for half-dressed sorority girls desperate for attention, some of these undergraduate males on permanent screen-saver mode would never have any experience of natural beauty at all.
And there are those professional shoppers I see as I walk in each morning, the too too harried moms, punching little buttons with one hand and steering their Yukons with the other, neither eye on the road as they race to daycare with Pop-Tart-fed children blissfully clueless about how frequently their multi-tasking mommies imperil their lives–or, worse yet, use "text" as a verb.  I want to yank the children from the cars to save them–and the mothers from the cars to thrash them.
And then there's the vanity, the urge and urge and urge, always the miscreant urge of the world. You can see the anxiety on this or that talker's face:  there's been no message in at least five minutes!  It's slipping away!  But then suddenly the phone pulls its reassuring stunt:  Yes! Someone has left a message. Relieved, Biff or Muffy is once again rightfully situated at the center of the universe.
I would be remiss not to mention the unexpected tune in the classroom calling us to attention right when we've finally achieved, by great labor, a slight intimation of what Romantic joy is–or, if not a tune, then a buzzing vibration that at least lets me crack a dirty joke.  Or else it's an augury of frustrate bitchery whirling like a dervish if Kaylee or Mackenzie can't get a signal in the library, or it's the head-start millions of people now have on their brain tumors, or it's the planned obsolescence that keeps the suckers perpetually dissatisfied, or it's the distraction so utterly "inimical to true discipline," as Wendell Berry pointed out long before these repellent things were ever imagined.
Deserving of a tirade, all of it, if for no other reason than that the cell phone, as one of my more sensible students said, has turned bitching into a spectator sport.
For my part, I think it's too late to be worried about how More Bars in More Places has trivialized discourse itself–just as the jukebox in real bars has drowned out the conversation that Aristotle said is necessary to true friendship. We're living in a time when calling from the bread aisle to say they're out of hotdog buns is acceptable rather than embarrassing behavior, normal rather than aberrant. Why the errant husband must deliver himself of this information right now is only the most obvious question we ought to be asking.
But what else ought we to say?
In Amusing Ourselves to Death (1985) Neil Postman did a credible job of addressing this question with respect to the telegraph, which, he says, "destroyed the prevailing definition of information, and in doing so gave a new meaning to public discourse." Samuel Morse himself had boasted that the telegraph would make "one neighborhood of the whole country"; Postman calls upon the Sage of Walden to respond: "We are in a great haste," Thoreau said,
to construct a magnetic telegraph from Maine to Texas; but Maine and Texas, it may be, have nothing important to communicate. . . . We are eager to tunnel under the Atlantic and bring the old world some weeks nearer to the new; but perchance the first news that will leak through into the broad flapping American ear will be that Princess Adelaide has the whooping cough.
Thoreau, as usual, had it exactly right. "He grasped," says Postman, "that the telegraph would create its own definition of discourse; that it would not only permit but insist upon a conversation between Maine and Texas; and that it would require the content of that conversation to be different from what Typographic Man was accustomed to."
Postman goes on to discuss what the telegraph did to the basic news story, the gist of which is that it de-localized it. Because it became possible to get news from far away, news from far away became important. "James Bennett of the New York Herald boasted that in the first week of 1848, his paper contained 79,000 words of telegraphic content–of what relevance to his readers, he didn't say." In fine: it wasn't long before All the News That's Fit to Print included–nay, specialized in–the princess and her whooping cough.
If Postman is right to say "that the contribution of the telegraph to public discourse was to dignify irrelevance and amplify impotence," what must we say about our much-vaunted "unlimited minutes" and "free" long distance–I mean aside from the fact that the mePhone is the author of peace and lover of concord, whose service is perfect freedom?
Maybe we're afraid of silence.  Maybe we're afraid to be alone with ourselves.  Maybe we're bad company.  Maybe desperation or ennui has driven us to crave distraction.  Maybe there's a dim recognition somewhere within us of how little we have to say, and maybe chatter is a means of filling the mighty void, an effort to forget how utterly bereft of thought we are.
We certainly talk too much and say too little. We forget (or never suspected) that the message will always be determined in part by the medium; having forgotten (or failed to realize) this, we indiscriminately acquiesce to all media, some of which have made meaningful discourse impossible–and in the process have debased the stately language of Shakespeare and the Authorized Version.
I am worried about what happens to people who cut  themselves off from the things that endure and immerse themselves in things that cannot.  Will they become deaf to the obvious implications of their much-abused native tongue? The term "cell phone" implies a prison as surely as "world-wide web" implies entrapment: we've been caught in a tangle and are about to have the life sucked out of us by something big and scary and treacherously reclusive.
My brother and I were on a train once from Manchester airport to Manchester Piccadilly station. In front of us a woman was filling the ear of a distant auditor by flapping her tireless Mancunian gums at a small device held to her head in full view and earshot of everyone on the train, which had stopped so we could all pay better attention. Twenty minutes later the train began to move again, and soon we were at the station. As the woman walked ahead of us down the platform, still squawking away, my brother, a taciturn man whom I speak to on the land-line phone about once every two years, turned to me and said, "I don't have that much to say to anyone."
And then we retreated back into the rich silence that has always been our shared element.