The Bar Jester Chronicles 7: Morning Cyanide
By Jason Peters for FRONT PORCH REPUBLIC
http://www.frontporchrepublic.com/2009/10/the-bar-jester-chronicles-7-morning-cyanide/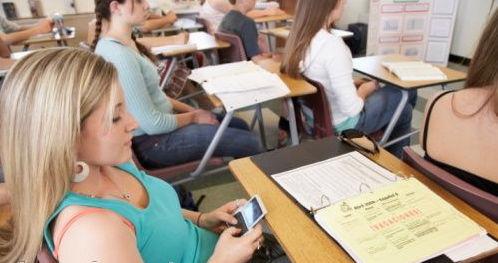 (Photo: Mackenzie Brastrap Fooling the Teacher)
Rock Island, IL
"Morning Cyanide" is a fun game for the whole family. The best thing about it is this: not everyone has to be awake at the same time to play it. All you have to do is note what time it is when you wake up and then note it again the first time you feel like reaching for the cyanide. Whoever makes it the longest between waking and committing suicide wins.
The best way to win this game is to be the sort of person who, without any compunction whatsoever, can turn on a television in the morning. If you can obliterate the best part of the day with the blue glow and the peroxide chatter, you needn't worry that a warm bath and an open vein are in your future. Despair may be your element, but the thing about despair, as Kierkegaard pointed out, is that it doesn't know it's despair. You'll clip along just fine in a haze of malaise that will feel for all the world like ecstasy or high-quality California cannabis. There might even be a sale going on at Target.
The person who's going to lose this game will do one of two things to start his day: either he will turn on a computer or he will read a newspaper, both of which will present him with such signs of the apocalypse as to make him scramble for the nearest can of rat poison–such signs, for example, as the one with which the Associated Press ruined my most recent Saturday.
(Moral: put off the morning rite at your own risk—and be sure someone has hidden the arsenic.)
The title of the article in question—"School Lets Kids Use Cell Phones"—was enough to make me reach at five a.m. for a bottle of Vodka and all the pills in the house. But was I smart enough to leave it at that and go in search of joyful news in the obituaries? I was not.
Here's how AP English class works at Wiregrass Ranch High School:
[The teacher] ended her [or his] class announcements and told her [or his] students to take out their cell phones.

"I need at least three people who can get a signal in here," [the teacher] said to her [or his] advanced placement literature class. "We're going to be studying the works of D.H. Lawrence, and I want you to find some things about him that you don't already know,"
because biographical information is the sort of thing you get from a phone during class, not the sort of thing you get outside of class on your own time in preparation for reading, say, Lady Chatterley's Lover.
Nearly everyone whipped out a phone—
because nearly everyone has been taught to say "yes, please" to whatever is for sale–
and began tapping away. Within moments, the teens were sharing their Internet discoveries.

"He lived during World War I."

"He had relationships with men and women."

"He lived the second half of his life in exile, considered a pornographer who had wasted his talents."

With each detail, [the "teacher"] pulled her [or his] students deeper into a discussion about the author.
How deep? So deep that
[w]hen the talk had run its course, the students set their phones down and turned their attention to another author.
So much for D.H. Lawrence. Next.
In a world where most high schools have adopted a "we see them, we take them" policy on cell phones, Pasco County's Wiregrass Ranch High School swims upstream[,]
thinks outside the box, and avoids cliches like the plague.
It encourages teachers to allow students to use their phones in classes for educational purposes. Teens routinely use their phones to shoot pictures for projects, calculate math problems, check their teachers' blogs and even take lecture notes.
What those lecture notes look like: omg dhl did what? wtf?
"I think it's a good policy, because[,]
with the exception of the students, teachers, administrators, and parents,
we're all pretty much adults here," senior [name omitted] said. "People are going to text no matter what,
she [or he] added, citing what she [or he] learned from reading her [or his] primer on logic.
"So I think it's good that the principal and staff here are being open and letting us use it for educational purposes."

Senior [name omitted], who attended Freedom High in Hillsborough before moving to Wiregrass Ranch, called his [or her] new school "ahead of the game."
How far ahead of the game? So far ahead that they're
"just following the rest of the world. It's going digital," he [or she] said, checking his [or her] phone for messages repeatedly during a short interview,
thereby parroting the permitted chatter and demonstrating his–or her–mile-wide attention span.
"Once you're 16 or 17, there's things you need to know throughout the day,
such as subject-verb agreement.
It was so inconvenient when I had to hide it all the time."
But now school is convenient. It's like driving. Or shopping at the local Kum & Go.
Many teachers agreed.

"They all have them anyway, and they're all dying to use them in class," said Spanish teacher [name omitted,] who
doesn't want students to die in class and who, misconstruing the word "life,"
admitted that she [or he] stores her [or his] life in her [or his] cell phone and uses it for a variety of functions. "If they're texting when they're supposed to be listening, I might tell them to put it away. But you might teach them a way to use it that might be applicable to their learning."
Double might? Like, how promising is that!
Students in her [or his] English for language learners class often use their phones to take pictures of items she [or he] says in English, to demonstrate they understood her [or him],
there being no other way to express understanding save by means of purchasable gizmos.
Does this new openness to the wonders of technology exclude anyone?
The few students who don't have phones share in small groups, or use alternative school equipment.

One girl [or boy] raised her [or his] hand in [the "teacher's"] class during the D.H. Lawrence discussion and said, "As the only person in here without a phone, I have a question." It quickly got answered,
because all questions have quick answers.
"Allowing students to use their cell phones in class means things get done immediately, which translates into more efficient use of learning time," [the teacher, educated at public expense,] said.
And what, for example, did Mackenzie get accomplished during AP English? She learned three facts about dhl, went deep into his littacher, and then started on another awther. She also told Mandy over in home room that she thinks Karsten is hot, that Taeler is wearing a top she wore last year, and that omg Sons and Lovers was written by a queer!
And on 17 March 1801 Coleridge observed his son, Hartley, not yet five, looking out the window at some mountains. Coleridge grabbed a mirror and showed him
the whole magnificent Prospect in a Looking Glass, and held it up, so that the whole was like a Canopy or Ceiling over his head, and he struggled to express himself concerning the Difference between the Thing and the Image almost with convulsive Effort.–I never before saw such an Abstract of Thinking as a pure act and energy, of Thinking as distinguished from Thoughts. (from the Notebooks )
Just think what a good signal could have done for poor Hartley's attenuated understanding of what his dad called the "mind's self-experience in the act of thinking."