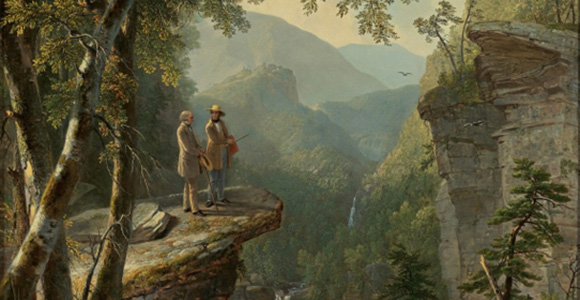 BURNED-OVER DISTRICT, NEW YORK. March came in like a frigid lamb, and even though the temperature never did climb out of the teens the snowless patch in our backyard was large enough for my daughter and I to play catch for the first time in 2009. Either her fastball was moving or I'm getting old.
After half an hour I had a red softball-beaten pulp where my left palm used to be, so we made haste for the hot chocolate and further welcomed the month with me declaiming, to the general inattention of the household,
Ah, passing few are they who speak,
Wild stormy month! In praise of thee;
Yet, though thy winds are loud and bleak,
Thou art welcome month to me.
So rhymed William Cullen Bryant, the most precocious of American poets, the Berkshires wunderkind who grew grey writing free-trade editorials for the New York Evening Post and gave his name to what later became known as Needle Park, junkie central in midtown Manhattan.
Bryant is a subject of my favorite 19th-century painting, "Kindred Spirits," the Hudson River School masterpiece by Asher Durand in which the poet Bryant and the painter Thomas Cole are standing on a promontory in the Catskills, communing with nature as only dreamy and well-tailored antebellum artists could.
For years, whenever I was in the Vampire City I hoofed it over to the New York Public Library to see "Kindred Spirits," which was, invariably, on loan. Finally, in 2006, I saw it—in Washington, D.C., at the National Gallery of Art, when I was in town to do an overnight national radio show with a host who accused me of being "against penicillin, the Interstate Highway System, and the moon landing." (Two out of three ain't bad.) Ah, but there is a twist: "Kindred Spirits" was on display at the National Gallery courtesy of a Wal-Mart heiress who had bought the painting for the soon-to-open Crystal Bridges Museum of American Art in Bentonville, Arkansas.
Life sure is complicated.
But then old Bryant knew that.
The year's departing beauty hides
Of wintry storms, the sullen threat;
But, in thy sternest frown abides
A look of kindly promise yet.
Happy March.