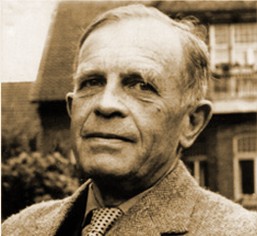 One of the few "Austrian economists" to give serious attention to familial, agrarian, and communitarian themes was Wilhelm Röpke , born in Germany yet long associated with his adopted Switzerland. He saw family life as "natural and free," with the "well ordered house" serving as the very foundation of civilization. He labeled a healthy peasantry "the very cornerstone of every healthy social structure," adding that a "peasant who is unburdened by debt and has an adequate holding is the freest and most independent man among us."
The Spring 2009 issue of The Intercollegiate Review carries my essay, "Wilhelm Röpke's Conundrums Over the Natural Family." One passage explains his celebration of the Swiss village as the "ideal" form of human existence, a model to be emulated:
"In finding answers, Röpke was—and is—correct in trying to rehabilitate social life by returning human beings to decentralized, autonomous, self-sufficient, functional homes, where education and work would be integrated into the daily flow of family living. Toward this end, he correctly saw mid-twentieth-century Switzerland to be a model state. 'As the common enterprise of freedom-loving peasants and burghers,' he wrote, ' it has offered the world a living example of the harmonious integration of [rural] and city culture.' He described a real village of about three thousand people with nearby farmsteads in the Bern Mittelrand, a place that combined artisans' shops, small factories, a brewery, a dairy for cheese, a 'highly tasteful' book store, and 'a great collection of obviously thriving crafts and craftsmen.' He added 'that the whole place is remarkable for its cleanliness and sense of beauty; its inhabitants dwell in houses which anyone might envy; each garden is lovingly and expertly tended; [and] antiquity is protected…. This village is our ideal translated into a highly concrete reality.'"
The full article can be accessed here.
–Allan Carlson
Winnebago County, Illinois