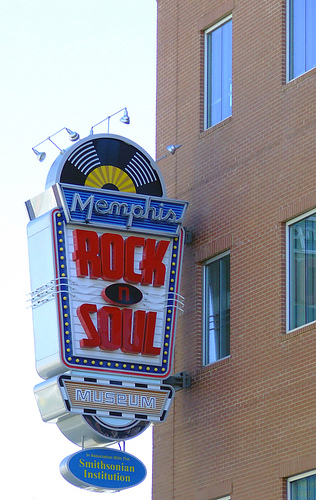 Claremont, CA – The first thing you see, when you enter the Memphis Rock N Soul Museum, is a front porch.
This front porch is a dilapidated thing, decorated with a few old barrels. Nearby lie the accoutrements of tenant farming: mule harness, cotton bag, scale. It is a scene meant to evoke – and a scene which does evoke – the crippling brutalities of sharecropping life.
Yet what happened on front porches just like this one would amount to a great cultural transformation in the United States. That's because at the turn of the twentieth century, front porches were where southern sharecroppers gathered to play music.
And it wasn't just any music. It was improvisational, dynamic, freewheeling – and critically, it was biracial. The indignities of sharecropping were shared across the color line, eventually making southern sharecroppers an integrated exception to the rule of Jim Crow. (This exceptionalism extended well into the 1930s, at least, when the Southern Tenant Farmers Union was one of few labor unions open to all races.)
So black sharecroppers brought with them the songs and rhythms of slavery (its own mashup of the African, Caribbean, and European). They brought the bent notes and slides of the blues.  White sharecroppers brought with them the "old-time music," the fiddle-and-twang folk songs of southern Appalachia.
The music they made together on those front porches, with the help of a little radio publicity, ultimately set the stage for almost all the music Americans listen to today: country and western, rockabilly, rhythm and blues, and rock and roll.
Like Joan Jett, I love rock and roll, which now I know may have something to do with why I write for Front Porch Republic.
As Patrick Deneen has noted, a front porch is a place not quite private and not quite public. It's a little bit of both, a blending of the two. That element of front-porchliness reveals itself quite clearly in southern sharecropper culture, to be sure, but since Patrick has already discussed this I'm going to leave it aside.
Let's be more fun and exciting than that. Front porches are exciting places. Exciting! Think about front porches this way: as improvisational places, sites of spontaneous conversations and serendipitous meetings and impromptu jam sessions. They are places for coming and going, places to expect unexpected encounters.
When black and white sharecroppers gathered together on the front porches of the rural south, they did not have a grand plan to change the face of American music forever. They were just hanging out and seeing what happened. It was an exploration of potential: of the potential of individuals and the potential of individuals who join together in song.
This kind of spontaneous, improvisational conversation – whether in speech or in music or whatever – is imperative in a basically democratic society, especially in a pluralistic one. As scholars of jazz music like Robert O'Meally have argued, improvising is a crucial skill for democratic life.  Spontaneous music and conversation with others teach you to respond to others in the moment, teach you to cultivate form and order from the unpredictable.
Importantly, that improvisational conversation involves more than exchanges of mere words and language. On the front porch, that interaction is bodily: encompassed in gestures and posture, smiles and frowns, winks and nods. It involves something close to the whole person.
It's also the kind of conversation that does not happen easily on the Internet. As my students and I have discussed often, even the most "casual" e-mail can be the result of hours of hand-wringing and synonym-searching and scheming and plotting. Even "instant" messages can be revised, massaged, and cleaned up before they are sent. And perhaps it is needless to say that internet communication is not bodily, not face-to-face.
Our own forum for exchange here, then, leaves something to be desired – at least to the extent that the front porch is our symbolic model. Given the realities of our own lives, this virtual front porch may be a better among second-bests.
But perhaps even more than writing or reading the carefully crafted missives on this site, we should seek and embrace the spontaneous interactions that we may only be able to have – or, at least, that we may have best – with the people who share our non-virtual neighborhoods.
Every morning, our newspaper is sitting right outside our front door. Our neighbor Jim wakes up early and moves it there, out of the way of sprinklers and passing junior-high students. It is a simple and thoughtful habit – one, Jim tells me, that began rather spontaneously.
What grand and good things may be born of neighborly improvisation.
We may not have a front porch in the literal sense, but we have potential. And potential – the potential inherent in any improvisational encounter – is a big part of what front porches are about.