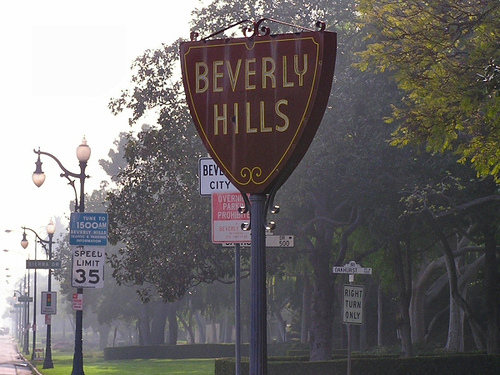 Claremont, CA. Outside of Los Angeles County, few people have heard about the latest dangerous idea in public education.
Two local public school districts have adopted a "legacy admissions" policy. According to education experts, the policies are the first in the nation.
Officials in the Beverly Hills and Santa Monica-Malibu school districts say that there's nothing problematic about giving children of alums – even when they don't live within district boundaries – preference in admission.
When asked by LA Times reporter Seema Mehta about complaints that the program is antidemocratic, one Beverly Hills school trustee responded, "What's wrong with being elitist? We're Beverly Hills."
At present, each of these programs is limited in scope. But in a state with a catastrophic budget, it's not hard to imagine this idea expanding and catching on in other elite school districts. In those districts, when municipal sources of funding start to wither, school administrators will be tempted to "tak[e] a page out of the university or college playbook," as one another Beverly Hills trustee put it. It's almost inevitable.
Legacy admission at public elementary and secondary schools probably will thrive, too, because of the massive and crippling inequalities within American public education. (See everything that Jonathan Kozol has ever written.) Without doubt, these programs will attract many takers.
And even though it's tempting to see Beverly Hills as an exceptional case, history suggests that we should not. In fact, history suggests that where the Beverly Hills School District goes, other schools will someday follow. In 1988, Michael Leahy's Hard Lessons shocked readers with its portrayal of senior year at Beverly High. The description of entire families obsessed by college admission, of students spending their afternoons with SAT tutors and studying through the night with the help of prescription stimulants, seemed to most readers to be beyond the pale. Twenty-one years later, what's shocking about the book is how little it shocks. For the most part, Leahy could be describing life at any one of thousands of competitive high schools across the country.
I've said before here that we cannot talk about liberty and community in American life without talking about inequality in American life. We cannot talk about place in American life without talking about the inequality that place in America increasingly represents, and perhaps nowhere is this more apparent than in public schooling.
The clear trend of American public education is toward more inequality, and I am fairly certain that these new policies bode even more troublesome things to come. Legacy admission at public schools provides yet another way for more comfortable Americans to turn their backs on our most troubled schools – and the children in them.
At what point are public schools no longer public in any meaningful way? At what point are we no longer truly educating all Americans, but educating some Americans at the expense (or neglect) of others? And what will that do to us as a nation?