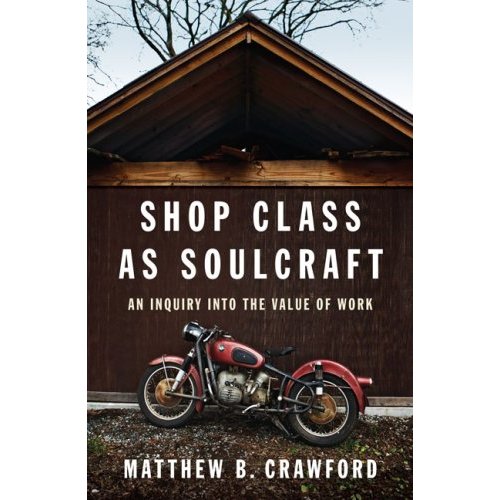 I don't like machines. I find them dirty, confusing and, even worse, boring. I also don't much enjoy working with my hands. I like reading books and telling people, in text or speech, what they should think about them. These qualities make me, I'm pleased to think, reasonably well-suited to academic life. But I don't know if they make me a good choice to respond to this book, which is, after all, about the dignity and virtue of the trades.
What follows from these disclaimers is that I'm going to leave to one side Matt's phenomenology of motorcycle repair. He says he finds it challenging, thought provoking, and rewarding—and I'm prepared to believe him. My questions focus on the sociological and philosophical framework in which those reflections are embedded. While I found much of Matt's account convincing, a few points struck me as underdeveloped.
First, I wonder how widespread the suspicion of manual work that Matt describes actually is. Without much evidence beyond my own experience, I suspect it's peculiarly American, and reflects the passion for self-betterment so well described by Tocqueville. Americans do not only tend to think that their lives should be characterized by constant improvement. They also believe that their children should live better than they did themselves. Of course, it's hard to say what "better" means. But that may be why educational and occupational markers are so appealing. It's easy to grasp improvement—and equally important, to express to others—when it can be tracked by clear criteria. Status distinctions between blue-collar and white-collar, college and high-school degrees, shop and office help us do that.
It's true that these distinctions are not always economically justified: a plumber may earn a lot more than someone who answers phones at a call-center. But the income of a plumber probably can't rise above a certain level, while the rewards of non-manual work are in principle limitless. To enter the world of knowledge work, even in a relatively menial capacity, means access to the possibilities that manual work is thought, probably reasonably, to foreclose. This may be why Americans love stories of the clerk or secretary who becomes the big boss.
I don't think you find the same anxieties in countries less obsessed with upward mobility. There, manual work tends to be valued, partly for itself, but also for its stability. When I lived in Germany, I often saw teenagers working as helpers on building sites. They weren't earning extra money to buy more and better things—they were on the vocational education track, which in Germany is much more integrated in the real economy than American shop classes. Yet approval for that system is linked to a kind of class-consciousness that makes us nervous. So, what extent is the problem here a feature of the American mind, and to what extent is it inherent to capitalism?
Second, the distinction between knowledge work and manual work seems to me overdrawn. Matt's beef, I think, isn't with the authentic knowledge work of the physician, the lawyer, the computer programmer, or the accountant, all of whom have to deal with objective, if not wholly tangible standards of achievement. It's with the pseudo-knowledge work he did summarizing articles for library indexes. But I can't think of anyone except Richard Florida, who defends the latter as an end in itself. More likely, people regard such work as choice-worthy because they think it's a step toward a something that is, in fact, more rewarding. They may be deluded about their prospects, especially as more and more of the tasks that belonged to the traditional professions are transferred to electronic sweatshops. But I don't think their basic intuitions are very different from those that animate the book.
The exception is our national cult of Wall Street, and its idol MRKT. An extraordinary number of otherwise reasonable people were, until recently, convinced that they wanted to play computer games with dollars all day. But surely you don't have to be a sociologist to understand their motive. As Willie Sutton was supposed to have said (but probably didn't), that's where the money was.
Third, I want to ask Matt to elaborate on a theme that appears only fleetingly in the book. That's the element of what fancy people call "gendering"—I mean the basically male perspective from which the argument is articulated. One the things Matt likes about the crew or shop is that they are settings where men can be men, as opposed to the passive-aggressive "culture" of the modern office. Despite my effete distaste for handwork, I'm inclined to agree with him. Where does this leave women? Is there some equivalent but separate space for them to enjoy the virtues of manual work? Or is this a call for the embrace of female gearheads—and not just of the ornamental kind you may remember from such films as the Fast and the Furious and Transformers II?
Of course, there's no reason that a practico-philosophical argument must be gender-neutral. Since Matt draws explicitly on Heidegger, its worth noting the that sage of Freiburg criticized his initial account of Dasein on the grounds that ignored sex. But Matt also seems to refer, without quoting, to Harvey Mansfield. So I'd like to hear something more on the perennial problem of manliness.
Finally, to insert a reflection on our amicable (yet bone-crunching) FPR vs. PoMoCo smackdown, this book seems to me to imply a valuable defense of, or at least reconciliation with the, the fluidity of democratic capitalism. Despite his long experience of manual work, Matt wasn't born to a family of mechanics—his father was a physics professor. Although he's lived for a while in Richmond, he's not from there. He chose it as his home after years in California and Chicago. And, as all reviews note, he's not just a mechanic with a word-processor. He's a Committee on Social Thought certified Deep Thinker.
Does this make him a soulless cosmopolite? Surely not. What it suggests is that traditionalist criteria of continuity and authenticity are not very useful guides for living a decent life. We are, as Peter is found saying, stuck with virtue. But we are also stuck with choices that can only be resolved through the assertion of individual will and judgement, which is the central feature of the modern project. To what extent can these imperatives be synthesized, or at least balanced? That's the question we're trying to answer, and in a way that might be of use to those of us who grew up without a front porch (or whose porch faced the opposite house rather than Pappy's farm). I think Matt provides an illuminating, but distinctly "postmodern" response.
As I said at the outset, these aren't so much criticisms as requests for elaboration. I was impressed by the book when Matt described it to me a few years ago in the barroom of Hotel Boulderado. I'm more now. But Matt, now that you're on TV and, I hope, can get a healthy advance for your next project, what's going to happen to the shop? It's when one has the opportunity to really live from one's own thoughts, rather than providing the best arguments money can buy, that the choice between manual and knowledge work gets difficult.
Samuel Goldman is a Ph.D candidate in the Department  of Government at Harvard University. He is working a dissertation on German Idealism and the theologico-political problem.