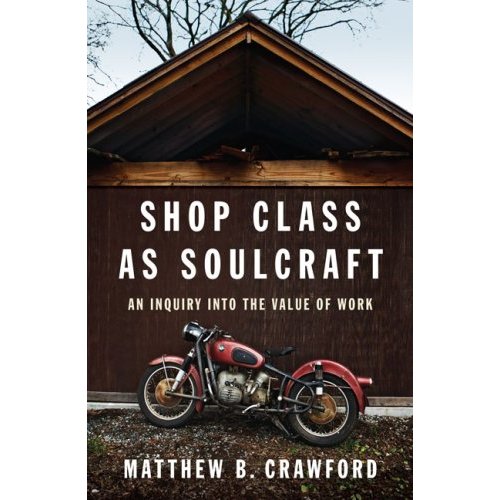 Mt. Airy, Philadelphia. As I read Matt Crawford's Shop Class as Soulcraft, I thought often of Simone Weil, that young champion of the workers of the world who took it into her head to find out first hand what it was like to be a worker. Weil, like Crawford, was very alert to the dangers of losing a grip on reality within a world spun by intellectual fantasy and fashion – after all, she was active in the communist party for a time, until she realized that revolution was the amphetamine of the intellectual. In the factory, she discovered that Taylorized work destroyed one of the great graces of manual labor: the intellectual and aesthetic contact with reality through the hands, which can give the worker a firmer and truer sense of the world than the dreams of philosophers, poets and artists often afford them.
The connections between Crawford's reflections and Weil's are not accidental. Aside from being concerned with some of the same questions Weil pondered, Crawford also relies at crucial points on Iris Murdoch's Sovereignty of Good, which is inspired primarily by Weil's thought. The central theme uniting all three authors is the one made poignant first by Augustine: the vitiating effects of self-enclosure on thought, imagination, sentiment and character. But it is a particular virtue of Weil and of Crawford to see into and spell out the way in which manual labor bears on this theme.
Whatever advantages Weil may possess as a thinker, Crawford has weighty advantages as an experienced worker. No one of Weil's acquaintance would ever be so foolish as to ask her to fix anything. She knew intimately the soul-crushing power of factory work, and the revelatory joys and gratifying weariness of farm work, but never the satisfaction of repairing a broken machine. This difference turns out to be quite important.
For, although Weil is hailed as a reviver of Platonism in the twentieth century, she entirely misses a crucial dimension of Platonic thought, namely Plato's basic psychological analysis. One will search in vain in her writings for a discussion of thumos, the spirited aspect of the soul that is concerned with anger, pride, dignity, offense, overcoming obstacles and rising above one's limitations. This represents a serious lack of self-knowledge on her part, for she was widely recognized as a willful character and an extreme ascetic, determined to overcome and eradicate what she called the "mediocre" aspects of the soul. Her writings issue an uncompromising call to direct one's love and attention wholeheartedly to the Good that transcends all the limiting considerations of this limited world in which we live out our days.
Crawford raises at least by implication a question that Weil needed to face up to, namely the problem of the puzzling relationship between our spirited passions and the pursuit of the Good. Following Murdoch's Weil-inspired idiom, he characterizes the mechanic's responsibility to the demands of the broken machine as a kind of "unselfing", but at the same time recognizes the desire for mastery, dignity and self-sufficiency as a driving force of this responsiveness. Is it unselfing or self-affirmation that is at work here? We could take an easy way out and say that our motives are complicated, but the reality seems a bit more, well, complicated than that.
Spiritedness has a peculiar relationship to truth. While we all want some kind of recognition, we also want some assurance that we actually deserve it. We recognize that, to receive recognition worth having, we must possess some kind of excellence, skill, or responsible agency. Hollow recognition provides hollow satisfaction, and we can't ultimately escape consciousness of this condition, paper over it as we may. But conversely, a competence that we can take satisfaction in (and that can make real creativity possible) depends on an apprenticeship, a submission to the non-arbitrary demands of the thing to be made, grown or fixed. This, Crawford emphasizes, is an apprenticeship in love of truth:
Any discipline that deals with an authoritative, independent reality requires honesty and humility…. If we fail to respond appropriately to these authoritative realities, we remain idiots. If we succeed, we experience the pleasure that comes with progressively more acute vision, and the growing sense that our actions are fitting or just, as we bring them into conformity with that vision.
While spiritedness may lead us to exaggerate how responsible we can ultimately be for the goods of this world – and so lead to empty reactionary or revolutionary ire – it can also lead us to contempt for the world and the desire to overcome it completely through renunciation. But it can only find its satisfaction in a responsibility for the goods of this world that accepts both the demands of love and the reality of failure.
Thus Simone Weil's recovery of the Good as a metaphysical principle, profound and important as it is, ultimately hollows out the world of its rich variety of concrete goods for which we can bear responsibility and love. For her, the Good is beyond being, but not constitutive of beings themselves. Working in the factory is a submissive awareness of the stark Necessity that reigns supreme in this world; working the land, for her, adds the enchantment of the sublime natural poetry that carries our love beyond this world. But caring responsibly for children, for neighbors, for animals and plants, for stuff – this is where the subtle dialectic of self-assertion and submission to reality works its way toward the satisfaction of resigned loving responsibility, which sometimes attains to the stature of virtue.
For reasons more essential than marketing value, Crawford's book combines a personal narrative with philosophical reflection on work, knowledge and character. It offers much material for reflecting on this dialectic by which the spirited element of our souls is guided to its fulfillment by both seeking to make for itself a very personal, dignified place in the world in which it can be effective, and also submitting to the impersonal demands of what is good and true in that world in which it seeks to stand upright. I for one would have been delighted to see a more sustained reflection on that theme, as I suspect Crawford has much to offer here. But it is part of the broad appeal of Crawford's book that it puts us on the trail of any number of important questions and reflections without insisting that we follow him at great length down any one of those trails.