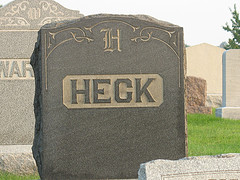 Henry County, Kentucky.  If your name is your fate, what does the future hold for Rylynn Shikaela Novaleigh?
There she is in the paper, age one, wrapped in the boa her mother chose from the photographer's prop basket, a healthy child happily tasting the air with her tongue.  If I watched soap operas or listened to country music, perhaps I could identify the sources for her name.  But perhaps not.  As far as names are concerned we now live in the world of The Borrowers, and like Arrietty and Homily and Pod in that book, many children are now called not by names but by glued together pieces of names.  The example above (which is not actually the child's name, but comparable) draws from Ryan, Lynn, Kaela, Nova Scotia and Lee, but unless there's a Lynn or a Lee or a Canadian Celt in this baby's family–and none was evident in the paper–this long and flowery name refers to no one.  That is the point.  The child is unique; so must her name be.
Rylynn Shikaela is no doubt much loved by her grandmother, but she is not named for her.  We have been trending this way for a while, and have fully arrived. In a listing for a 50th wedding anniversary in the same paper I found this family:
Great-grandparents: John and Joan.  Children: William ("Bill") and Nancy.  Grandsons: Darren and Dan.  Great-grandson: Dakota.
"John" and "William" are hardy perennials, but I don't know a Joan or a Nancy under the age of forty.  Too staid, too plain, and too out of style.  I know a bevy of Dakotas, though.
So?  What other people name their children is none of my business, and in general I don't much care.  You could hand me your niece Lignonberry and I'd be as pleased to hold her as if she were an Alice; I like babies.  But I am interested in the meaning of words, particularly those that have no meaning, and in the language we use to define ourselves.  And if we required any further evidence that we are rearing the Great Deracinated Generation, these names that have no root would clinch it.
One of the ways our media-flogged culture works to undermine our ties to our own places and our own folks is to push the cult of originality.  Now even the names of our children have become sacrifices to to it.  We live in large sprawling cities, most of us, in a country of 300 millions and a global village of billions.  In such a great madding crowd, how can our own children stand out?  How will the Social Security Administration ever distinguish our progeny from all the other Bakers and Does and Jacksons (and Wongs and Singhs)?  So we give our child a name no one else has because we've cobbled it together, or we give her a fashionable name with what we hope is a unique spelling.  Around here if you are going to name a child Bailey, Mackenzie or Caitlin, she is going to be in kindergarten with four others.  Hence Baeleigh, M'Kenzee and Kaytlynne.
The Joan and John above were probably named for somebody—for grandparents or aunts and uncles, most likely.  Thus they were tied through their names to their families and their family's history, and to the characters of the people they were named for.  Their progenitors Joan and John, if they were still living when these two were born, would have been just that much more tied to their namesakes.  A name is not the only thing that glues a family together, but it is one of the threads in the rope that binds us to our closest relations and our shared past.
I'm guessing, though.  It's possible neither was named for a friend or relation after all, but for Saint Joan, say, or one of the thousand famous Johns of history or literature.  Or perhaps their parents simply liked these names.  In such cases "John" and "Joan" still tie these two to their culture in a way that has some depth of meaning.  I know I keep a casual mental list of famous (or infamous) Katherines and Daltons, as I expect most of us do, and many young people ponder their name for a time as they struggle to understand who on Earth it is they are.  A name can be something to live up to, and of course setting a high standard used to be one of the purposes of naming.  Children named Michael or Elizabeth or Henry or Lucy—to pick names from my own culture–have a rich history to mine, and it comes not just from the original meaning of the words but from the angels, saints, royalty, scientists and poets who bore these names, too.
The Montanas and Cheyennes of this world don't have that.  They have a link to a place, yes, but it's a place to which few of them have any connection and many of them will never see.  And the Rylynn Shikaelas?  They are left to ponder nothing but their own uniqueness, and does anybody think, given the solipsism we are all prone to, this is a good thing?
Not all of this is new.  Americans and even our more restrained British cousins have a history of creative naming, as you will find reading any humorous tombstone collection, and I am as fond of Capability Brown as anyone.  But generally in the past most parents have restrained themselves.  The Ima Hoggs of this world are anomalies, and the more exotic-sounding names of previous generations were usually honorably Biblical—Melchisedeck, Abijah, Jael.
But this is a free country, we like to tell ourselves, and what men and women are free to do by gum they'll do.  Today as we play Adam with our own progeny we are limited mostly by our imagination, such as it is, though when filling out the birth certificate we can't generally use a symbol–we'd have to call the baby "Two" not "2"–and we usually can't be profane.  Still, someone has successfully gone to court in California to rename himself "God," and where the courts get involved there's no brake on ridiculousness: you remember the man who changed his name to "Coke is it."  One way or another, then, the Ima Hogging continues; search a bit and you'll find people named Scab Dover and Cutin Chubby and Monday Morning Maile.
I myself know a woman born Precious, and the great-nephew of Shadrach Meshach Abednego Nebuchadnezzar King of the Jews Jones, but these names (unlike Ima's) were never intended as a joke.  Most parents name their children in love and in earnest, not in jest.  As our children are dear and irreplaceable to us, we want everyone to acknowledge their uniqueness.  We worry that their individuality will not be easy enough to spot in themselves, given our busy and overpopulated world, and thus we must name them so they stand out.  We believe they will gain more by some originality of name or spelling than they will lose by being plucked from the nominal web of their kin and culture.  This naming business is a little snatch at celebrity, a savory mess of pottage, and we are hungry for it.  Let the birthright take care of itself.