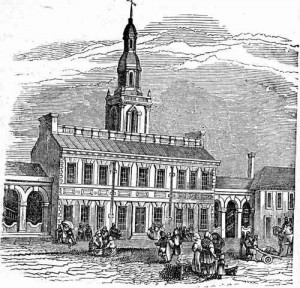 Erie, PA. Readers of the Front Porch Republic are likely looking for new ways to conceive of American politics and culture.  They are in search of alternative categories to the existing options that are usually reduced to liberalism and conservatism.  Why is it that some Americans are discontent with these ideologies and their corresponding political parties?  Both Democrats and Republicans have become big government liberals and big government conservatives respectively.  In the mass media one finds a similar lack of variety.  CNN, MSNBC, and FOX NEWS are considered by some to be networks of varying political views.  They are different in a superficial way, but they share in common an affinity for big government and an obsession with politics.  The common thread that runs through both political parties and the mass media is large-scale government solutions to political, economic, and social problems.  The two political parties were largely indistinguishable in their respective responses to the recession.  While Republicans promote the war state, Democrats advance the welfare state.  In either case, big government and politics are the solution.  Discontented Americans may wish to consider an alternative to the prevailing ideologies, what I and others call modest republicanism.
Communism lost its political vibrancy and energy when after decades it became apparent that it would not produce the promised workers' paradise.  Democratic societies are not immune from ideological dreaming.  Twentieth century American politics was an age of idealistic dreaming and metastatic faith, belief in the transformative power of political action that changes human nature and the very limits of politics.  Both liberalism and conservatism have reached a point of exhaustion because of their embrace of metastatic faith.  They will either regenerate or, like communism, dissolve.  The exhaustion of conservatism was readily apparent when the Republicans lost control of Congress in 2006 and by the end of the Bush presidency.  The Republicans were intellectually bankrupt in facing the prospects of the 2008 recession.  They resorted to a largely Keynesian approach to economic policy.
The exhaustion of the Democratic Party has been masked by Barack Obama's rise to the presidency.  The appeal of his personality and his historic election combined with Bush's failed presidency, has led some to believe that the Democrats and the liberal ideology they promote are alive and well.  With few exceptions, though, Obama represents the same old liberalism in more extreme forms.  He is taking big government to new heights from where it may come crashing down.  Compare Obama to the two previous Democratic presidents, Carter and Clinton, and one gets a sense for just how much further he has pushed liberalism toward the point of metastatic politics at its extreme.  In some respects, those that pertain to metastatic faith for example, Obama has more in common with Bush than he does with either Carter or Clinton.
What may become more common is the voter who is disenchanted with both Bush and Obama, annoyed by both Bill O'Reilly and Keith Olbermann, and in search of a new brand of politics.  This search is likely to lead to modest republicanism if such ideas are available to opinion molders and the leadership class. Modest republicanism is, then, an alternative to the politics of metastatic faith.  It calls for less government not more but it also moves toward a more sober brand of politics that includes more than a back to basics (e.g., security, efficient administration) style of politics.  It finds nobility in the aim of the American Framers to create a republic of liberty that avoids tyranny and works toward a state that allows individuals the freedom to do what is right and leaves it to the culture, (i.e., families, churches, communities) to be the primary instruments that direct individuals to the good life.  It assumes that government cannot create the ethos that makes liberty possible but it can help protect and preserve it.
In short, the problem is one of imagination, how we conceive of the possibilities of politics.  Generally speaking, the left wants more government to do more things because it desires what it thinks possible, a transformed world that has liberated man from the obstacles to what Herbert Croly called "the new republic."  Some conservatives have become, apart from specific public policy prescriptions, indistinguishable from liberals in their enthusiasm for big government.  Consider Bush's education policy and his foreign policy.  Both were transformative policies that intended to eliminate intractable problems once and for all.
The challenge for modest/front porch republicans is to provide a sense for what we can realistically hope for in political life without succumbing to cynicism.  What is to be hoped for?  There are historical examples of modest republicanism that can illuminate the way.  The American Framers constitutional system and the political and philosophical ideas that serve to justify it are a good starting point.  Their tradition, however, is not adequate in itself; it must be reconstituted to meet the challenges of the day.
One rather basic problem in contemporary politics is that character matters in the affairs of politics and governing.  The budget crisis is a case in point. Government needs to spend less of the taxpayers' money.  Abiding by this need is not so much a matter of intellect but of character. What the nation and states need are representatives who will spend public revenue responsibly and in accordance with the general welfare and voters, scholars, and journalists who will call them to account when they fail to do so.  Many will respond to this suggestion by stating that fiscal discipline is easier said than done.  This is, however, precisely the point.  What the times call for are men and women of character who have the courage to act in accordance with the public good.  What we have are too many bright well educated leaders who provide persuasive reasons why we should spend more than is prudent and an electorate that is predisposed to believe what politicians claim is possible and desirable.
In Pennsylvania voters recently punished state representatives who gave themselves a pay raise by voting many of them out of office. Where is the same outrage when representatives spend in an even more irresponsible way for the sake of interest groups and ideology?  Government will not stop overspending until the general prejudice in favor of spending for both the reelection of career politicians and for metastatic faith is replaced by something more in line with modesty.  Such individuals will not appear from nowhere.  They are most apt to appear in a culture that is capable of cultivating them in the mediating institutions that foster the common good.
What is proposed on the pages of the Front Porch Republic is not "solutions" to political, economic, and social problems, but a disposition of mind and imagination that prepares individuals for the work of recovery and reconstitution as necessary and never-ending parts of civilized life.