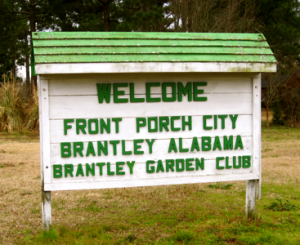 Hillsdale, MI.  For the first time ever we went snowbirding, driving from balmy southern Michigan to the Florida Panhandle for a couple of weeks of refuge from the white stuff.  Funny, but the beaches of Destin look just like our driveway: white.
And the trip, almost straight south, about a thousand miles, yielded up a refresher course in family, church, and local community.
The little town of Brantley, Alabama, south of Montgomery on Rt. 331, has this welcome sign.  We noticed on the way back that all the porches on Main Street in Brantley have rocking chairs.  They really do want you to stop by and "set" a spell.
In Destin, Florida there is an inn called Henderson Park, right on the Gulf of Mexico, that looks rather New Englandy, and is as welcoming as a Front Porch city.  The restaurant, Beach Walk, is not only good (the venison steak is to die for), but is run by a family–the Creehans.  Tim is the chef, Marah runs the staff, and Momma is the boss.  She says she is going to retire this June.  They greet their customers as friends and neighbors, and they all seem to like each other.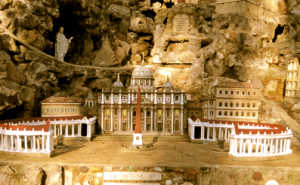 Up the road from Birmingham is the small town of Cullman, Alabama, just off I-65.  Cullman is a prosperous-looking city, and has something that is unique to Alabama–a Benedictine Abbey, St. Bernard's.  On the monastery grounds is one of the wonders of the world, the Ave Maria Grotto.  We stayed there innocently, never having heard of the grotto.  Brother Joseph Zoetl, O.S.B. (1878-1961) spent almost seventy years of his life making miniature buildings, copied to scale, of many of the world's Catholic churches, monasteries, missions, and temples.  He did it all from his reading of history and the Bible, and the inspiration of the Holy Spirit.  He used stone from the Abbey grounds, concrete he mixed himself, broken plates, cold cream jars, costume jewelry, ceramic tile, seashells, bits of marble, and almost anything else he could find or convince local people to donate.  His statue is in the Grotto: Brother Joseph was about five feet tall and as we now say, physically challenged. In this picture of his image of St. Peter's in Rome one sees almost four acres of his work set in gardens that lead visitors through his spiritual journey.
So, on the road again, we rediscovered the meaning of Place. Limits. Liberty.