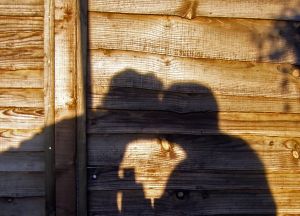 Claremont, CA. Among young Americans, "hooking up" has been common – both as a term and as behavioral norm – for two decades. The Oxford English Dictionary says the term dates to 1989, although I first heard it in the early 1990s, used then as it is now to describe fooling around – that is, doing anything from kissing to having what my sister calls "sexy bedtimes" – with someone who is not necessarily involved with you in an established romantic relationship.
It's a term that is anything but new; my students talk about hooking up much in the same way my friends and I talked about hooking up during college (and still talk about hooking up, in these, our thirtysomething days).
But it seems as if some people have just discovered hooking up, at least if a recent cover story in The Weekly Standard, titled "The New Dating Game," is to be believed. In that article, writer Charlotte Allen encounters hooking up as if she is Columbus landed on San Salvador (with all the exoticism and distortion that entails). Allen describes a social world in which all the old manners and restraints have fallen away, in which "Cro-Magnons are once again dragging their mates into their caves by their hair – and the women love every minute of it." Subsequent pieces in The New Republic and The Huffington Post, among others, do a lot of keyboard-gnashing about whether the "hookup culture" of young Americans – a culture in which hooking up tends to take precedence over dating – does or does not signal the end of Western civilization.
Mostly, this new round of cultural criticism echoes arguments that have already been made, perhaps most notably in Kathleen Bogle's Hooking Up and Thomas Wolfe's I Am Charlotte Simmons. In addition to a general excoriation of hookup culture, these works tend to "blame" the dominance of hookup culture on one of the following things:
1)    the sexual revolution, which legitimized sex outside of dating and marriage;
2)    feminism, which told women to embrace their own sexual desires and act on them;
3)    medical technology, which makes it easier for women to prevent pregnancy and easier for everyone to treat VD;
4)    legalized abortion, which means that pregnancies can be made to disappear; and
5)    lenient universities, where lax administrators all but throw students into bed with each other by offering up coed dormitories and keg parties and free condoms.
My immediate response to these explanations is "blah, blah, blah." It's not that there's not some truth to them – there certainly is – but they smack too much of blaming the usual suspects, and they fail to take stock of the cultural whole.
A more holistic response, I think, would see the extent to which hooking up is almost bound to emerge as a norm among young adults in a large-scale society where mobility is highly prized and cultivated.
In a large-scale society where mobility is highly prized and cultivated, young people are schooled early in the lessons of living with transience. In a country where the average person moves 12 times in his or her lifetime and 43 million people (including 13 million children) move each year, it is hard to grow up without ingesting the idea that most relationships have expiration dates. In the United States, as teen movies like "American Pie" teach us, the culmination of compulsory education – high-school graduation – is a ritual of separation. Everyone who attends an American high school does with the expectation that it ends in the breaking apart of a community, not in integration into a community. (This probably explains why all teen television dramas fall apart when the characters graduate high school; for American audiences, it is implausible that a group of high-school friends would remain friends after commencement.) For young people who attend college, the cycle of separation repeats four years later.
Americans learn early, and most of us learn it often, that the structures of our existence force mobility upon us, whether we would choose to be mobile or not. And it seems to me that adolescents, just as they are all juiced up with the kind of hormones that make you want to touch other people, get hit with that lesson the hardest.
If you come of age in that kind of circumstance, learning that lesson, a certain wariness about the prospects for long-term relationships is not just self-protective; it is realistic. If all your experiences have led you to believe that community life is ephemeral at best (or to believe that your life is a "series of disconnected emotional episodes," to borrow a phrase from my teacher Hadley Arkes), you have good reason to pursue very short-term engagements with other people, engagements where little if anything is promised beyond the present moment. You have very good reason to develop the kind of superficial friendliness for which Americans are known around the world. And you have very good reason to pursue hook-ups rather than more serious romances.
Three years ago, I had a research assistant do a series of interviews with college students about hookup culture. One of the things that a few of them said was that they were not interested in dating (and certainly not interested in getting married) until they were sure that they could "settle down" – a term they meant often in the literal sense. They expect to move around quite a bit in their 20s, compelled to seek additional training or to have shifting careers. With those expectations, why should we be surprised that they seek the kinds of short-term entanglements that fit better within the constraints of such a life?
With expectations of transience and impermanence, why should we be surprised that hookup culture has become so dominant, and has had such staying power, among American young people?
I don't mean to berate or vindicate hookup culture here. Rather, I want to emphasize that if people are interested in understanding the mating behavior of American young adults, it is worth revisiting the conditions in which we raise those young adults – and the lessons that those young adults pick up by cultural experience.
It is not just that the facts of American existence point toward mobility. It is also that we have long posited mobility as an ideal of American existence. Americans tend to talk about mobility as a marker of success. We associate geographic mobility with achievement; the students who "the best" in high school tend to travel long distances to attend college. We describe "professional mobility" as a desirable trait, signifying elite status and flexibility. We laud "mobile technology." And, of course, we use the term "social mobility" as a way to describe one of the central ideals of American life.
There are lots of good reasons we Americans tend to praise mobility, I think. We praise it because it is our inheritance; as Americans are fond of saying, we were (almost) all immigrants once. We praise mobility because we associate it with being free; Hannah Arendt once said that physical mobility is the oldest and most elementary form of freedom. We praise mobility because it exposes us to diversity and variety. We praise mobility because we believe that it affords us certain opportunities and possibilities for self-determination that might not be available to us in more place-bound conditions.
But of course, as many people on Front Porch Republic have said in one way or another, there are serious costs to living in a culture where mobility is so valued. One of those is that mobility puts great pressure on (and even works to dismantle) all sorts of human relationships: extended families, long-term friendships, marriages, and so on.
Mobility also shapes our expectations for relationships from the outset. It suggests that few of our relationships are likely to be defined by sustained physical proximity, that physical proximity to any given person is something that will pass quickly.
Before it took on its present connotation, "hooking up" was a term popularly used in the years after World War II, when television operators began using the phrase "hook up" to describe the act of connecting two or more broadcasting systems for the short time needed to broadcast a common item on their otherwise different programs.
In the present formulation of the term, I suppose the implication is that people are the equivalent of separate broadcasting systems, with otherwise different programs, who only have a short time to "broadcast in common."
It's an image, you might say, that very much captures the spirit of our place and time, a place and time where we occasionally plug in as we all move along, mobile devices in hand.
[I would like to thank my dear former student, Kelly Eng, for alerting me to the recent spate of attention to hookup culture among the chattering class.]