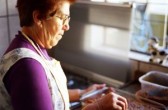 Houston, TX. My mother was next to the youngest of eight children, and I'm the youngest of five. That means I didn't get to know my maternal grandparents very well, but the memories they gave me still linger.
My grandma and grandpa Autry were sharecroppers who left the dust-bowl of Oklahoma for the promising soil of the Salinas valley. John Steinbeck told their story in his epic novel, The Grapes of Wrath. There is a black and white photo on my wall that shows a weather worn angular man in felt hat and overalls standing in black plowed dirt with his sturdy wife and eight children. A picture is indeed worth a thousand words.
I'm not sure why, but one of my earliest memories is of my grandparent's washing machine. It was a tub on four legs, with a wringer on top that looked like two rolling pins laid sideways, powered by an electric motor. Grandma and mama talked while lifting wet clothes from the tub, guiding them through the wringer and dropping them in the basket on the floor. And when the tub was finally empty, mother and daughter hung the clothes on the wire strung between two posts in the yard. Then they waited for them to dry.
Though few, memories of my grandparents still linger. I will long remember their kitchen. A meal might consist of pork chops from a hog slaughtered last fall, green-beans and new potatoes that were grown, gathered and canned the year before, and black berries that were picked that evening. Like washing clothes, preparing food took time; it took work; it was a family affair. And eating was no different. There were no T.V. trays in my grandparent's home. They didn't own a T.V. To eat anywhere but my grandmother's table would have been unthinkable. So, we gathered there and communed.
But things changed for my grandpa and grandma. One by one their children left to pursue a better life in the city. By the spring of 1966 they were all gone. That's when my grandfather's health failed him. He fell and broke his hip, and on June 6th he died, leaving my grandmother alone in her empty house.  The Baptist church did what all small town churches do. They cooked for her and they loved her. But it was not the same.
I still remember the phone calls. "Bess (that's what she called my mother), will you come see me? This house sure gets lonely." I listened from beneath the table as my mother sighed plaintively.  It was an hour drive to my grandmother's and my mother had just finished a twelve hour shift at the plant. "Oh moma I've been so busy. They've had us working overtime and . . ." My mother was being pulled in two directions. A forgotten past was wooing her to the place of remembrance, but her new home was in the city.
In April of 1966 a Time Magazine cover asked, "Is God Dead?" In November, the Bishops of the Roman Catholic Church said the faithful could eat meat on Fridays. And in December, CBS aired for the first time, Dr. Seuss' "How the Grinch Stole Christmas."
In 1966, my grandma didn't put up a Christmas tree. She didn't bake pies. And she didn't make fudge. Her kitchen was silent. I believe it was her way of mourning, not just the loss of her husband to the grave, but the loss of her children to schedules that kept them so busy they had no time for visiting and storytelling.
I have recollection of these things because I was never far from my mother's knee. Even as a child, I knew something sacred was happening when the family came together. While quietly watching at the wash tub and the family table, I underwent a rite a passage. I received something that cannot be explained with words. It can only be lived in the community that gave it.
So, today I have knowledge that comes to the person who pauses long enough to be embraced by a shared history. That history and those people nourish me as I rush through this life, texting and emailing, microwaving and overnighting, forever searching for time saving devices to make my life easier, so I can spend more time with those I love.
—
Fr. Doug Sangster lives with his wife in Houston, Texas, where he lives the common life with his parish, Holy Trinity Anglican Church.