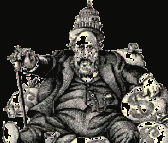 It's hard to be an American. Both in civic knowledge and participation, more is demanded of the American citizen than in most democracies, and certainly more than authoritarian governments. There, public acquiescence is either rewarded or enforced; in democracies (the American in particular), next to systematic checks and balances, civic engagement is the only obstacle placed before corruption and oppression. In his travels throughout the United States in the 1880s, distilled in his magisterial, The American Commonwealth, Lord James Bryce outlined this civic burden: "For the functions of the citizen are not, as has hitherto been the case in Europe, confined to the choosing of legislators, who are then left to settle issues of policy and select executive rulers. The American citizen is virtually one of the governors of the republic."  Bryce, while impressed by Americans' public virtues, was understandably dubious of our ability to assume the weighty responsibilities of citizenship, describing the American as "a sailor who knows the spars and ropes of the ship and is expert in working her, but is ignorant of geography and navigation."
Most are no doubt familiar by now of the fiasco that is the City of Bell.  The municipality with a population of 40,000, located about 10 miles south of Los Angeles, was paying its city manager almost $800,000.00, its police chief, around $475,000.00, with most of its City Council pulling down about $100,000.00 each. Investigations by the State Attorney General, and Los Angeles County are underway, but an initial look at the history of the debacle reveals an almost total breakdown in civic engagement in response to an effort to bring more "local control" to the Los Angeles-area city.
It sounded like a perfectly Tocquevillian idea back in 2005.  Then, Bell's City Council along with the City Manager, Robert Rizzo, placed a measure on the local ballot to change the city's bylaws – making it a "charter city" rather than "general law". Effectively, the alteration disconnected the city from that evil bureaucracy that is the State of California, devolving power down back to the city, including the ability to set Council salaries. Former City Councilman, Victor Bello, was convinced to support the ballot by Rizzo, recounting, "The way I understood it, we would have better control of governing ourselves." Then-mayor, and current City Councilman, George Mirabel, recently added, "It enabled us to create our own vision for the future. That was the way I look at it then and now." I guess part of that "vision" was Tammany Hall.
The good people of Bell approved the ballot measure overwhelmingly: 336 to 54. That's not a typo. In a city of 40,000 people less than 1% of the total population charted, or better, "chartered" its ruinous course. Within months of the vote, Council and staff salaries began to balloon. What's more, it took five years to uncover the cabal, and even then, it occurred when two intrepid Los Angeles Times' reporters were investigating possible malfeasance in a neighboring city.
Since the LA Times' story broke in mid-July, apologists have come forward to defend the disengagement of Bell's citizens.  The Times' James Rainey (and several others) claimed – rather self-servingly – that it was the emaciation of news staffs over the last decade that allowed Bell's corruption. In his recent piece Rainey propounded that because of cutbacks in print media, "The result is that officials in places like Bell can blithely go about their business — racking up 12% annual pay raises, keeping a pal on the payroll in a make-work job — without anyone in the news business sniffing around for months, or even years."
Well-known Time's columnist Steve Lopez has also jumped into the fray. Leading the "it's not their fault" chorus, Lopez wrote recently that since Bell is predominantly Hispanic and working-class, "immigrant populations…are too busy working to pay close attention to City Hall, which means they can be easily exploited. Voter turnout is low, in part because many residents are undocumented and even many legal immigrants aren't yet qualified to vote."  Added to this has been the reasoning that since these immigrants come from native countries where corruption is accepted, they come to expect at least something similar when they reach American soil.
But with all the excusing, and condemning (rightfully so) of the public officials involved, little blame has been cast on the residents who let this happen. At the same time, the Bell story highlights in dramatic fashion the challenges to devolved local governance. While centralized bureaucracies lack the ability to customize policy to local circumstances, and are by nature unresponsive to regional concerns, the cries by many to "bring government closer to the people", also demands a concomitant movement of "the people" closer to their government through habits as mundane as reading the local newspaper, attending the local Council Meeting, or running for office. Without these practices "home rule" can easily become rule from somebody's home, as it appears to have occurred with the aforementioned Mr. Rizzo.
What's going to happen in Bell? A thoughtful essay by a colleague of mine, Ventura City Manager,  Rick Cole, calls for combining several cities in south Los Angeles County (including Bell), forming larger municipalities. By creating these larger cities out of smaller, corrupt ones, the thinking is that larger populations were bring greater participation and accountability. As Cole sees it, "such a solution would not be a panacea…but the dysfunctional and easily plundered fiefdoms would be swept away. There would be a substantial population of homeowning, taxpaying voters that neither politicians nor the larger media would be able to ignore."
This is a bold proposal, but not without some precedent – dwindling populations in school districts and towns have forced several consolidations here in California over the years, but rarely, if ever, has such an action been carried out due to civic incompetence.  Without knowing directly, I wonder if there is a "Bell culture"  – beyond its ignominious governance – that would be lost through such a merger.  As hundreds of Bellians have taken to the streets in protest during recent weeks, one wonders if perhaps they are not only be decrying the historic corruption of their local government, but also fighting to save the very existence of their city.