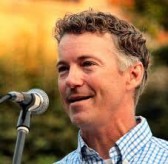 Louisville, Kentucky. If Rand Paul becomes Kentucky's next junior senator next Tuesday, he will make history in various ways.  Among other things this will mean that for the first time since 1853, both of Kentucky's senators will have been born out of state.
I don't want to make too much of this in either direction. Senators Archibald Dixon and Joseph R. Underwood both moved to Kentucky as children.  And though our current senior senator Mitch McConnell was born in Alabama, he too came to Kentucky as a child, went to high school and college in Louisville, and can claim real roots here (he maintains strong ties to the University of Louisville, in particular).
Still, if elected Dr. Paul would be the first senator since 1930 to have been both reared and educated out of state, and one of the very few not born or educated in Kentucky or Virginia, whose western edge we originally were.  Whatever his merits as a man or a politician, I think that means something.
We are in the midst, even here in my blessedly and in many ways admirably unprogressive state, of a sea change in American thinking that has everything to do with the incredible mobility of our population.  Our general assumption seems to be that the Kentucky point of view, Kentuckianness, if you will, is either something one acquires quickly upon entry and residence, or just doesn't matter very much.  Here this really does signify an important cultural change, for this has always been a state terribly proud of its rough childhood, its Indian wars and Long Hunters, its veterans from both sides of the Civil War and from all previous and subsequent conflicts, its burgoo and horses and coal, its songs and storytelling, and its writers, who are second only to Mississippi's–perhaps.  Yes, we have had, on occasion, a senator who was born a Rhode Islander, or a West Virginian, or a New Yorker.  But over the years most Kentucky senators have been men from small towns out in the state, and many of them were self-made.
It appears to me that the Democratic Senate candidate Jack Conway, a native son, has tried to make some coded hay of Dr. Paul's newness to the state by repeating that Dr. Paul is "out of touch with Kentucky."  I should mention that Attorney General Conway is a native of Louisville, which is never an advantage statewide and often a liability, since the state typically regards the big city as out of touch.  In any case, for whatever reason, this implied criticism has not dented Dr. Paul, and certainly not dented him nearly as much as what is now called "The Ad" (the Aqua Buddha ad) has ricocheted back to dent Mr. Conway.  With just a weekend to go, the Courier-Journal poll published October 29 shows Dr. Paul's lead lengthening, 52 percent to 43.
Dr. Paul moved here for the best of reasons; he married a woman from Russellville, and in 1993 he settled in nearby Bowling Green.  He has been active here, charitably and politically as well as professionally.  He would say, no doubt, that he has put down roots, and surely he has.   But is a grown man's character really stamped by a place where he has lived even seventeen years?  Does this matter, in the country as it is now, and with the Senate shackled by the necessities of constant fundraising and its current preference for gridlock?  Perhaps not.  I do think Dr. Paul's background out of state has influenced his thinking and his politicking.  Not one to do too much homework, Dr. Paul has given Mr. Conway ammunition for being called out of touch with this state, and I think even Dr. Paul's greatest admirers would say that what they like about him is his national and not his state agenda.
But whatever we may think of a man or his desired office, however cynically or hopefully we may view the job of United States senator, Kentucky's two senators are (in politics and power at least) our two First Kentuckians.  And if we elect Dr. Paul to office, our junior First Kentuckian will be Pennsylvania-born and Texas-reared.  Maybe that will be a good thing, and maybe it will be a bad thing, and maybe it doesn't much matter; so much good in this world depends on character and luck.  Also, politcians win their seats for many and varied reasons, and I don't wish to oversimplify.  But in a state that has for so long stressed its roots and its rootedness, it is notable that Dr. Paul's campaign stresses neither.  For the locally-minded, what Dr. Paul's election may show is that Kentucky's place- and history-specific parochialism, which was once a source of pride here, now only raises charges of provincialism, or—worse–meets with blank indifference.  Even from within our Kentucky selves.