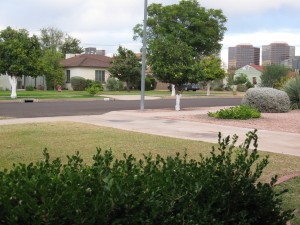 Phoenix, Arizona — Looking east from our front porch in Willo, you see the results of one of Phoenix's bigger Big Mistakes: the distant office towers on Central Avenue.
Those towers mark the Phoenix "uptown" area (not that anyone calls it that). Slicing through Phoenix's historic neighborhoods, Central Avenue could have, and should have, been developed with three- to five-story mixed-use buildings forming a more or less continuous street wall on both sides of the road. This would have made for a very handsome corridor leading from the downtown district to the lovely central-Phoenix suburban neighorhoods to the north.
Instead, we got this: Two rows of isolated towers hovering menacingly over residential streets filled with "transitional ranches" (encouraged by FHA lending practices), Tudor revivals, Spanish colonials, and a pleasingly eclectic mix of other styles. These walkable, bikeable neighborhoods are lovely; without the incongruous towers on Central Avenue they would have been much better.
Historic? Yes, the houses across the street here were built, like ours, circa 1940. That passes for historic in Phoenix. In 1940, Phoenix was not even among the most populous 100 cities in America, which means that its population was less than 88,000 people. (Such metropoloi as Allentown, South Bend, Wilmington (DE), and Duluth are on the 1940 top 100 list.)
Then came — not air conditioning, which had been here for a while — but the war, and with it dozens of military installations, air bases, and prisoner-of-war and Japanese internment camps. The boys liked it so much here they came often back to stay (not many of the Japanese seem to have felt that way). Today, Phoenix is the sixth largest city in the U.S.
There was, of course, no worse time in the history of humanity for a city to take shape than in the years 1945 to . . . well, about yesterday, probably. But our old neighborhood was built just in time. It is graced with small houses, front porches, sidewalks, alleys, mature trees (that's a noble Aleppo pine across the street, and the edge of our juniper in the foreground), and swaying palms.
Even grass, to the surprise of many of our eastern friends. It is a dull yellow-green now, but the winter seeding was just done, so the lawn will be emerald green in a month or so. It will stay that way until sometime in May.
Hey, just keep that Colorado River water coming. Thanks, Barry!
— Jeremy Beer
FPR is looking for portraits of life in your communities, no matter how plain or quotidian. Want to share one? Just e-mail a photograph of the view from – not of – your front porch to frontporchviews@gmail.com, together with a written reflection of no more than a few hundred words. Writing may be lightly edited. We'll gladly withhold your name if you ask us to.