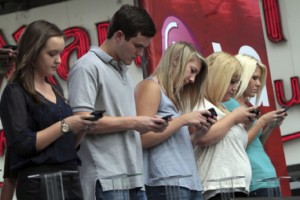 Recently I travelled to Louisville to attend the Front Porch Republic conference. The experience was memorable in several ways—not least of all in the outstanding presentations and remarkable fellowship. It also occasioned for me reflection upon a now common means of communication.
I had decided that travelling by plane and being away from home for two days I should borrow my daughter's cell phone. I don't own a cell phone myself–though I do pay for my two college age daughters' phones. I have not promised myself that I will not get one; but I have decided to try to make it as long as I possibly can without one. Maybe I'm a phony; given that I have to borrow one when I travel, can I really say that I am 'making it' without one? But be that as it may, I am trying.
So for the two days of the conference I experienced life with a cell-phone. My plane was delayed. So I texted to say that I was late. I texted to arrange meeting others at a restaurant. The next day I received a text from my daughter—the one whose mobile I did not borrow—writing that she hoped I was having a good trip. I texted back how delighted I was to have received her sweet message.
A mere thirty-six hours of the world of texting made apparent its advantages, and how one can become completely accustomed to its use. I suppose this experience is a bit belated for me.
I am well aware that texting, perhaps especially though certainly not exclusively among the younger generations, has become standard procedure. Indeed, I was seeing texts from my daughter's friends—at least those that she had not told that her father (and their professor) was in temporary possession of her phone. What became clear to me—and this from the testimony of many others too—is that the most ordinary and routine communications now often take place by text message, whether it is arranging for an informal gathering or study-group, or just checking in to say hi or see how someone's feeling.
There are many reasons why texting is very convenient. Sitting on the plane that was delayed, it was great to be able to text that I was late. In addition to not wanting to talk to the other person about it, I would almost surely have ended up taking much longer to convey the same information by a phone call. And of course we are always—ironically and perhaps significantly despite our wholesale submission to the usage of recent technologies—short on time.
Wendell Berry gave the keynote presentation of the conference I attended. He passed along to us one of the basic rules of thumb that he tries to use in life. He said that he learned it from his father.
"Always consider the net gain. Not just the gross gain."
I think the practice of texting is a net loss. Yes it can be very convenient. But it seems to me that the cost is too high—and this apart from the obvious evil uses for which this media can be used. Here are three reasons for this judgment:
1. You shouldn't always be on call.
Texting presupposes that people are 'on-call' all the time; otherwise, it simply wouldn't work. You can't text-arrange a party for tonight, much less for an hour from now, unless everybody is at the beck and call of your electronic message. Sure, the system allows for the fact that someone might be using the rest room, praying, or taking a short nap. But as a rule the hiatus in which one is 'away' from the machine is assumed to be short. Only a hiatus: which implies and cultivates, even if subconsciously, the attitude that one is really only 'connected' and 'with-it' when one is with one's mobile device.
We have all seen the scene of people coming out of the device-free zones, anxiously re-connecting to find out what they have missed. Surely there is some update, some message, some something. Yet now the drive is toward fewer device-free zones. I tell my students that when they've entered the classroom they've entered one of the few remaining areas of liberty—from the demands of their devices.
It is hard to grasp just what is at stake here. But I am convinced that being-on-call in this hyper-sensitized mode is detrimental to our really being present in a place, and to the persons around us. To be truly present where one's body is, is to be available and accountable; it is also the first step of being-together. With anyone.
2. It's rude to those around you.
It happened several times over this past weekend. I did it myself. It's the turning of the back and the attention away from those right there with you. And then entering very intently into the simultaneous composition and 'typing.'
We need to face this. Texting is changing the rules, or in any case the practice, of long-established and well-founded traditions of manners. People you would never expect tune-out and tune-in with almost shocking unconcern for those around them. It's becoming expected, and normal.
But it's not good. It brings out and nourishes in us that element that does not want to have to care about others. Etiquette and manners make a demand upon us; they literally incarnate other-centeredness. How easily we slip into "sorry, I've got to take care of this right now." The incoming message masquerades as the need of someone else. But it is not. It's mine. And to put the messages of remote who-knows-who's before the demands of the present relationship is really a form of putting my needs first. So it corrodes the very dispositions that underlie manners. And human relationships, and community life.
3. It cheapens communication.
Of course; one might object that email has already done this. People already have lost the art of writing letters, and all the self-examination and well-crafted expression that goes along with it. But I don't see how this is an argument that we should take it to the next level of degradation. Friendship and other rich relationships depend upon habits of appropriate soul-sharing through the body. Real communication needs to be the object of intention and cultivation.
Some readers may remember sitting with a pen in hand, thinking about what to write next in a letter to friend, penpal, or relative. It was an effort that yielded insight into our very selves: our experiences, feelings, and desires. It was an effort directed both at seeing something and at discerning how to express it, and somehow these two were one.
Of course one can text, and still write real letters—either text letters, or separate letters by email or even hand. But the fact is that this almost never happens. Texting is a new low, and another replacement, another pushing aside of deeper ways of communicating.
I resolve to just say no. But at the end of the day, perhaps I will not have the freedom to say no. Will living in community with others require the use of technologies that threaten and degrade communication and presence? I can understand how many who share these same concerns have nonetheless decided to use these technologies. There is no easy answer. But I am convinced that any reasonable answer must be grounded in an understanding of the inherent dangers of these technologies, and a vigilant discipline to minimize them.
John Cuddeback's blog is Bacon from Acorns.