Realpolitik
I begin, as all good sermons should begin, with a story that will serve as a parable. On May 6, 2012, then Vice-President Joe Biden announced his support for same-sex marriage, six months in advance of what was expected to be a close election. Republicans were overjoyed. Between 1998 and 2008, prohibitions on same-sex marriage had appeared as ballot initiatives in 29 states and had passed in every case. In 2004, such initiatives were on the ballot in 11 states, and all passed, even the ones that banned civil unions. These initiatives were an exercise in realpolitik, a sure-fire way to bring Catholics and Evangelicals to the polls and turn pulpits into campaign stumps. And for the 2012 elections, there would be initiatives in an additional five states, including the battleground state of Minnesota. The Republicans could barely believe their good luck.
But Obama had seen something in the polling data (not that such data would influence a politician's opinions—perish the thought!) that the Republicans had missed. He had avoided the issue in 2008, when public sentiment was 53-46% against same-sex marriage. But by 2012, those numbers had reversed themselves. And this was just a segment of a larger trend in which the clear consensus against "gay marriage" of 1996 (68-27%) became a clear consensus for it (67-31%) in 2018. Obama would win with a comfortable margin of five million votes, and four of the five ballot initiatives would go down in defeat, something that had never happened before. The realpolitik of the conservatives turned out to be neither politic nor real. What went wrong? How did an overwhelming consensus one way become the same consensus the other way?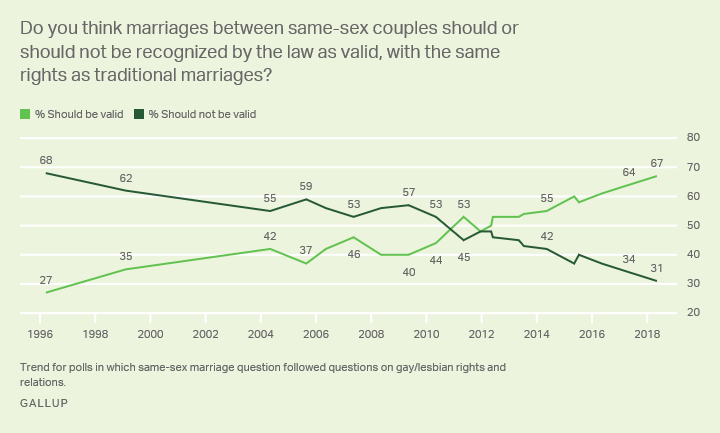 Kulturkampf
The conservatives could concentrate on the political battle because there was a clear cultural consensus in their favor. But while the conservatives were waging a political war, the gay community was waging a cultural one, a kulturkampf, carried out in the popular media of TV, movies, stories, and novels. To take television programming as an example, homosexuals began appearing on American and British series in the '70s, beginning with the charmingly gay Mr. Humphries in Are You Being Served and with several characters on Barney Miller. Through the '80s gays continued to appear mainly as comic figures, but by the '90s they were more and more normalized in series such as High Society, Spin City, Sex and the City, and Will and Grace. By the 2000s, homosexuality had been become routine in popular entertainment in such shows as How I Met Your Mother, The Office, My Name is Earl, It's Always Sunny in Philadelphia, 30 Rock, and Glee, among many others.
The case of Glee is instructive because it is a product of Rupert Murdoch's Fox empire. On their news channels, they tended to oppose the "Gay Rights" movement, but with Glee and many other products, they were supporting it. They had bracketed off the cultural and political elements from each other precisely as the same-sex marriage movement itself was uniting them, and in the process co-opting Fox to support the cause. And the reason they could do this is that the profit motive at Fox swamped all other considerations, cultural or political. So on their entertainment channels, they exploited cultural trends to widen the audience and increase revenue, and on the political channels they exploited a niche market to produce a loyal following. It is absolutely irrelevant to point out that the agendas were contradictory, because they were united by being profitable, the summum bonum of capitalism. And I believe that this serves as a paradigm for the abortion debate; I hope to show that too often, the opponents of abortion support the very cultural elements that tend to normalize abortion. More on this anon.
Andrew Breitbart has famously observed that "Politics is downstream of culture," and the homosexual rights movement illustrates this point. Note here that I am not offering any arguments for or against these rights; I am merely attempting to chronicle how the political battle was shaped by the cultural battle, and that those who ignored the one lost the other, even when starting from what seemed to be an unassailable position of strength. But all of the political victories were mere prelude to an ultimate and inevitable defeat. I very much suspect that the abortion debate is following the same trajectory and will have the same end.
The Abortion Debate
While the opponents of same-sex marriage started with a cultural consensus, this is not true of the opponents of abortion. There has never been a consensus for the "Alabama solution," an outright ban and criminalization with stiff penalties. In 1975, that solution polled at 21% and has never exceeded that number. In the post recent polls, it stands at 18%. On the other hand, the "legal in all cases" position polled at 22% in 1975 and now stands at 29%, a statistically significant movement. It would seem that in 45 years of political agitation, the anti-abortion movement is going backwards.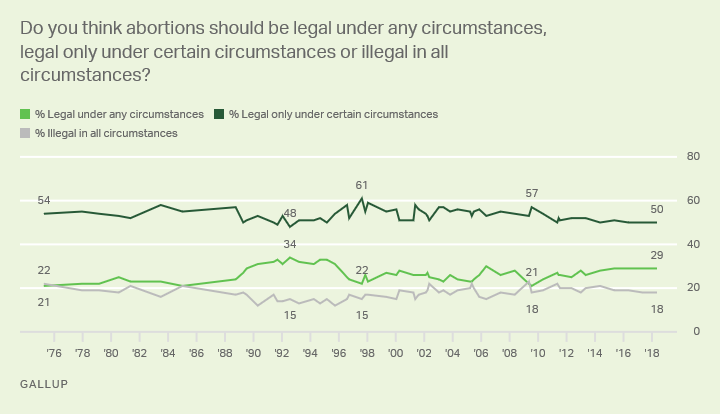 Prior to Roe v. Wade, the abortion issue was not particularly partisan. In 1967, three states (Colorado, North Carolina, and California) had passed permissive abortion laws, and in 1970 a further four states (New York, Alaska, Hawaii, and Washington) passed "abortion on demand" laws. Of these seven states, five were ruled by Republicans (including Ronald Regan and Nelson Rockefeller, representing both wings of the party) and one by conservative Democrats. The rhetoric on the Right tended to be libertarian ("get the government out of the bedroom") and to be an extension of the contraceptive debates that resulted in the Griswold v. Connecticut decision in 1965. But on the Left, it was a different story. In fact, it was a story, the story of Sherri Finkbine.
Mrs. Finkbine was the host of a children's television program, Romper Room, who in 1962 was pregnant with her fifth child. She took some sedatives her husband brought back from a trip to Europe. It was only after she had taken these pills 36 times that she discovered they contained thalidomide, known to cause abnormalities in the fetus. Denied a therapeutic abortion in Arizona, she traveled to Sweden to obtain it. The doctor who performed the abortion stated that the child had no legs and only one arm and would likely not have survived. The case became a cause célèbre, one which aroused the sympathies of many women and men. Later, she went on to give birth to a fifth (or sixth) child. The contrast here is between approaching an issue with abstractions or with stories.
After the Roe decision, the issue became highly partisan. Anti-abortion Democrats were marginalized in the party, while the Republicans enthusiastically accepted the support of the anti-abortion movement, although remaining a "big tent" party. And since the issue was no longer one of statute law but of constitutional law, the debate shifted to the courts, and supremely to the Supreme Court. Further, it became a "single-issue," one that swamped all other considerations; "pro-life" voters were expected to support whatever horror the Republican Party offered in their agenda, whether it be perpetual war, or torture, or a decided preference for the rich, all in the sacred cause of fighting abortion. In exchange for promises about Supreme Court Justices, the "pro-life" movement swallowed the entire Republican agenda. And this politicization of the issue has gotten in the way of evangelization and is ultimately self-defeating for three reasons: one, it misunderstands how humans reason; two, it divorces the issue from the moral matrix within which it makes sense; and three, it cannot come to grips with the causes of abortion.
The Causes of Abortion
The most inflammatory debates about abortion concern pregnancies resulting from rape or incest or those which endanger the life of the mother. But as serious as these cases are, they are a tiny portion of the abortion market (and it is a market, a business), and if it were limited to that, it would be a very limited market indeed. The wider market has other causes. According to the Guttmacher Institute, "75% of abortion patients in 2014 were poor or low-income. Twenty-six percent of patients had incomes of 100–199% of the federal poverty level, and 49% had incomes of less than 100% of the federal poverty level ($15,730 for a family of two.)" That would seem to make it an economic issue, and of course that is a large part of the problem, but not the whole problem. The Institute goes on to say, "The three most common reasons—each cited by three-fourths of patients—were concern for or responsibility to other individuals; the inability to afford raising a child; and the belief that having a baby would interfere with work, school or the ability to care for dependents."
Again, this would seem to make it an economic problem. But I am going to make a leap here and assert that behind the economic problem lay a cultural problem, or rather three interrelated cultural problems: individualism, hedonism, and capitalism. Individualism means that we have only such responsibilities as we choose to have. But this works against women; men can easily walk away from their natural responsibilities without penalty, but women cannot. "Saddled" with children, she is no longer an "individual," but a little community, and one that depends on support from the wider community, support that is frequently not forthcoming. In the same way, hedonism is also not an equal opportunity employer; it favors the male of the species. When men are encouraged to take their pleasures when they want and leave them when they will, contraception and abortion work as defense mechanisms.
And behind these two stands capitalism, their greatest champion and defender. For the logic of mass production flourishes best in a culture of consumerism—that is, hedonism—and it sends us messages 24/7 encouraging and normalizing the idea that we are what we consume. When a sandwich company can get away with screaming at us (literally), "I do what the ____ I like," you know that they are not selling sandwiches, but a particular lifestyle and frame of mind, one which is destructive of community and family life by being supportive of individualism and hedonism. And capitalists feel no obligation to support the family through wages, but only to pay the lowest possible rate for labor, even if they have to go to Bangladesh to do it.
The Moral Matrix
Hence the "pro-life" movement, by tying itself to the Republican Party, ties itself to the aggressive support of capitalism and to the party least likely to impose any controls or obligations on the system. Like the Fox channels, they have bracketed off the moral and cultural issues, so that they support with one hand what they oppose with the other. They oppose the culture of abortion while supporting the culture that practically demands it. This cultural/political schizophrenia lends credence to the caricature of the "pro-life" movement as supportive of pregnancy and birth but not of motherhood. After giving birth, she should get a job like everybody else and not be a drag on the body politic. The movement can help elect the slimiest president possible under the naïve belief that he will lift us from the slime. Understood this way, it is really no surprise that the most radical expression of the anti-abortion movement occurs in states like Alabama, a state with the lowest levels of support for mothers and the highest level of support for big business, a state that is ranked near the bottom in public support for healthcare, education, infrastructure, and many other things.
A principled stance against abortion makes sense only within a matrix that ties together the economic and social ordering of society. Apart from a social order that welcomes children and an economic order that supports families, the prohibition of abortion appears to be just an arbitrary denominational stricture, like fasting on Fridays or wearing a yarmulke. This lends credence to the charge that we are merely trying to enforce our religion on others. By treating it as a "single-issue" that overrides all other issues, the pro-life movement divorced the issue from the moral matrix which harmonizes it, thus making it appear self-contradictory. We have bracketed the issue from the very things that make it part of an intelligible whole. What Fox does in the name of profits, we do in the name of power.
Reasoning and Storytelling
The anti-abortion movement, like the anti-homosexual movement before it, thought that their job was to make good arguments, and this they usually do. It should be obvious, for example, that if one defends bodily autonomy, one resigns control over any other body, particularly that of the infant in the womb. However, when both bodies occupy one body, other considerations appear, or can appear, equally rational. That is to say, both sides can present rational arguments for the simple reason that anything can be rationalized. Which arguments will appear more persuasive to someone will depend on what stories that person accepts. We must acknowledge this truth: Whoever controls the story will control the debate; the arguments are secondary.
But where we have good arguments, they have Sherri Finkbine, and many other stories as well. They have been good story-tellers where we have been good rationalists. In doing so, we buy into the modern myth that myths don't count, that stories should not control. One can make a good argument for such rationalism, but one cannot make it into a good story. Where rationalism narrows issues to single points, the story unites them into a coherent whole. Not that the story is always right, but over time, false stories tend to fade away, while "true" stories tend to endure, making a lasting claim on our collective consciousness.
Evangelization
In the final analysis, the cultural battle—and therefore the political battle—depends on evangelization. The homosexual and abortion movements grasped this intuitively and were good at evangelization; the Evangelicals and Catholics were not. Christianity does not begin with a Summa but with a story, the story of Jesus Christ. And all evangelization is built on this story. A "rationalized" philosophy and theology won't mature for at least three centuries, and that task always continues. But the story remains, and always remains primary, no matter how good the philosophy is. We have let others dominate the story while we tried to dominate the politics. But separating culture and politics is a self-defeating strategy even, or especially, when it appears to be working. As in the case of same-sex marriage, where an unbroken string of victories was mere prelude to final defeat, I suspect the same thing is about to happen in the abortion debate. My prediction (and I am notoriously bad at prediction) is that the Alabama law will be overturned at the district and appellate levels, and that the Supreme Court will refuse to hear it. The Court is sensitive to the needs of the Republican Party, and that party is trying to shut down the Alabama solution. They know that if this becomes a state legislative issue, they will lose in 40 or more states.
The anti-abortion movement wants the state to impose a "solution" that is opposed by the overwhelming majority without making any real effort to form a new majority. In the long term, this will not work; law really only works when it is accepted by most of the people. Abandoning the cultural battle guarantees failure in the political battle. And yet, there is no reason to resign the cultural battle. Telling the story of women who have been abandoned and yet made the decision to stand up to an uncaring culture and salvage the best possible life for themselves and their children, often in opposition to their friends and families, should provide enough heroic material for any amount and variety of art, poetry, and story. But until we actually tell these stories, we cannot expect any real future save one of constant defeat. We have to decide to evangelize rather than merely campaign. If we cannot produce any art, we cannot produce any politics; and if we cannot tell our own story, we will live under someone else's. Finally, it is culture alone that allows us to overcome the false realpolitik of partisanship and to actually practice politics, the endless search for the common good in the social and political orders.