Over the past few months, I've been reporting on the disappearance of Catholic parishes from Chicago. All Saints-St. Anthony, St. Barbara's church and school, Holy Family, and St. Adalbert's: I've seen priests, parishioners, and activists watch helplessly as these and other historic parishes have either been canonically suppressed—in other words, merged with some other parish—or outright shuttered by the Archdiocese of Chicago.
Carried out as part of Cardinal Blase Cupich's controversial "Renew My Church" initiative, many of these closures seem reasonable, or at least understandable. Attendance and donations are down. Fewer and fewer priests are graduating from seminary. As one sexual abuse scandal after another rock the Catholic Church, an institution that once haunted the nightmares of Protestant America finds itself on the defensive again.
In their introduction to 1993's Catholicism, Chicago-Style, Ellen Skerrett, Edward R. Kantowicz, and Steven M. Avella could write that Chicago was a "'Catholic town'" where believers strutted around with a "distinctive swagger."[1] Nowadays, priests who walk downtown wearing clerical collars risk being harangued by passerby. In this climate, how could one expect the Archdiocese to sustain as many individual faith communities as it did thirty, twenty, or even ten years ago?
Yet even in this context, some specific closures are hard to understand. St. Adalbert's, a historic Polish Cathedral-style church in the heart of rapidly gentrifying, Mexican-American Pilsen, has drawn support from activists among both the Mexican and Polish communities as well as from local conservationists and politicians. As accusations raged that the church was being sold off to pay debts incurred by its priest—accusations that the Archdiocese did not categorically deny to me—decisive action was taken behind the scenes. Although the timeline remains murky, it seems that the Archdiocese entered a contract regarding the property with a real estate developer, City Pads Chicago, while multiple appeals of the decision to shut down St. Adalbert's were still pending at the Vatican. Attorney Brody Hale, an expert on the preservation of Catholic churches, told me the Archdiocese's actions were "jaw-dropping" and, in his view, "uncanonical."
City Pads Chicago has pledged that 20% to 30% of units in the development will be affordable. It has also stated it will not convert the former sanctuary building to housing (City Pads' current plan can be viewed at pilsenaffordablehomes.com). Yet for many stakeholders in the church, the lack of transparency and possible violation of canon law have done little to inspire confidence. Activists like Blanca Torres and Julie Sawicki have repeatedly expressed their concerns about City Pads, especially in light of City Pads' past erasure of a culturally significant mural in the neighborhood.
Newly elected Alderman Byron Sigcho-Lopez, a community activist and member of the Democratic Socialists of America who championed St. Adalbert's on the campaign trail, told me that an ordinance rezoning the property to stymie development would be passed at the September 10th meeting of the City Council's Committee on Zoning, Landmarks, & Buildings. Yet the summary of that meeting does not show any action taken on that ordinance, Amendment 8487. Nothing happened at the committee's October meeting either. Alderman Sigcho-Lopez's office told me the ordinance will be taken up at the next meeting of that committee, which is scheduled for November 19, 2019 at 10 AM. Just like at the September and October meetings, St. Adalbert's activists will be there, watching and waiting.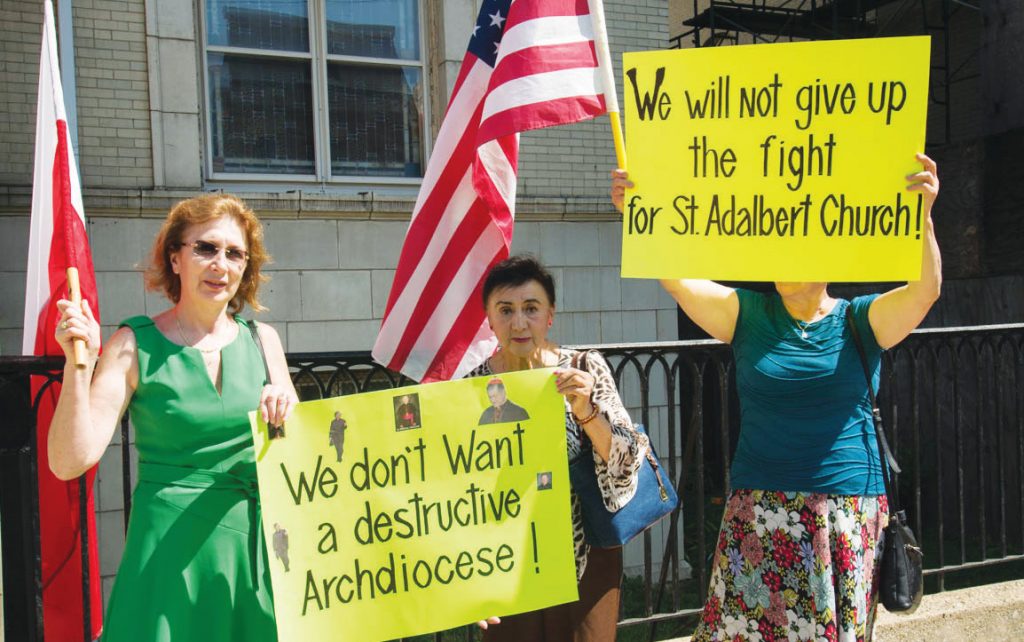 Raised Lutheran in a non-Catholic milieu, I have sometimes been perplexed by the zeal with which activists rally around their parishes. My inner German monk can't quite grasp why so many people would remain loyal to the Church as a whole, let alone the Archdiocese of Chicago, in the wake of these apparent betrayals of trust; my inner Bohemian freethinker is even more scathing. Yet such analyses would miss the point. For more than 150 years, individual Catholic churches and schools have served as key nuclei of local community in a huge and sometimes alienating city.
While examining these issues, I have encountered a number of paradoxes. Fortunately, I share G.K. Chesterton's taste for a good paradox.
The first and knottiest: a church that prides itself on its universality—its catholicity—has served as a seedbed for hundreds of parishes divided along ethnic lines.
This pattern grew in part out of necessity. In a letter to the Archbishop of Vienna in October of 1844, the first Bishop of Chicago, Fr. William J. Quarter, wrote, "whereas many German Catholics have already settled here in Chicago, I indeed deplore the fact that they as yet have no church of their own."[2] Unlike the Irish, but like most other Catholic immigrant groups who would follow, the first wave of German immigrants needed ministers who spoke their language. By 1846, the first two German national parishes, St. Peter's for South Side Germans and St. Joseph for North Side Germans, had been established, along with the Irish St. Patrick's Church.
While a linguistic explanation has some force, the Irish-born Bishop Quarter's decision to designate a parish as specifically Irish gives the lie to any notion that language was the sole motivating factor. In her 1935 master's thesis for Loyola University Chicago, Mary Catherine Tangney writes that Bishop Quarter's brother, the Reverend Walter Quarter, "desired to build a parish for these Irish people who had come to Chicago to make their homes and help build it into a city."[3] The long-term tensions of this arrangement are captured by Skerrett in Catholicism, Chicago-Style: "At its best, the parish filled important religious and social needs and became the heart of Irish-American community life. At its worst, the Irish parish turned inward and bred a fortress mentality."[4] As early as the 1840s, then, the Catholic Church in Chicago may have helped facilitate the kind of "hunkering down" that Harvard political scientist Robert D. Putnam argues is a short-run consequence of rapid immigration and high diversity.[5]
Indeed, the Catholic Church's adaptability to specific national circumstances during the 19th century should not be underestimated. In Alexis de Tocqueville's account of his 1835 trip through Ireland, written shortly before the Great Famine and at a time when Catholicism was the state religion in much of Europe, the Bishop Edward Nolan of Kildare and Leighlin explained that the Irish Catholic clergy should not receive remittances from the English rulers: "The Catholic clergy would then lose their influence over the people… There exists between the clergy and people of this country an unbelievable union." The President of Carlow College, Andrew Fitzgerald, O.P., agreed, adding, "When I was in France ten years ago, and I saw the absurd way in which the French clergy tried to influence the population. I did not doubt that a new revolution was drawing near."[6] Historian Eileen McMahon reports that the local Catholic Church in Chicago was relatively accommodating to Irish nationalism through the late 19th and early 20th centuries, at least when compared with archdioceses in other American cities.[7]
In fast-growing Chicago, what supposedly began as a mere pragmatic accommodation came to define Catholic life. By Kantowicz's count, in 1926, over half of the city's 380 parishes belonged to one or another ethnic "leagues," with the remaining territorial churches being heavily dominated by the Irish. According to Kantowicz, these leagues were informally controlled by "'ethnic boss[es].'" He notes that, "the priests of each league jealously guarded their constituencies, complaining frequently to the archbishop about 'scavenger priests' in neighboring parishes who tried to lure Catholics of other nationalities into their churches in order to receive their Mass stipends and Sunday donations."[8]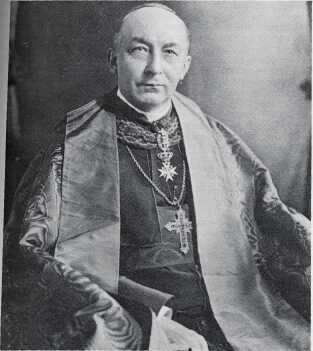 As early as 1916, New York-born Cardinal George Mundelein, who served as Archbishop of Chicago from 1915 until 1939, privately objected to the ethnic "hyphenism" promoted by Chicago's national parishes. Over the fifty years, the Archdiocese of Chicago has been far more hesitant to create new national parishes—just in time to avoid creating many national parishes for the Mexican, Puerto Rican, Filipino, and other non-white immigrant groups who arrived in droves during that period.[9] Although Canon 518 still permits the existence of "personal parishes" based on nationality or other factors, Catholics are now generally advised to attend the parish closest to them.
Yet in one form or another, the national churches persist to this day—defended, in many cases, by descendants of the immigrants who first created them. While protesting outside St. Adalbert's before its final mass, one woman (she wanted to remain anonymous for fear of reprisal) echoed a sentiment that I heard from many people at churches throughout the city: "This is not the Archdiocese's. This is our church. My great-great-grandparents came here from Poland and helped build this church."
Of course, Catholic churches were not the only religious institutions anchoring and, perhaps, further balkanizing immigrant Chicago. Jewish synagogues and Protestant congregations from virtually every denomination left a mark on many neighborhoods. Secular associations, often nationalistic in tone, played a central role as well. This was particularly true in Pilsen. Named for the Bohemian city of Plzeň, the neighborhood was heavily Czech at the turn of the twentieth century. Although St. Adalbert's was initially funded and attended by the devout Polish, the Czechs were and are a remarkably godless people.[10] Much of their community life centered around sokols, which were gymnastic clubs not dissimilar to the Turner Halls (Turnverein) frequented by many German immigrants.[11] Yet even the Bohemians had a few national parishes.
So, on the one hand, the national parishes helped provide a sense of home and hearth for many new immigrant groups, who, in the words of local preservationist Ward Miller, built them "with nickels and dimes." On the other hand, they inculcated some of the racial and ethnic conflict and resultant ethno-racial bloc politics for which Chicago is famous or infamous. Although this inescapable "hyphenism" and attendant power-brokering is perhaps less crude than it was during the days of Richard J. Daley and Jake Arvey, it persists and has arguably been emboldened by the growing national fidelity to identity politics—a new religious movement in its own right, complete with angels and devils. Although they may be fans of "Hamilton: An American Musical," many in the chattering classes cannot wrap their minds around the fact that "minority rights" in the Federalist Papers referred to something other than race, creed, or color. After all, the merely ideological majority could never be tyrannical.
On the ground, these dynamics have played themselves out in the way St. Adalbert's closure has been contested. Although the mostly local Mexican community and the mostly non-local Polish community allied to protest the decision, they generally did so in separate organizations. Recent Polish immigrants say they were not informed of the existence of St. Adalbert's, wondering whether they were for some reason deliberately prevented from knowing about their people's legacy in the city. Some Mexican-Americans in Pilsen, who watched most of St. Adalbert's local Polish-American parishioners depart from the neighborhood several decades ago, voice skepticism about this narrative.
Ideology is another elephant in the room. The neighborhood just elected DSA-affiliated Alderman Sigcho-Lopez, part of a DSA sweep in the 2019 aldermanic elections. Some in the St. Adalbert's community couch their objections to the neighborhood's economic upheavals in rhetoric reminiscent of liberation theology. Torres told me that the closure of St. Adalbert's felt like the continuation of an assault upon the Mexican-American community exemplified by long-feared U.S. Immigration and Customs Enforcement (ICE) raids.
The Polish-American activists, on the other hand, include a vanguard of immigrants from Communist Poland who seem less enthusiastic about the promise of socialism (they frequently compare the Archdiocese to the Russians). Those to whom I spoke said Catholicism needed to return to orthodoxy, highlighting Opus Dei as an organization that allows devout lay Catholics to meaningfully engage with their faith. Some alluded to a deep rot within the Church while remaining vague about its exact nature.
And yet, these seemingly incommensurable differences bring us to a second apparent paradox. Approaching the Archdiocese's actions from two very different perspectives, these activists arrive at much the same solution—namely, greater local control of individual parishes, as well as involvement from laity in this sort of non-religious decision-making by the Archdiocese.
A final paradox—or perhaps just a sad, predictable irony at the heart of modern urban America: the most avowedly progressive and putatively anti-gentrification newcomers to Pilsen—a multiracial but predominantly white contingent, originating mostly in the United States' increasingly deracinated middle- or upper-middle-class, and made up of the sort of people who unfailingly check their privilege upon request—are among the main drivers of that process. The loss—perhaps the transformation—of local community in neighborhoods like Pilsen falls squarely on their narrow, tattooed shoulders.
To illustrate this, I'll begin with a conversation I overheard in a downtown coffeeshop. Two DSA members, one apparently vetting the other, were introducing themselves. Both had recently graduated from the same U.S. News & World Report-approved neoliberalism foundry on the South Side. Both spoke with interchangeable accents from interchangeable upper-class American suburbs. At least one worked in—where else?—finance. So, where did these young, relatively privileged class warriors choose to make their homes? In two of Chicago's most rapidly gentrifying neighborhoods, of course! Low-risk revolutionary rhetoric is all well and good, but in the end, it takes a backseat to location, location, location. Besides, one's preferences are more accurately revealed by the pocketbook than by one's politically righteous social media feed (or: money talks, bullshit walks).
A concomitant of the loss of Catholic churches is the loss of Catholic schools—which are, whatever their flaws, one of the Bungalow Belt's few affordable alternatives to the perpetually flailing public system, and centers of local community in their own right. This absence is not so acutely felt by the childless 23-year-olds biking down 18th Street to some hip bar or underground show—those bohemians with a lowercase B who always pave the way for the new urban bourgeoisie. By the time they hit 35 and start thinking about kids, they'll have been priced out themselves or swallowed their pride and actually bought a unit in one of the interchangeable glass condos now rising across the Near West Side. Fueled by a mixture of guilt and, in some cases, rent-seeking self-interest, this electorate may even assure progressive local pols of a lasting constituency.
A place like Pilsen—colorful, walkable, and close to downtown—seems well on its way to San Francisco-ization. With the working-class and middle-class pushed (or bought) out, the affluent New Pilsen Persyns will tread ever-so-gingerly over the truly destitute who, subsidized by the state, remain forever in place. As they look up at the towers of St. Adalbert's, maybe they'll wonder where the neighborhood went. Or maybe their kids will revive the sokols—I don't know.
The future of Pilsen may not be favorable to the mother Church. In fact, it may not be favorable to anything that seriously challenges the state or, tangled up with it, a version of capitalism that grows more cronyistic perforce with the expansion of state power. Perhaps, however, it is in line with the revealed preferences of another powerful and tax-advantaged local landowner—its neighbor to the southeast and my own alma mater, the University of Chicago.
(Thanks to Ellen Skerrett for her help.)
---