Audubon, NJ. Just across the street, about one hundred or so feet from the house my wife and I purchased a few years ago, a stretch of railroad tracks runs parallel to the sidewalk abutting our front yard. Originally, through the early twentieth century, members of Philadelphia's and the surrounding Delaware Valley's upper crust could access the recently popularized pleasures of seaside recreation via these tracks. Passengers stopped commuting this line long ago; they are now owned by Conrail, whose trains slowly traverse them to ferry commodities between a railyard along the river a few miles to the west and, after passing through the Pine Barrens, the coast some sixty miles to the southeast. Despite adhering to what appears to be a fairly regular schedule, a passing train nearly always elicits from the various members of my household a momentary redirection of their attention: one of my two older sons will announce its approach with a simple, "Train!" from their playroom upstairs, my younger son will stand on our living room sofa to peer over the windowsill and count the boxcars, inevitably fudging his numbers when he progresses into the teens, and my wife or I will sometimes step onto our wraparound porch and exchange a wave with one of the operators riding in the locomotive.
Having grown up in just the next town over, these tracks and their passing trains are now endowed with a heavy dose of nostalgia, though this is probably due less to my geographic acquaintance with them than it is the simple amusements they occasionally afforded. For a kid and his friend with nowhere to go on a listless summer afternoon, ambling a mile or so along the tracks held the vague promise of something indistinctly out-of-the-ordinary lying just ahead. Sometimes during our daily walk home from school, after some knucklehead had scrambled to find a penny to lay along the rail, my friends and I would wait for a train to slowly chug past: for all I know, the operators who waved to us then could be the same guys who salute me now. And the novelty of crossing the pedestrian bridge or occasionally happening upon a dislodged cut spike – a veritable treasure at one point in my life – never diminished.
Living directly across from the tracks now has only reinforced an appreciation for their quotidian place in the neighborhood's physical makeup. Our town is relatively small, both in terms of area and population, and, though situated squarely within the congested bounds of the Northeast Megalopolis, it has maintained a simplicity that, at least by my romantic assumptions, once informed the quintessence of its early twentieth-century founding. At the risk of sentimentalizing a bygone era of which I have no firsthand knowledge, the regular passage of a slow-moving freight train feels like the vestige of some other time. In some indefinable way, these train tracks and my memories of time spent along or within proximity of them make our town and the adjoining municipalities – every square inch of them walkable – feel even a little smaller. When a train passes our house, I know that in just a few more moments it will rumble past the library that I would regularly walk to with my dad, and then, just a bit further down the line, the baseball fields where my siblings and I spent many summer evenings.
Within twenty minutes of my driveway, more recently built neighborhoods, replete with larger homes, abound: their strategic development has resulted in much more direct access to both the highways that crisscross our subregion and the strip malls that dot their roadsides. But these residential areas primarily serve their residents with only that purpose – to reside. Hence, unless we are now considering Hobby Lobby or Target communal spaces, they generally lack the elements that make my surroundings feel so endearingly intimate. Here, even amidst the most densely populated state in the country, the library is more than simply a resource at my disposal, the baseball fields more than a means toward pursuing a hobby, the train tracks across the street more than a conduit for commercial enterprise.
Perhaps the impression I am striving to impart is simply "old-fashioned": in every sensorial respect, these constitutional elements – the train tracks, the library, the baseball fields, the little corner grocery store that has endured despite the almost obnoxious ascendancy of Wawa and now, apparently, Royal Farms – are remnants of supposedly simpler times, throwbacks to mid-twentieth-century, small-town America. Even as the condominiums not too far up the turnpike keep building upward and the shopping plazas not too far down the interstate keep spewing outward, this little community remains unremittingly quaint. And as much as I would appreciate not having to navigate traffic for twenty minutes just to, say, meander through the L.L. Bean outlet every now and then, I will take my little downtown any day, where, if we happen to pass by without visiting the bakery, the friendly woman behind the counter will still step outside to greet my boys, the proprietor of the record store always points out something he thinks I might like, and the operator of a train, with whom I will presumably never actually exchange words, never hesitates to raise his arm in a gesture of friendliness.
The recent news, then, that plans for a footpath running parallel to a sizable segment of these tracks has only reinforced our decision to settle here. At least one portion of this proposed trail – the portion that, serendipitously, just so happens to pass our house – has already received a greenlight from the various powers that be; assuming things go according to plan, it will eventually be extended a few dozen miles through a number of adjoining communities to the edge of the county. This project, spearheaded by the Rails-to-Trails Conservancy, a nonprofit organization dedicated to "bringing transformative benefits to communities all across the country" through the establishment of walking and biking trails, has already surmounted some obvious obstacles, namely funding and land tenure.
To be sure, those portions that are still in the development phase will be met with similar issues and, predictably, no shortage of red tape to boot. But the impending reality of that single portion of the trail that will sweep past our house – let alone the initial inkling of the much larger version – is refreshingly indicative of a mindset that I am not sure was so broadly shared even just a few years ago. Granted, Rails-to-Trails has been at work for some time now, but people seem increasingly to want to inhabit communities that are accessible by foot. I hope I do not sound too tritely Emersonian when I suggest that being able to walk through one's community, thereby enabling a degree of interaction with one's surroundings not attainable via other means of transit, makes one feel much more like he is a part of it. To walk through one's community is to be firmly placed within and amongst one's surroundings, and while the rail trail will essentially serve in both form and function as an avenue, it will enable something more experiential than having satisfactorily progressed from point A to point B: it will afford – as have the layouts of these smaller, older towns through which it will eventually course – more opportunities to observe and interact. It is encouraging that so many hurdles have already been cleared – Conrail's permission to use its property, the awarding of a grant to cover the construction of this first portion, the various and necessary approvals – in order to improve the means by which my neighbors and I can experience our surroundings more personally.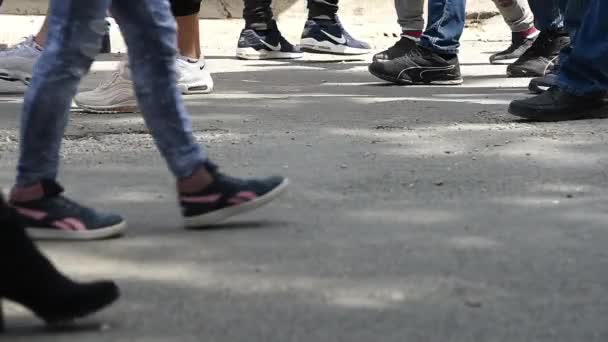 This tendency toward belonging or, more generally, a sense of ownership, is treated in a 2016 episode of the podcast 99% Invisible. In keeping with the show's focus on "all the thought that goes into the things that we don't think about", the episode "Public Works: Rethinking America's Transportation Infrastructure" examines the general passivity with which most of us probably consider the funding, design and upkeep of our local and national roadways. Throughout, host Roman Mars and professor of civil engineering and history Henry Petroski discuss the troubling implications of using the term "infrastructure" rather than "public works" when referring to the fundamental systems that undergird our developed, post-industrial society. The former calls to mind some vast, impersonal force effectuated at a remote bureaucratic level. The phrase "public works," however, conveys a sense of accountability or ownership that the term "infrastructure" might not. Of course, the crux of their inquiry – the fact that the majority of our infrastructure is publicly funded – requires not simply a readjustment of terminology but a proactive reevaluation of our role in maintaining and improving those systems from which we benefit.
The respective upshots of these contrasting approaches are illustrated in the public's reaction to the 1883 completion of the Brooklyn Bridge and the relatively recent completion of the San Francisco-Oakland Bay Bridge. When the Brooklyn Bridge opened on May 24, 1883, multitudes, including sitting president Chester A. Arthur, were in attendance. In contrast, Mars notes, "When the eastern span of the Bay Bridge was about to open in 2013, they set aside a day for pedestrians to walk the bridge, much like people did in 1883 when the Brooklyn Bridge was opened. I was all set to bring my kids and celebrate this new massive piece of infrastructure. But because of last-minute repairs, the event was canceled and the bridge opened to traffic with much less public involvement in the fanfare, and I really didn't get a sense that people were all that upset about it. We collectively just don't have the feeling that infrastructure warrants celebration or a sense of pride like we once did." In response, Petroski offers, "I think we, the electorate, has gotten mentally lazy about the infrastructure like we have about a lot of things. We tend to focus on what's of immediate concern to us."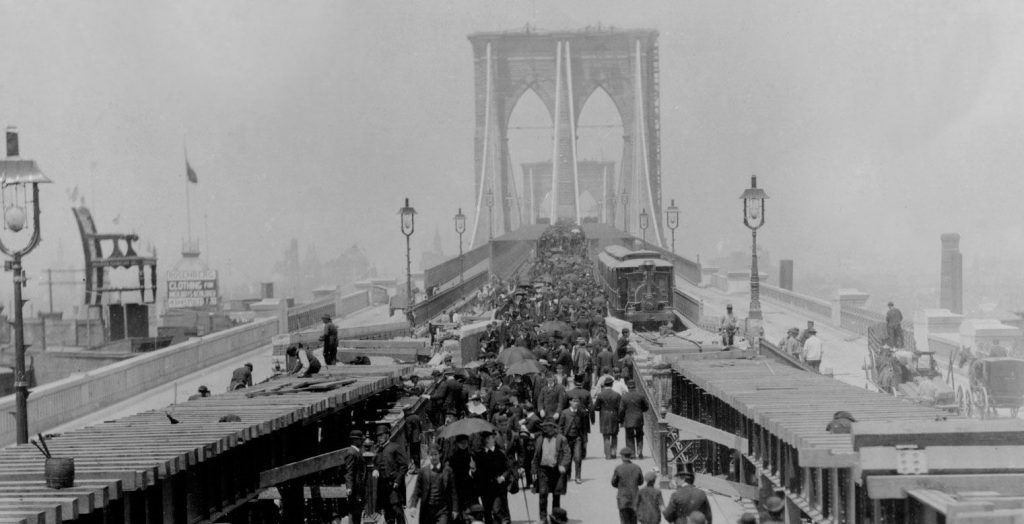 Globalism in its most basic incarnations must be at least partly responsible for this prevailing complacency: at this point in history, given the comparable ease by which we access both physically and digitally the world beyond our immediate surroundings, how could any one advancement inspire the widespread hullaballoo that has followed the most storied achievements of past civilizations? Even the dialogue concerning our putative modern Seven Wonders is occasional and esoteric.
The recent upswing, then, toward a communitarian ethos – evidence of which is apparent just beyond my front porch – seems an anomalous trend within this broader context of technologically streamlined modernization. Presently, the resurgence of a localized, small town feel has spurred both longstanding, deep-rooted neighborhoods and new build housing developments. This shift is observable not only in recent movements like the proliferation of craft culture or the sudden, seeming plethora of community gardens and farmers' markets or even devised gimmicks like Small Business Saturday (its corporate motives notwithstanding), but also in the design and layout of those amenities that enable our physical movement through and interactions with our surroundings. These elements, rooted in the philosophy of New Urbanism, are elaborated upon in an article published by Curbed a few years ago: "While urban areas are becoming more and more expensive, the urban lifestyle is becoming more and more popular, so suburban towns and developers are increasingly catering those [sic] looking for a more walkable, dense community. A new supply of smaller homes with little or no yards in high-population areas will meet the demand to commute less and live closer to restaurants and entertainment." Furthermore, we are beginning to see "small business America with tree-lined streets, districts that capture the texture and energy of urban environments… These aren't new ideas, and many such areas already exist in the suburbs. But they're increasingly being revitalized, or make up the core of forthcoming suburban developments. Newer retail complexes are already more entertainment oriented, geared towards attracting crowds and civic life as opposed to solely focusing on landing big-name retail tenants."
Of course, each of the individual features comprising the scenario described here is really just an endeavor toward the same vision: namely, a desire to meaningfully belong to a specific community. This turnabout from our mid-century, postwar sprawl is undoubtedly to some extent rooted in the unfulfilled promise of Web 2.0 and the prevailing isolation so ironically felt within our so-called participatory culture. It would then follow that this take on localism, albeit a shinier, hipper version even in its reactionary origins, might be met with some degree of anticipation amongst the locals who stand to benefit.
In this regard, perhaps the actual paradigm shift at work deserves more wonder than does another huge infrastructural achievement: whereas such projects as the Brooklyn Bridge once captivated us by their grandiosity, the relatively commonplace project – a trail that facilitates something as simple as interacting with one's neighbor – has seen renewed cultural importance. Accordingly, the impending installation of the rail trail has incited a general buzz throughout the area. Our friends and neighbors are chatting about it; those individuals interviewed by our local news outlets seem to share our excitement; a banner depicting a rendering of the completed project hangs in one of the shop windows down the street. In this respect, the trail, though not one stride's length has yet been laid, has already fulfilled its purpose.
The feasibility study that the county commissioned for this project a few years ago predicts a number of economic benefits, including increased property values and more consumers to stroll through our local downtown. But the more enticing, though less measurable, upshot is that deeper, more appreciable sense of place that the rail trail should cultivate. Currently, the segment passing our house is projected to be completed by spring of next year. By then, our two older boys should be more adept at riding their bikes, the little guy will no doubt be capable of following closely behind them on his scooter, and our youngest, now only a few months old, will be able to sit up in the stroller and, with the rest of us, watch for a passing train.