West Palm Beach, FL. This year's pandemic has reshaped summer vacation in many ways. The vacation is longer for many, but the opportunities to enjoy it seem fewer. Many people saw their summer travel plans canceled or changed by COVID-19. After months at home, everyone seems to be singing along with Paul Simon, "everybody loves the sound of a train in the distance, everybody thinks it's true." With overseas destinations less available and flying less appealing, this has become the summer of the COVID roadtrip. RV sales are skyrocketing. Years ago, Chevrolet commercials encouraged Americans to "see the USA in your Chevrolet." Whether it's through the windows of a Chevrolet or not, a road trip can be a good opportunity for observing place as we travel.
In What It Is Like to Go to War, Karl Marlantes wrote that an unexpected problem that soldiers faced in Vietnam, and later conflicts, was ease of travel. In earlier wars, transport vessels could take weeks to get soldiers into or away from the line of fire. All of that time allowed soldiers to process and prepare for where they were going and where they had been. In Vietnam, soldiers began to fly to and from the war. Today one can reach home from a war zone in less than 48 hours. Flying offers less time for reflection and flight is too fast to allow travelers to recognize and respond to changes in place. With flying for leisure, there is less risk of trauma but no less loss of place.
This summer I traveled to Cleveland, Ohio from south Florida. It usually takes two flights to get there from my house, but when I drove it took two days. Normally I walk into one airport in south Florida and walk out of another in Ohio. The temperature is different but that's almost the only change you recognize on arrival. When I drove north from Florida, I saw hills emerge from the landscape and eventually mountains. The trees and the grasses changed and the radio stations came and went. 1000 miles offer a lot of opportunities for observation.
This sense of place and region is at the heart of many of America's legendary road trips. In 1960, John Steinbeck took to the road with his dog, in a trip he immortalized in Travels with Charley: In Search of America. Steinbeck wrote that one of his purposes "was to listen, to hear speech, accent, speech rhythms, overtones and emphasis. For speech is so much more than words and sentences. I did listen everywhere." Steinbeck took his camper on some main roads but plenty of the less-traveled. He stayed in a few hotels, sometimes with friends, and often on the side of the road. While On the Road largely celebrated the lifestyle and adventures of its author, Steinbeck's book explored the worlds and people he encountered on the road.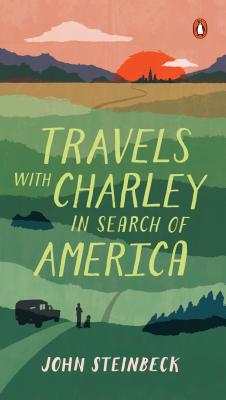 A good road trip is enhanced by a good road. The more local the better. Traveling I-95 or I-85 is more streamlined than scenic. Most of the exits feature the same gas stations and chain restaurants. This also reflects our culture. Even in 1960, Steinbeck noted that "regional speech is in the process of disappearing, not gone but going. Forty years of radio and twenty years of television must have this impact." But not every road is devoid of personality and local flavor. If you travel Route 15 in Pennsylvania, you can see that America still farms and you can find plenty of great farm stands. On the back roads of Ohio, you can share a lane with an Amish buggy. If you travel I-84 in Oregon, you can see some spectacular waterfalls.
Even on less than ideal roads in a world of corporate brands, driving gives us the opportunity to notice things. It may be a chain, but you can't get Bojangles everywhere. Payphones may seem unnecessary, but they are more often found in highway rest areas than almost anywhere else. At a certain point between east and west, Hardee's becomes Carl's Jr. and Hellmann's mayonnaise becomes Best Foods. When you drive under the different state flags, you're able to take in differences between states in a way that you don't when you simply fly over them. A road trip is also why I can now recognize the city flag of Columbia, South Carolina.
If we are willing to give ourselves the time, a road trip can be an outlet for true exploration. If you go through Kentucky, you can find yourself on a distillery tour without planning it. I've never detoured a flight, but I have taken an unplanned highway exit. Some I would visit again. I once visited the notorious Andersonville Prison, only because I was driving by. All the major highways have visitor centers with state information for anyone who is willing to pick it up.
Not only can you see more places when you drive, you can see more people. You can stop for a short visit with a friend who lives along the route. You can more easily be "in the area." If we have enough friends along the route to forego hotels, at least some nights, we also get the invigorating experience of hospitality. If one of the best summer evening activities is sitting on a front porch, a road trip can give you the chance to sit on many front porches.
Depending on your company, a long drive can also be meditative. You can listen to a book on tape, the radio, or your own thoughts. Steinbeck wrote that: "Driving, I have created turtle traps in my mind, have written long, detailed letters never to be put to paper, much less sent. When the radio was on, music has stimulated memory of times and places, complete with characters and stage sets, memories so exact that every word of dialogue is recreated. And I have projected future scenes, just as complete and convincing—scenes that would never take place. I've written short stories in my mind, chuckling at my own humor, saddened or stimulated by structure or content." There is a link between mental processing and prolonged travel.
Today we travel by GPS, but road trips allow us to create our own mental maps of regions that we define. There are places you can order birch beer and places they've never heard of it. A road trip helps us shape that region. We start to know where we can expect Confederate flags or boiled peanuts or alligator heads. We learn where the mountain ranges begin and end. If you travel a specific road enough, you learn where to stop for gas and where to never stop. You can learn the best roads for bridges and the worst for tolls. As you cross the states by car, you learn how the puzzle pieces fit together and some of the relationships between them.
Even when we are just passing through, we have more opportunity to observe when driving than when we fly by. We may not return from a road trip with a profound lesson. At the end of his journey, Steinbeck wrote that his "travels with Charley were a simple, almost humble undertaking. They caused no flurry and piled up a limited heap of information. Thinking back, I don't know what, if anything, I learned." But while there are so-called "flyover" states, there is also a "flyover" state of mind. A road trip can help us leave that behind. So, take it from Dinah Shore and "make a date today to see the USA / And see it in your Chevrolet."