Aberdeen, SD. Joel Kotkin has been writing about geography, demography, and public policy for some time. His most recent book is The Coming of Neo-Feudalism, which I reviewed at Front Porch Republic. Kotkin is Presidential Fellow in Urban Futures at Chapman University in Orange, California and Executive Director of the Houston-based Urban Reform Institute. He also edits the online journal newgeography.
Kotkin's work places him within the tradition of Jane Jacobs and James Howard Kunstler. Like those authors, Kotkin is interested in the intersection of people, place, and public policy. How can we live a humane life as individuals within healthy, viable communities? How does the physical space in which we live, both natural and built, influence how we see ourselves and how we function as a people? Like many Porchers, Joel Kotkin thinks about place and people as a relationship to be nurtured, not just manipulated.
More recently, as his latest book evinces, Kotkin has been concerned with the rise of a class of global citizens residing in a handful of cities and attached to elite professions and institutions. This elite class, the oligarchy and those who benefit from it, are becoming more entrenched in culturally authoritative institutions. The oligarchs have a disproportionate power over our lives. Recent controversies regarding content censorship by Twitter and Facebook testify to this power. While proclaiming "woke" politics and aping the language of "inclusion," in fact, claims Kotkin, the oligarchs have climbed to economic and cultural commanding heights but are now promoting various policies that in essence pull the ladder up after themselves.
I had the pleasure of interviewing Joel Kotkin for Front Porch Republic. The following exchange has been lightly edited for clarity.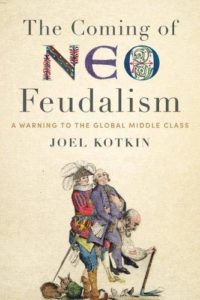 Schaff: So much of your work in recent years focuses on the notion that America, far from becoming more egalitarian, is becoming a more stratified society. In your latest book, The Coming of Neo-Feudalism, you claim that there are three dominant classes in America: the oligarchy, the clerisy, and the yeomanry. Could you define those terms and explain how they exemplify a new feudalism?
Kotkin: Actually we really have two dominant classes, and one declining one. The oligarchs, notably in tech, continue to dominate our economy and, increasingly, all communications. The clerisy, which is largely academia, media, and the upper bureaucracy, are also ascendant. Both have targeted the yeomanry, the small business and property owning middle class, who continue to want to own homes and be independent, despite the regulatory vise. Below these are a rapidly expanding class of serfs, who will never achieve business ownership or property, much like their Medieval predecessors.
Schaff: You single out California as being at the forefront of the class dichotomy. I recall some years ago Victor Davis Hansen writing about "Mexifornia." This was only partially a comment on immigration. What Hanson meant is that like Mexico, California was on track to evolve into a state populated by the few fabulously rich who can afford the high taxes, high energy costs, and high home prices, and then the many poor (many of whom are Mexican) who do service labor for the rich. Is that your take on California as well? What happened to California to turn it from the "Golden State" to a place that due to population stagnation will likely lose a congressional seat after the 2020 reapportionment?
Kotkin: I have been writing about California's descent into neo-feudalism for many years. California's shift has a lot to do with policies that have driven middle-wage industries—in manufacturing and business services—out of state due to regulatory restraints. The state puts all priority on "green" policies which, although ineffective in reality, justify policies that benefit the rich and hurt the poor and middle class. In the past decade 80% of all new jobs in California paid below the minimum wage, and the state created mid-wage jobs at among the lowest rates in the country.
Schaff: Your recent piece in National Review ("Blue Today, Bluer Tomorrow") reminded me of Walter Russell Mead who a few years ago was writing extensively on what he called the "Blue State Model." This model, said Mead, was essentially one in which Blue state politicians would talk a lot about punishing the rich and big business, and make some overtures in that direction, but in fact, through complex regulations and loopholes, write laws that benefited the rich. Tax policy is the obvious example. Talk about raising the marginal rate on the rich, but then create all sorts of tax breaks (like the State and Local Tax Deduction) that disproportionately benefit the rich. The poor react to the populist rhetoric, the rich to the elitist policy. This phenomena manifests itself this year when Joe Biden claims to be for "Scranton" not "Park Avenue," while the finance and banking industry, which presumably knows its own interest, is backing Biden heavily. Why has this strategy been successful, in your view?
Kotkin: It is classic mis-direction. The oligarchs and their heirs fund the progressive media who then promote these policies. It's a show to virtue-signal. There is a geographic element here. These people live in expensive cities and the "best" suburbs. They live near the coasts and away from where people work in factories, on farms, or in home constriction. Their world is essentially one of their own making, and there's no strong organized counter-force. When the stakes are high, they can overwhelm opposition, whether inside or outside, the Democratic Party.
Schaff: The Coming of Neo-Feudalism quotes Wendell Berry at one point. This will warm the hearts of most Front Porch Republic readers, many of whom are inspired by Berry's localism. How can we promote a more vibrant localism as against the dominant ideology of globalism? How can local communities decimated by globalization and economic centralization be revivified?
Kotkin: This is a big question. The key thing is to allow power to devolve away from Washington and state capitals. Local politicians have to be elected based on local, not national issues. There needs to be a concentration of the real: skills training, middle class and upwardly mobile working class jobs. Replace symbolism with real improvements.
Schaff: You've written about a couple policy areas that promote neo-feudalism. One of them is housing. How specifically does housing policy present an obstacle to upward mobility for the working class? What policies might you recommend instead?
Kotkin: The biggest issue is homeownership. The issue can be dealt with by supplying more housing, either on the periphery or by replacing the soon to be enormous tsunami of redundant retail and office. Taking away some of the fees and long approval processes, the adoption of manufacturing house and spreading job markets more broadly may help.
Schaff: Another policy area that favors neo-feudalism is the role of colleges and universities. What reforms of higher education might make it more egalitarian by promoting actual upward mobility for the lower classes? What about those who don't go to college? What can we do to provide more opportunity for those without a college education?
Kotkin: First of all, we should not push so many people into college. Skills training and apprenticeships may be a better route. For those in college, we need to focus on real skills, like knowing things and being able to listen to differing views, as well as simply showing up. Our schools are not really interested in creating adult citizens, but future woke activists.