"To be happy at home is the ultimate result of all ambition, the end to which every enterprise and labour tends." – Samuel Johnson, 1750
St. Louis, Mo. Hour by hour over the years, we have abandoned our homes. We sent our children away, so often at a very early age, for common schooling often run by the State. Sometimes, they hop on a bus before the sun rises and return toward dinnertime. We left home ourselves to become wage-slaves in occupations that in so many ways separate our minds and our hearts from our families. Our mark of success is not a passionate and seemingly interminable game of Monopoly around a well-worn dinner table but commanding a meeting in a conference room where screens filled with PowerPoints replace the homely hearth.
Here's one quick and simple sign of this devolution: the frequent reference to suburbs as "bedroom communities." These are not homes in the traditional sense but rather places to sleep while we're living our real, awake lives elsewhere: at the office, restaurant, theater, or sports arena.
Thanks to the pandemic and its lockdown, many of us have had a small taste of how it should always have been, and how it could yet be. Like most Americans, coastal and flyover, red and blue, my family has spent part of the pandemic locked down at home. I worked from my basement office, our teen daughter did schoolwork up in her room, my wife shuttled between running the only thing that matters—the home and family—by paying bills, cleaning, planning the menu, and making sure our other, adult children and our miniature grandchildren had the love and support they needed. At lunch, we would come together over sandwiches and card games.
As I think about the experience, there is something about all of us being at home that is not only transcendentally true, good, and beautiful, but also warm, comfortable, and inviting. It's a feeling I wish we all could have, and enjoy.
In thinking of the pandemic's effect on the workplace and the home, I know I am one of the fortunate ones. I was not laid off or furloughed. Like many in so-called "knowledge jobs," I can work anywhere with a laptop, wi-fi, and cellphone. Our home also has plenty of space—and is all the quieter—now that four of our five children have moved out on their own.
When it comes to being able to work from home, I'm not alone. An April 2020 analysis by the Becker Friedman Institute for Economics at the University of Chicago found that 37 percent of U.S. jobs can be performed entirely at home; for certain metropolitan areas (such as San Francisco or Washington, D.C.) the rate is higher, at 45 percent.
At the same time, research indicates greater productivity working from home during the lockdown. A Harvard Business Review report offers three possible reasons for this: The lockdown helps us focus on the work that really matters, take responsibility for our own schedules, and view our work as more worthwhile.
Workers appreciate these benefits. A September survey of remote workers found that 95 percent of them report their productivity has either not changed or has improved since the pandemic sent them home to work. They cited fewer interruptions, a quieter work environment, a more comfortable workplace, more focused time, and a lack of office politics. In addition, most respondents said their personal lives had also improved while working at home.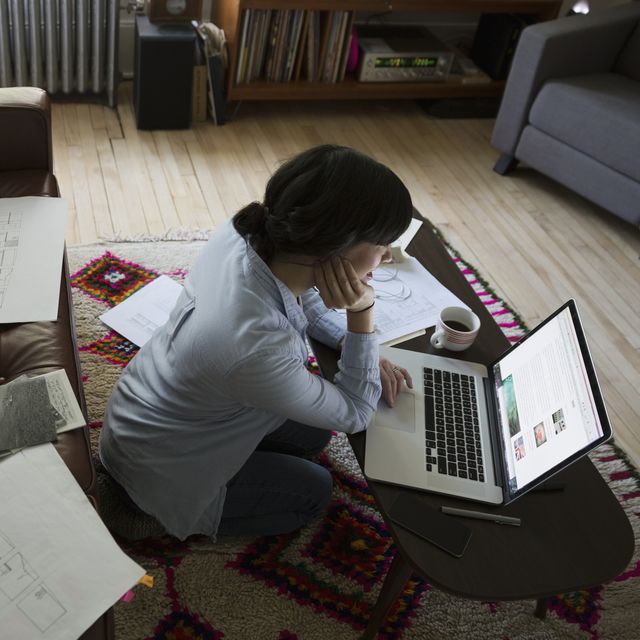 Two-thirds of those in the survey say they want to keep working remotely after the pandemic ends, and three out of 10 would prefer a hybrid arrangement.
Of course, rearranging our lives and the national economy to accommodate so many more working from home would be an extraordinary undertaking, when you think of it, one that includes altering fundamental domestic architecture and design to carve out space for those at home. Just as the idea of "open offices" has been a terrible trend in the business world, the cherished "open concept" floor plan for homes will not last if we all need a quiet, separate place to work.
The shift also would have an impact on pay and benefits for workers, for whom some of the expenses covered in an office will be borne at home. and it would put fewer cars on the road, with all the positive and negative effects that follow from that, affecting ancillary services like restaurants and dry cleaners as well as gas stations.
At the same time parents found themselves at home, they've often had to share tight quarters with children learning on tablets and laptops. A United Nations policy report states the pandemic has "created the largest disruption of education systems in history, affecting nearly 1.6 billion learners in more than 190 countries and all continents."
The pandemic lockdown may lead to a more permanent evolution in education, with reports of some parents souring on the distance-learning many public schools have embraced while their private counterparts are opening up the classrooms again.
In late August, a Time magazine story on the phenomenon of parents making the switch to private schools noted the numbers are open to interpretation, citing an August survey that found 51 percent of private schools either maintained or increased enrollment, and 58 percent reported a "larger than average" number of admission inquiries. At the same time, however, the Cato Institute reports that over 100 private schools, mostly Catholic and enrolling almost 18,000 students, permanently closed this year because of pandemic-related challenges. Many of these schools were no doubt operating on the margins and had to deal with a significant instant disruption when the lockdown arrived this past March.
To be sure, parents are being more thoughtful about their options. An August poll found that support for school choice—where parents can use tax dollars to send their children to the school of their choice—increased 10 percent since April, up to 77 percent of those surveyed. More and more, when parents make a choice, it's in favor of homeschooling. "Homeschooling applications are surging in states including Nebraska, where they are up 21 percent, and Vermont, where they are up 75 percent," Associated Press reporter Heather Hollingsworth wrote in mid-August. "In North Carolina, a rush of parents filing notices that they planned to homeschool overwhelmed a government website last month, leaving it temporarily unable to accept applications."
Maybe it's time for government-run schools and those who control them to work more closely with private schools and homeschoolers. Often, they are reluctant to share resources with families, even though these families are still funding the schools through their local taxes and are, in fact, saving the schools money by not sending their kids there.
Revisiting home means rethinking families, for the two are inexorably linked. Writing in the March 2020 issue of the Atlantic, David Brooks caught a lot of attention for calling the traditional nuclear family a mistake. On a first reading, I read this as a critique of the traditional parent-child relationship. It soon became clear as I reread it that Brooks was onto something; what he was lamenting was the separation of a simple two-generation family from the extended family—grandparents especially, but also aunts, uncles and cousins.
I grew up in such an extended family, in a mid-size city in Northern California, with one set of grandparents right next door and a great-grandmother and uncle a block away. Across town were the other grandparents and all the other aunts, uncles, and cousins. At one point, my family moved away, and we were alone in Southern California. Of course, proximity to Disneyland meant family visits, and we ourselves sped north on Interstate 5 or Highway 101 a few times a year, but it was not the same. Our nuclear family was cut off and would itself fragment over time.
Brooks perhaps takes his solution too far. While he could have called for greater reverence and connection to elders, he pivoted to self-chosen or "forged" families of people not related by blood.
Just as my parents did when I was younger, my family (my wife, four children and I, at the time) moved away from extended family members in late 2000, a move from California to Missouri. With this move, the nearest relatives were five hours away, but we never traveled from St. Louis to Chicago as frequently as we first intended. Now, however, our little nuclear family has itself become extended. Three of our adult children live in the area, and our grandchildren know us well, as well as their other grandparents. They will never be missing a big, noisy, and loving family. In fact this school year, our oldest grandchild is a kindergartner at the same small, hybrid classical school where our youngest daughter is a high-school senior.
Thanks to social media, I recently discovered another good example of a turn toward extended family, from the writer and editor Jeff Reimer, who moved his family in with his parents, to the great mutual benefit of all three generations: "My wife and I have four kids, and we value the role my parents play in their lives. We'd like my parents to be around to help raise them. And we'd like to be around for my parents when they grow older. Not to mention that it would be financially advantageous for all of us."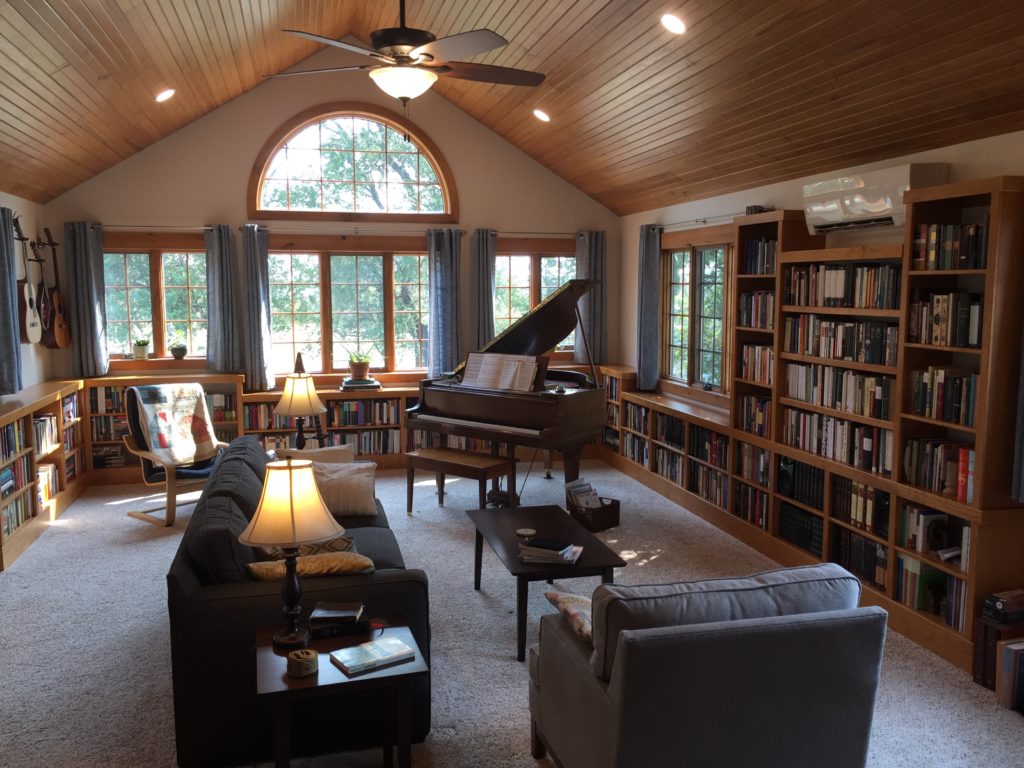 Reimer comes to mind because of a single tweet he posted, a set of images of a room in his home after his father constructed bookshelves for his personal library. The photo elicited the usual envy among the bookish set on Twitter—yours truly included—and went viral. He started the adventure with 41 followers and at this writing is approaching 700. His tweet was liked by more than 25,000 and shared ("retweeted") by more than 4,000.
As a writer, of course, he wrote about the experience. He mentions how Walker Percy would find it fascinating how people today find so much importance in social media validation, tracked each moment by numbers of likes and shares. He sees the wrongness of this all, as a smart and wise young man, yet he sees the goodness in the end, in his particular example.
"Maybe the combination of beauty, home, and family taps into a latent desire for these things that the diasporic modern urban world of the Twitterati finds it difficult to acknowledge until it's confronted with it," Reimer writes. "If I was going to go viral over something, I suppose I'd want it to be over something like this. Over a particular place in the world filled with the people and the things I love. People's lives are ruined every day by accidentally viral tweets. I'll count my blessings. I have many of them."
Jeff Reimer is a young man who knows the value of home not just as a bed for the night, but as the place for family to be rooted, a place where families could build their own worlds of love and peace, and even adventure.
G.K. Chesterton, as usual, saw this, remarking that "of all the modern notions generated by mere wealth the worst is this: the notion that domesticity is dull and tame. The home is the only place of liberty. It is the only spot on the earth where a man can alter arrangements suddenly, make an experiment or indulge in a whim. The home is not the one tame place in the world of adventure. It is the one wild place in the world of rules and set tasks." Chesterton would appreciate that home improvement projects soared during the lockdown; Home Depot and Lowes posted remarkable sales bumps in the second quarter of 2020, 23% and 30% respectively.
The ultimate lesson that lingers is a simple one. It's a lesson that home should beckon us, and the pandemic has provided an opportunity to reflect on home and family. We may not be in the perfect place to make a sudden and complete conversion, but there are steps we can take, even steps that don't require carpentry skills. How can we all, in all our various challenges and situations, make our homes fit the great description, from Tolkien's Fellowship of the Ring, of the last homely house?
A perfect house, whether you like food or sleep, or story-telling or singing, or just sitting and thinking best, or a pleasant mixture of them all. Merely to be there was a cure for weariness, fear, and sadness.