Emmitsburg, MD. Among the questions asked of upperclassmen college students, one that consistently recurs concerns what one is going to do with postgraduate life. Stephen McGinley, lecturer of philosophy at Mount St. Mary's University (known locally as "the Mount") in Emmitsburg, Maryland, considered this question during his time as a student at university and has found his answer in an unexpected place: the land.
My colleague Barbara Hawes and I have had the privilege of spending some time during the fall semester of our senior year learning about this man's discovery, including the joys and sorrows that went along with it. Professor McGinley and his wife Casey-Mae own and operate Good Soil Farm LLC, which sits on a piece of land less than a mile from the university from which they both graduated and at which he currently teaches. The McGinley family names its farm as a Catholic regenerative community-supported agriculture (CSA) farm. While these written, theoretical modifiers would suggest that there is something different about this farm compared to a commercial farm, it is the action of the farmers' hands and the inspiration of the minds guiding them that make this land a different kind of place.
McGinley suggests that the farmer who practices regenerative agriculture "participates in the restoration of soil integrity and human communal integrity." To those who have not spoken with a farmer who practices regenerative agriculture, or to those who have not visited such a farm, it sounds as if the ideals that McGinley is elevating are two separate projects, laudable in themselves but intellectually linkable only for the most ethereal thinkers. On the contrary, our experience with McGinley and his family prove that it is the hard work of integrating these two—healthy soil and healthy community—that characterizes the vocation of the farmer.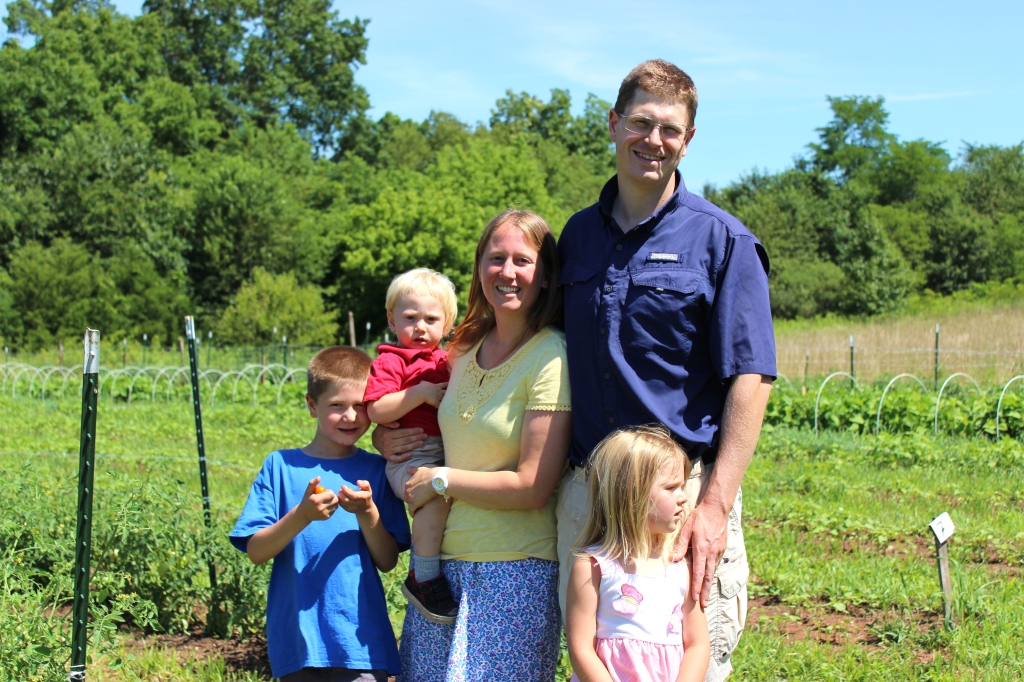 When McGinley and his family are tending to their farm, they are not setting out to engage in time maximization, professional development, or health optimization. In the hours they spend planting seeds, slaughtering chickens, and moving sheep, they might be earning more money, developing professionally, and optimizing their health. But these side effects are far from the primary goal sought through their labor.
McGinley became interested in the world of agriculture while he was a student at the Mount. The category of questions driving this interest was a desire to better understand Christ's parables in Scripture. He recognized that, while many of these stories require a knowledge of relationality and forms of agriculture, he had a weak theoretical and even weaker practical understanding of these realities. For this reason, he found his hands in the soil, seeking a deeper knowledge of God, himself, and the world around him.
In addition to participating in the restoration of the soil and human community, the Catholic aspect of the farm "roots regenerative agriculture, quite literally, in being-as-gift." This notion reorients his entire agricultural practice, providing a clear contrast from typical modern methods. An understanding of being as gift makes the farm a place that prioritizes charity over competitive loss, forgiveness over faults, and humility over control. Because the McGinley farm does not share the same material resources as their large-scale counterparts, their farm can be thought of as a part of their family life. For that reason, a dissimilarity between the way the members of their family treat each other in their household and the way they treat their customers would have disastrous effects. Obviously, Stephen and Casey-Mae prioritize that which demands priority, but our observation has made it clear that the McGinleys welcome the stranger to their farm as if he were a member of their family.
This welcome to the community is supported by the farm's identity as a CSA farm. According to McGinley, "in any given season, people buy-in in the winter months to provide the farmer the income necessary to do the planting, seeding and transplanting…and then they come out every week to get a share of the vegetables." With this method of growing and distributing produce, the community to which the McGinleys belong makes a skin-in-the-game risk during the harvest-barren season, hoping that their investment in the farm and its produce will pay off during the more temperate months. In this way, the farm allows itself to become a place of vulnerability, a place at which many people take risks with and for one another, for themselves, and for their own sustenance. This mode of existence has deep anthropological roots in perennial methods of learning to live with the land, with nature, and in a community.
It should come as no surprise to even the inexperienced reader of localist literature that Stephen and Casey-Mae were emotionally and intellectually supported by the works of Wendell Berry, especially by one of his most popular novels, Hannah Coulter. Stephen also credits Pope St. John Paul II's Theology of the Body and the Mount's liberal arts core curriculum as formative resources that clarified his own philosophical understanding on the nature of things and their ends.
These three sources, understood in light of one another, simplify the connection between the restoration of the soil and community: human stories, centered around human persons in pursuit of wisdom, are the roots from which communities grow. We can be sure, by the sweat on the brows of each person in the McGinley family, that this connection between the land and community is no mere metaphor. And the people in their place thank them for living out the poetry and modeling one making a good life—and not merely a career—in their postgraduate years.