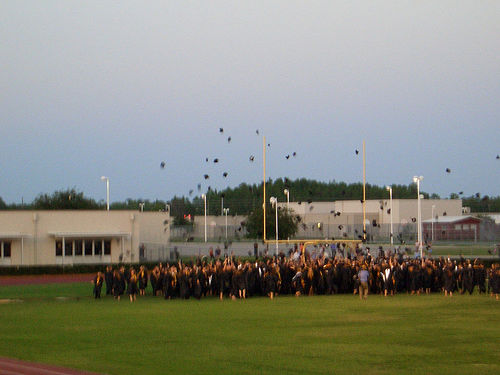 JEFFERSON COUNTY, KANSAS.  I had the privilege of giving the commencement address at my alma mater this year.  Below is the text of the talk, more or less.  Readers will recognize a number of FPR themes throughout.
Let me be the first to congratulate you on what is truly a significant and lasting
achievement. Your parents, I'm sure, think I am talking to them, and while their
accomplishment is likely the greater one, tonight our congratulations go to you graduates.
You have completed a course of study that will serve you well for the rest of your lives.
The plaudits and praise you will receive tonight and through this season are well earned
and you should enjoy them to the fullest.
Let me also, however, be the first the burst your bubble. Most of the failures of your life,
your most heartbreaking regrets, and your worst mistakes lie ahead of you. Take heart
though, for most of your triumphs, large and small, lie in front of you as well. Which is
just to say that you stand at a grand beginning, the cusp of possibility.
It has been exactly twenty years since I sat where you are now and I can still clearly
recall the feeling of that tremendous and daunting possibility stretching ahead of me.
And as I reflect back on those twenty years, I can report that I have had my share of
triumphs, and I don't mind sharing them with you. I have had the unsurpassed joy of
raising five wonderful sons with the bride of my youth. I have been blessed with
meaningful work that has carried me into the crucible of some of the most vexing
arguments at the highest levels about who we should be as a people. I have been quoted
on the front pages from Topeka to New York City and lots of places in between. Which
is not to say I have been listened to in any of those places.
The failures, mistakes, and regrets are all there too. From personal and painful mistakes
to business failure to dashed hopes. For some reason I have a hankering to be a farmer—
and as my boys can tell you (they take great glee in this), I am a terrible farmer. My
fences fall apart, my livestock dies, my pastures grow more rocks than grass.
Why do I share this with you? Just to say that through this all, and above all, I have
hoped to become a student of the human heart. This is at once the easiest and most
difficult apprenticeship you can undertake. Easy, if you choose to submit yourself to the
study, because you will carry a human heart with you always, wherever you are.
Difficult because the human heart is the most complex, wondrous, fascinating, and
surprising instrument in the universe. The real vista of endless possibility lies in the
human heart, for you will never exhaust its highways and byways.
So you have graduated. Now the real course of study begins, and this is the study I
would call you to tonight. And if you are attentive, you will not be alone. The poets and
philosophers have all made the human heart their one great study—from David the
Hebrew poet king ("What is Man, O God, that you should care for him?") to Walt
Whitman, the tramp poet of New England ("There is this in me—I do not know what it
is—but I know it is in me.") to the whole of human culture in between. They are there
for you if you will have them, as are your friends, your mentors, and those who will come
after you.
But for tonight, I'm all you have. So I have distilled a few things that I think are true;
things that are true about the human heart; things that I want to share with you tonight.
And the most basic truth—most basic for us in this time and place because it is the one
most obscured by the society we inhabit—is the truth articulated most poignantly by
Booker T. Washington. Washinton was born into slavery and rose to prominence after
the Civil War as a leader of Southern blacks. In 1895, speaking to an American South
still struggling with Reconstruction, Washington wanted to urge blacks to stop looking to
the North for their needs and for their future, so he told this story.
There was a ship lost at sea for many days which suddenly sighted a friendly vessel.
From the mast of the stranded ship was seen a signal: "Water, water. We die of thirst."
The answer from the friendly vessel at once came back: "Cast down your bucket where
you are." A second time, the signal, "Water, send us water!" went up from the distressed
vessel. And was answered: "Cast down your bucket where you are." A third and fourth
signal for water was answered: "Cast down your bucket where you are." The captain of
the distressed vessel, at last heeding the injunction, cast down his bucket and it came up
full of fresh, sparkling water from the mouth of the Amazon River.
Cast down your bucket where you are!
In less poetic language, this is what I have sometimes called practicing the discipline of
place. To practice this discipline is to believe that to suffer one's place and one's people
in the particularity of its and their needs is the primary basis for finding love, friendship,
and an authentic, meaningful life. This is nothing less, I would argue, than the key to the
pursuit of Christian holiness, which is the whole of the Christian adventure: to live in
love with the frailty and limits of one's existence, suffering the places, customs, rites,
joys, and sorrows of the people who are in close relation to you by family, friendship, and
community—all in service of the truth, goodness, and beauty that is best experienced
directly.
Now, what am I saying? Does this mean that I think you should always stay in one place,
that you cannot be called elsewhere, or that you ought to forever limit your own horizons.
No. I am neither foolish nor naïve enough to think that this is either possible or even a
good thing. What it does mean is that the human heart, your heart, will never flourish
and blossom if it is forever pining after the next thing, or captured by the false promise of
something better just out of grasp, always seeking satisfaction somewhere other than
where it is. Rather, it is that marriage between the endless internal horizon of your heart
and the limited, restrained, concrete life of geography and community that has borne the
most delightful and satisfying fruits of human history.
So cast down your bucket where you are.
This is at once the most radical and the most conservative thing you can do with your life.
Yet you are heading out into a very conventional, middling, controlled world. Oh, they
will tell you that their marches for progress and rights are daring, that they are radical.
Or they will tell you that their religious revivals are conservative, that they are the moral
center. You will hear it all, but the truth is that for the most part, people are in the grips
of a boring, lifeless ideology of personal fulfillment, choice, and upward mobility. We
live in a society of tourists—and if tourists have one thing in common it is this—that they
are not at home.
Many if not all of you are off to college somewhere to further your education. This is not
a bad thing, and may become a very good thing for you, but I am here tonight with a
warning. The world of higher education is a strip mining operation, plain and simple, and
you will become the raw resource being mined. This is the result of a system designed to
discover and refine the most meritorious among you and ship you off to whatever spot in
the world you will be most "productive."
You will hear over and over and over again, in many different forms, that nothing must
get in the way of making the most of your social and economic opportunities. No ancient
bonds of tradition must hold you back (look to the Future, they will say); no loyalties to
your home, to the place of your memory and your belonging must interfere (you can be a
Jayhawk anywhere, they will say); no sentimental attachment to those who have
befriended and loved you can count (think of all the diverse experiences you will miss,
they will say).
I say, resist! Resist the spirit of the age. It does not have your welfare in mind. Cast
down your bucket.
If you do, they will say you are crazy, or foolish, or worse. You will be a heretic in the
church of convenience and exploitation and false freedom which feeds at a trough of
waste and ruin.
Remember and take heart from the words of the poet farmer Wendell Berry:
To be sane in a mad time
is bad for the brain, worse
for the heart.
And this:
As soon as the generals and the politicos
can predict the motions of your mind,
lose it. Leave it as a sign
to mark the false trail, the way
you didn't go. Be like the fox
who makes more tracks than necessary,
some in the wrong direction.
Let me take time out for a short war story, one that, I confess, gives me great pleasure.
For you may be thinking right now that, geez, this guy is a real downer. He wants me
stuck in some backwater the rest of my life. Nothing could be further from the truth! It
is my hope tonight, if nothing else, to at least awake within you a glimmering possibility.
What if maybe, just maybe, it is they who are stuck in a backwater of their own delusions
and that the real adventure lies at your very feet—wherever they happen to be?
As many of you know, I had the privilege of serving as the lead
attorney in what was one of the most important courtroom battles over abortion in many
years. At the crux of the case was whether laws restricting abortion could ever actually
be enforced. My client was a man named Phill Kline, the former Attorney General of
Kansas, and arrayed against him were the whole forces of the abortion industry
nationwide and virtually all of the powers of the State Government. We had been
ordered by the Kansas Supreme Court to a secret trial which would end up stretching
over several grueling weeks, and during which, many of the most powerful men in the
State would be called to testify. Suffice it to say, this was a big deal, and was being
watched closely by activists across the country, by the major national media outlets, and
by the United States Congress.
At the first conference of all the lawyers before the judge, the other side was represented
by eight or nine lawyers, some from the State, and several from both New York and
Washington D.C., brought in to this troublesome little state in fly-over country to protect
the abortion industry. On the other side was me. Upon passing out my card which
identified me as a lawyer practicing in Perry, KS (if you don't know, Perry is a little town
of 900 people just north of here—just a few miles from my ramshackle fences and failing
farm), one of the big city lawyers turned to his colleague and said with more shock than
condescension in his voice, "Where the heck is Perry, Kansas?" Only he used more
colorful language.
Cast down your bucket! I promise you, they'll never see you coming. Such a creature
cannot exist in the impoverished realm of their imagination.
I have heard that only two things are certain to happen at a graduation. First, the
graduation speaker will speak, and second, the graduating class will stop listening at
some point. So let me conclude with one last truth that I have arrived at about the human heart.
What is the most important characteristic for resisting this spirit of the age, as I've called
it?
Many things are necessary—courage certainly, strength, patience—but most important,
and I have hinted at this already, is love. Specifically, it is to love the world and your life
in it. "This world has a spiritual life possible in it," wrote the moral philosopher George
Santayana, "which looks not to another world but to the beauty and perfection that this
world suggests, approaches, and misses."
The world and your life in it are not yours. They are a gift—wholly gratuitous and
bountiful. They are not that kind of thing which begins as a gift and becomes yours once
given—instead they bear within them the enduring character of givenness, given to the
point of being so basic that their grace cannot be fully wiped away, even from the hearts
of those who turn against them. You are wholly dependent on this grace of givenness.
From these headwaters springs love.
Love for your place and its beauty and heartbreaks and strands of memory; love for the
people and customs of your place and their brokenness and the sheer glory of their
existence. And love for your life in that place—note, I did not say love of yourself, but
of your life; and by extension, the lives of those around you. There is no wealth but life,
said John Ruskin, and your life lies at your feet.
Cast down your bucket where you are!
And where and wherever you are will be full of its own particular version of humanity's
one song—a chorus of sin and rot and suffering and pain, and hope and joy and
triumph. You must learn to love both.
The Greek Gods were said to envy men their mortality. You have studied Homer, I am
sure, and if you recall, in Homer's Odyssey, Odysseus faces many trials as he is returning
home after many years away at war. The final trial Odysseus faces is his encounter with
the beautiful Calypso who offers Odysseus immortality if he will stay with her as her
lover. Wendell Berry writes that the reader of Homer's Odyssey knows—"as Odysseus
undoubtedly does also—the extent of his love for Penelope because he can return to her
only by choosing her at the price of death." On his return Odysseus must have felt the
thrill and the pang of knowing that Penelope was more beautiful in that moment than she
had ever been, or would ever be again in this life.
The Greeks understood that all things pass away, and that this is what makes life
infinitely sweet. The poets have always understood this truth as well. "Leaf subsides to
leaf" and "dawn goes down to day." Or another: "Time hurries on, and the leaves that
are green turn to brown." There is a sweetness that is nearly unbearable in those words.
You, at this very moment, with new faces turned towards the world, are as fresh and
eager as you will ever be. If you don't know this now, I assure you that your parents do.
And we can only know this because, like Odysseus and the poets, we understand that
time hurries on and leaf subsides to leaf and everyone owes a death. It is a sweet
understanding laced with a sadness that is itself, a species of sweetness.
Saint John, exiled on the Island of Patmos at the end of his life had a vision of the great
marriage feast after the end of time when Christ would call his Bride, the Church, home
to him—the wedding supper of the Lamb. The sweetness of mortality is bearable
because the Greeks didn't know the end of the story, that there was one coming who
would, after the end, make new all that has passed away.
So cast down your bucket where you are. Understand that you are graced. Learn to love
the sweetness of a world that is passing away—a world that suggests yet misses
perfection. And persevere through the tragedy with faith in the comic finish of the
marriage feast when yes, all things will be made new.
So I wish you and each of your hearts the bounty of every flourishing in this life, and
God's blessing now, and in the everafter. Thank you.