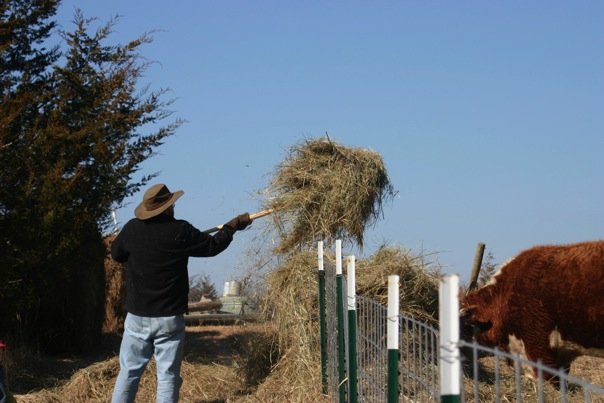 Drilling with the Pitchfork (photo by AMS)
JEFFERSON COUNTY, KANSAS.  The call came from the neighbor yesterday at about four in the afternoon.  Your cows are out.  Damn! 
I was just leaving the courthouse, having wrapped up another day dealing with the aftermath of other people's stupidity.  They say my work is recession proof.
After ditching the monkey suit I was out breathing April's last gift—her free air!—set on wrangling the offending beasts.  The fields were a swamp from heavy rains each of the past three days.  The grass in terrible shape.  These pastures began as a reclamation project after years of neglect and lost top soil.  (When we bought the place, I found a large cache of automobile fuel tanks and rusting fenders and bumpers from old Fords and Cadillacs in the woods.  The neighbors assure me my property is the heart of what was once the biggest pre-war era chop shop in the county.  This fact has proven invaluable during nighttime ghost story sessions while camping in those woods.)
What really irritates me, though, is that I have only made things worse.  I failed to adequately clear the land of the water-sucking invasive-species plague of cedar trees.  I was over eager and put too many animals on poor ground and after a few years it has been overgrazed nearly to death.  The fence I built is a failure, as the cows have been getting out all spring, seeking better grazing. 
But now here is the runaway.  She sidles up to me like the good old girl she is and bellows.  I confess I love this rundown place in this rundown world.  It has settled into my bones, my heart.  It's nothing special if viewed from the outside, but I know better.  I love making the short drive from the county courthouse and its daily drama of intermingled lives and cares, loves and hates, illegal feuds and illicit frolics to the homestead and its quiet romance–its promise of dying to life everlasting–the drama of eons. 
I have to smile as I think—still dealing with the aftermath of stupidity.  This time, my own.  This is the lesson of today, and everyday.  I embrace it, for it is forever renewable.  Recession proof.