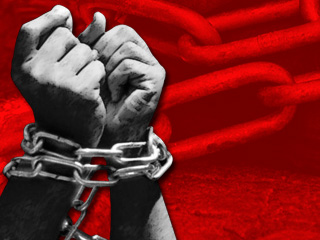 Difficult economic times force people to confront the problem of economic security. In fact, it's easy to imagine that, in an ideal world, economic insecurity would be a thing of the past. With that worry gone, we could spend our days pursuing things that are really important, like playing with the kids, helping a neighbor fix his fence, or watching television. In short, if we were guaranteed economic security, we would be free at last. But is that true?
In his 1913 book, The Servile State, Hilaire Belloc threw down the gauntlet:
If you were to approach those millions of families now living at a wage, with the proposal for a contract of service for life, guaranteeing them employment at what each regarded as his usual full wage, how many would refuse?…Such a contract would, of course, involve a loss of freedom: a life-contract of the kind is, to be accurate, no contract at all. It is the negation of contract and the acceptance of status. It would lay the man that undertook it under an obligation of forced labor….It would be a permanent renunciation of this right to the surplus values created by his labor. If we ask ourselves how many men, or rather how many families, would prefer freedom (with its accompaniments of certain insecurity and possible insufficiency) to such a life-contract, no one can deny that the answer is: 'Very few would refuse it.' That is the key to the whole matter.
Belloc thought that the ownership of property, of capital, was an essential counterpart of freedom, for apart from property, insecurity would be prevalent, and a nation of chronically insecure citizens will eagerly forfeit their perilous sense of freedom for the real security provided by government largess. How many Americans today would refuse the offer of a lifetime contract with good a good wage but no option to leave? Would you?
According to Belloc, citizens who do not possess some property are not economically free. They are, though, politically free insofar as they have the right to vote. This property-less class will express its deepest concerns at the ballot box. Because they realize their own insecurity, they will, not surprisingly, vote for the candidate who promises the greatest security. The desire for security is understandable. The willingness to exchange freedom for security demonstrates how far the taste for freedom has eroded.
Is it any wonder, then, that Presidential candidates fall over each other making promises to create programs that appear to increase security? The candidate will win who is considered most genuinely able to deliver the goods. This is one important reason that the welfare state has proven so difficult to reverse. It creates property-less dependents. Such people, naturally, want security without pain. It is no wonder, then, that what were once the traditional positions of Democrats and Republicans have resolved into a ludicrous and, ultimately, unsustainable position. The Democrats were typically characterized by a philosophy of tax-and-spend. Yes, they were for more social services (to provide security to the property-less) but they were willing to raise taxes to pay for the programs. The Republicans, on the other hand, traditionally spoke in favor of reduced taxes and a corresponding reduction of services. We have reached a curious situation where both the Democrats and the Republicans have won. Yes, the public expects more services, and both Democratic and Republican candidates seem to agree (if they differ it is only by degree), but the public also believes that taxes should be reduced, as evidenced most recently in the 2008 presidential campaign where both candidates boasted that their plans contained the highest tax reductions. Increased spending and decreased revenue leads to skyrocketing debt, and that is what we have: a welfare state drowning in red ink.
Property-less citizens will use their political freedom to achieve security and the price will be economic sanity and a steady increase of government power and scope. Property is essential to freedom. Without it, there may be social security, but even that will prove less than secure. Belloc anticipated the rise of  what he called the servile state. Today, in the name of security, a new kind of slavery is being born in America, one far more subtle than chattel slavery, for the bonds are voluntary. As a consequence, even though the outward trappings of this new form of slavery are muted, the degradation of the nation's soul will be profound.