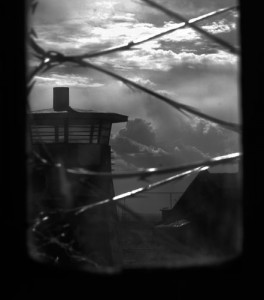 Claremont, CA. Wendell Berry, writer and farmer and hero to the people, might move from the farmhouse to the big house.
Speaking at one of the USDA's National Identification System (NAIS) "listening sessions," Berry told the crowd that he would go to jail if the NAIS – the "animal ID" program – becomes law.
"I understand the principles of civil disobedience, from Henry Thoreau to Martin Luther King," he told the assembled USDA officials. "If you impose this program on the small farmers, who are already overburdened, you're going to have to send the police for me. I'm 75 years old. I've about completed my responsibilities to my family. I'll lose very little in going to jail in opposition to your program – and I'll have to do it. Because I will be, in every way that I can conceive of, a non-cooperator."
Electric words, for a decidedly nonelectric cause.
I'm not going to go into the specifics of the NAIS – and the massive opposition to it – because Jerry Salyer has already done that dirty deed, and with great panache. If you're interested, you might also read descriptions of the NAIS offered by the USDA and NoNAIS.org, respectively.
Instead, I want to pick up on Berry's language of "civil disobedience." (So far, as far as my search of the archives can discern, not a single person has uttered those two words on Front Porch Republic.)
Civil disobedience, Hannah Arendt argued, is a particularly American tradition – part of a broader tradition of voluntary associations which are the "specifically American remedy for the failure of institutions, the unreliability of men, and the uncertain nature of the future."
Reading Alexis de Tocqueville's description of voluntary association – "the citizens who form the minority associate in order, first, to show their numerical strength and so to diminish the moral power of the majority" – Arendt saw the logic of civil disobedience.
While our shorthand descriptions of civil disobedience usually take the form of reference to specific individuals – think of how Berry invoked the singular figures of Throreau and King, or how I invoked the singular figure of Berry himself to begin this piece – Arendt emphasized that civil disobedience is properly understood as a communal activity.
"The civil disobedient is a member of a group," she wrote, not an "individual lawbreaker." Civil disobedience is the activity of "organized minorities" whose joint and public action allows them to be seen from afar.
It's worth noting that the opposition to the NAIS began with little fanfare – no celebrity endorsement, no kick-off gala, no campaign fund, and certainly no corporate sponsor – about half a decade ago. Since then, the movement against mandatory animal identification has strengthened through organization – not to mention lots of relentless, principled speech from a lot of relentless, principled people. (You can find some really inspired lines in two New York Times articles on the Animal ID program from 2006 and last week, respectively.)
Howard Dean has gotten lots of credit for being the grassroots guru of the internet millennium, but I think that award should in fact be shared by the many small farmers and activists who have opposed the NAIS from the beginning. In only a few years, they have spurred broad awareness of and opposition to this program, though they are separated by vast distances and have lots of other things to do – like, you know, run farms.
Although many of the farmers opposing mandatory animal tagging speak in the language of self-interest – many small farmers are worried that the program will run them into bankruptcy – the opposition to the NAIS has been driven by deep political and communal commitments.
Berry's recent words testify to that. "I'm willing to go to jail to defend the young people who, I hope, will still have a possibility of becoming farmers on a small scale in this supposedly free country," he told the crowd in Kentucky. In other words, Berry understands his willingness to go to jail not only on his own behalf – to keep his conscience clean, say – but also on behalf of others. That makes his a disobedience of the most civil sort.