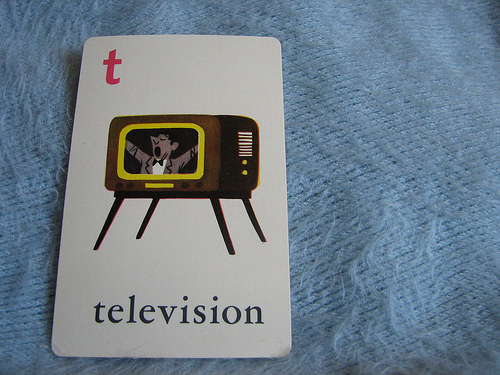 Claremont, CA. I am not ashamed to admit it: I like television. I think television is important. I think television is worth watching. 
Oh, I know all the objections. Television makes people fat. Television makes people stupid. Television makes people unhappy.
Yeah, yeah, yeah. I still watch television.
As a teacher, I watch television because it helps me connect with my students. Watching the same shows that they watch gives us something to talk about, something to share, some demonstrable common interest outside the classroom. I love the Friday mornings when students show up at my office, excited to talk about what happened on last night's episode of "The Office" – and we end up talking about much more. I love the fact that in one conversation about "Wet Hot American Summer," a student and I began discussing ideas and concepts that not only became the basis for her very sophisticated thesis on American political culture, but also transformed some of my own thinking.
Television gives me a better sense of where my students are, and where they're coming from, and what ideas occupy them, than just about anything else.
Part of that is because television is one of very few things that most of my students have in common with each other, particularly before they get to college. They come from different states, with different ethnic backgrounds and socioeconomic positions and religious affiliations (if they have religious affiliations at all). There is almost nothing that they have in common, except SAT scores and certain television shows.
That makes it challenging for me, in front of a classroom, to find common reference points. And when you're a teacher you need common reference points – to help illuminate or illustrate particular arguments, to prove the relevance of certain ideas, to provide the class with some sense of cohesion. And it's really hard to make jokes without common reference points.
So besides turning to Harry Potter, Facebook , and everything I read in US Weekly (other great common reference points of the day), I turn to television.  And it turns out that Michael Scott can illustrate what Edmund Burke is all about, and the central question of "The Real World" is one of the central questions of American political thought, and my students will still make independent thematic connections between my lectures and "South Park" even though that show's been on for years. I am sad to be on sabbatical this year, if only because by the time I return to teaching all the "Jon & Kate Plus 8" drama will be played out, and Lord knows what I could do with that.
In the bigger picture, having some familiarity with what's on television is essential for keeping track of popular culture and opinion in contemporary America. It's always been easy for intellectuals to lose track of the public, but it's easier than ever in a country where the gap between the cultural elite and the rest of the country grows every day.
If you don't understand what people are talking about, you doom yourself to political irrelevancy – to a political fringe where you end up in self-enchanting circles of conversation that stand little chance of engaging and understanding (much less persuading) your fellows. And people derive a lot of what they talk about through television.
This is all aside from the fact that a lot of stuff on television is good: intelligent, thought-provoking, funny, complex. These days I always think of "The Office" first, but I could also point to "Big Love," to "Dexter," to "Weeds." I'd be willing to make the case that all of those shows are not only interesting, but also damn entertaining.
I'm also grateful for shows like "Veronica Mars," a terrific series that many of my current students watched in high school, which feature teenagers who are seriously engaged with politics and political questions. ("Veronica Mars" is among other things a tale of downward mobility, and one of the major storylines of the series is the attempt by the richer part of the town to separate – segregate – from the poorer. In one scene memorable to this politics professor, Veronica goes to the polls and votes against the separation ordinance, explaining her logic as she does.)
Now, I'm not making the case that a life spent in front of the television is the good life – or that to be an engaged citizen you need to watch hours and hours of television or have cable or a satellite dish. (For the record, I don't: Between DVDs and network websites, I can watch just about everything I want to watch.) As in all things, moderation matters.
Turning on and tuning in does not have to mean dropping out.