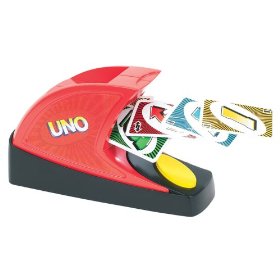 Coeur d'Alene, ID. One evening our family and two cousins were playing Uno. It's a simple game requiring nothing more than a deck of Uno cards. We've played this game for some years, and the boys enjoy it. When things began to feel dull, we invented interesting new rules to spice up the game.
When we finished, one cousin, who is eight, remarked that "I like the machine Uno better." As it turns out, the creative minds at the Uno Company realized that selling a deck of cards is pretty limited. Why not improve the game by adding an electronic card dispenser that spits cards out in random quantities? This card dispenser is made of plastic, require batteries, and (best of all) cost much more than a measly deck of cards. Presto! Increased revenue potential.
Now I am certainly not against innovation as such, and I like a new and improved game as much as the next guy, but something about this bothers me. Perhaps at root I am troubled by the fact that a perfectly satisfying non-problem was turned into a problem and then solved in a way that actually creates more problems. Here's what I mean.
The new and improved electronic version of Uno emits twittering sounds, has blinking lights, and spits out cards with reckless abandon. It delights and stimulates those who huddle around it. The gadget becomes the center of the game. This is quite different from the simple and old-fashioned card game where the cards facilitate a game where the participants are the primary object of attention.
I suspect the reason my nephew expressed his preference for the machine Uno is that, by comparison, the basic card game is, well, boring. It consists merely of people playing their cards in turn. If they can't play, they draw a card from the deck. All very pedestrian. And as I said, players can always employ their native curiosity to make new rules to alter or improve the game. But even with that, was boredom the primary feeling for all Uno players prior to the machine? That it remains such a popular game suggests the answer. Yet, once the machine has been adopted, going back to the traditional game seems like a step backward into the shadows of partial pleasure. But, so what?
Well, for one thing, the machine Uno makes us dependent in a way that we were not before. If going back presents us with the specter of boredom, we find ourselves now beholden to the machine to relieve the tedium we dread. But the machine requires batteries, so we are now dependent on an energy source that requires periodic replacement. When the batteries die, we must either purchase new ones or be cast back into the world of boredom. When the machine breaks, we must purchase a replacement and throw out the broken item. More consumption, which, we are told, is good for the economy. More trash, which we intuit, must be bad for something.
It seems to me that dependence also arises by virtue of the fact that our ability to satisfactorily entertain ourselves is attenuated. We now need the interposition of a gadget to accomplish what once we did on our own with the help of our friends and family members. In short, the imagination of the players becomes dependent in a way that it was not prior to the innovation.
The glitzy stimulation of the machine (even one as modest as the Uno game) conditions its users to expect entertainment to be accompanied by electronic sights and sounds. It establishes an expectation for content that a machine can readily supply and a pace that only a machine can maintain (until the batteries die). Ultimately, this makes us less patient with that which is not wired for sound and flurry. It surely makes children less capable of, for example, sitting still to listen to the story of an elderly person. The elderly naturally desire to tell their stories. Children are naturally suited to listen. But children whose expectations have been formed by the stimulation of modern gadgetry are ill-conditioned to endure the pace of a story told by a grandparent. They are less capable of imagining the context of a narrative without the aid of electronic devices. Hence, the natural affinity between child and grandparent is broken, and an important means by which knowledge is passed from one generation to another is lost.
Finally, the sights and sounds of electronic gadgets, when constantly employed as prosthetic devices to facilitate entertainment, draw us further from the sights, sounds, and pace of the natural world and increasingly into the warm bosom of the world of artifice. Richard Louv, author of Last Child in the Woods, quotes a child who remarks that "I don't like going outside because there aren't any outlets." Indeed. The natural world can only be meaningfully encountered on its own terms. It requires submission to standards that are different from the world of gadgetry. It requires a willingness to countenance silence. To encounter subtle sights and sounds that cannot be seen or heard above the din of our artificially induced stimulation. It requires of us the willingness to encounter our humanness in the context of a reality created by God and one that, if we attend carefully, points us to mysteries beyond telling.