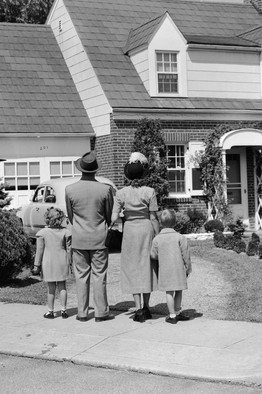 Devon, PA.  Thomas J. Sugrue's new article in the Wall Street Journal proves considerably more nuanced and insightful than its headline and summary suggest.  Sugrue, an University of Pennsylvania historian, sketches in brief his history of home ownership and the government administration, promotion, and subsidy thereof in America.  Based on its contents, and drawing on some recent essays printed in FPR by Allen Carlson and John Médaille, we might offer these points for consideration, rather than indulging the sensation of scandal the WSJ might prefer us to feel at the prospect of renting becoming the "new American Dream."
1.  Sugrue pointedly distinguishes between traditional rates of home ownership in the United States, in France and Germany, and in Spain and Italy thus:
Some countries—such as Spain and Italy—have higher rates of home ownership than the U.S., but there, homes are often purchased with the support of extended families and are places to settle for the long term, not to flip to eager buyers or trade up for a McMansion. In France, Germany, and Switzerland, renting is more common than purchasing. There, most people invest their earnings in the stock market or squirrel it away in savings accounts. In those countries, whether you are a renter or an owner, houses have use value, not exchange value.
This is not a new distinction, but it certainly is a vital one.  Tocqueville observed in Democracy in America that the American restlessness, the constant pursuit of money because of the insecurity and evanescence of family fortunes in an intensely liquid capitalist, industrial society, saturated Americans' practices of farming and property ownership.  To a lesser extent — rather than a greater — than older and more traditional societies, Americans cherished the stability, autarky, and intergenerational continuity of property ownership.  In an age when most agriculture was still subsistence agriculture, Tocqueville saw that Americans had managed to huckster farming into a short-term investment scheme; the American farmer might buy a patch of land, cultivate it for a few years, and, once the rocks had all been removed from the fields and the land turned to good account for a few seasons, that farmer was likely to sell it off and move away.
Let us not, therefore, pretend that there is a deeply rooted ethos of ownership in America; the main tradition in our culture was conceived on wealth, not on property, and on "booming" not on "sticking" (to give Wendell Berry his two cents).  Tocqueville rightly found the sight vertiginous, a threat rather than an achievement in the first modern nation.  He correctly predicted it would aid in the creation of an elite plutocracy and the barbarization of the great masses.  Our culture seems even now to have a weak conception of what ownership and property really mean, and indeed this misconception contributed substantially to our present depressed economic condition.  The belief that housing was a financial investment, rather than an investment in a family's long term stability and rootedness, led to a conception of property as measurable in terms of wealth.  But homes cannot be measured in terms of wealth primarily because, first, they cannot consistently and perpetually accrue in monetary value and, second, they are by peculiarly illiquid assets — which suggests they should not be thought of as assets in any case.
2. What if we had viewed — what if we did now view — ownership after the Italian and Spanish way?  What if we saw, in other words, home ownership as an instrumental good, but as an instrumental good whose ultimate bonum honestum was the founding, cultivation, and preservation of a household across generations, rather than the cash that the liquidation of the property will bring us?  Only a society that confuses wealth with property could even need to ask such a question, since by its very essence money cannot be a bonum honestum; it becomes meaningless as soon as it becomes its own end, and the sensation of avarice is not merely a vice but a sort of psychosis, in which the soul becomes self-enclosed upon its own appetite, and the cure for which is to realize, again, that wealth is not property.  In itself, viewing home ownership thus would transform the entire structure of our society, because it would reduce the conception of economy as the vast network of capital-mediated exchange, and restore the concept of economy as the care of the oikia (a classical conception Mark Shiffman and Patrick Deneen have ellaborated).  It would recognize that life in this world is fragile and finite, but that, because of our intellects and souls, it is naturally oriented toward the immortality of historical memory and the eternity of God.  The home gains rather than loses importance when we remember we have souls.
3. Architecture and the domestic geography would be the most obvious signifiers of this reconception.  What kinds of homes would be built if owners, architects, and lenders alike presumed the purpose of home ownership was to provide, well, a house owned by its occupants and owned for a lifetime or more?  Something they would not "trade up," but which they could sustain and retain, reversing thereby the three-centuries-long trend toward the expropriation of most human beings?  We might call this the Jimmy Stewart theory of home finance; as he put it in It's a Wonderful Life, all the members of his savings and loan wanted was "a coupla lousy rooms" all their own.  Had lenders been building twins and terrace or row houses with good front porches and sizable backyards in urban areas; had they been building small detached homes with room for good gardens and in walking distance to the places necessary for commerce and society; had they built with an aesthetic and material eye to durability and long tenure; had they been building, in other words, significantly more modest, sturdier homes with an over all greater density of population per block, and a greater attention to the other things necessary to a domestic economy, our newspapers would be having a different conversation right now.
It is perhaps hard for someone in New York or other major metropolitan areas to understand this, but in the vast majority of rural, small town, and semi-urban areas, the difference between the monthly payment on a mortgage on a three bedroom house (attached or detached) and the monthly rent on a three bedroom apartment is not all that great.  If fewer families' home purchases had been distorted by bad lending practices and the assumption that a home has to come, as it were, ready for re-sale, many more would be sitting comfortably (if cozily) in their living rooms right now.  Ownership must be formed on modesty and frugality rather than a wild leap on the bet of limitless financial horizons. (As someone who used always to ask for the "student discount" at my local diner, in order to save $0.11 on my order of rice pudding, I feel all things, even dessert, should be informed by frugality).
4. Although the full details of the real estate and subprime crisis are messy and not conducive to summary prescriptions, we know already that it was not primarily the number of persons to whom mortgages were granted, but the above-noted home-investment culture and its lending structure itself that begat an age of foreclosure.  Too much was loaned to too many for houses that were too large and too optimistically assessed: homes built cheaply and, consequently, over hastily; homes built to be be sold, sold, sold, and demolished.  The subprime loans were exploitive, since lenders relied on the incompetence of their clients; I would not want to make a blanket defense of ownership for all persons, but surely there was a broad category of borrowers who were capable of making sound financial decisions, but did not simply because they were given dubious information — information they interpreted within the matrix of a widely shared and destructive conception of what home ownership means.  The chopping up and marketing of mortgages as securities was also exploitive, (at the very least) insofar as it was founded not on the idea of diffusing and thereby minimizing investor risk, but in simply passing it down the line so that it became less rather than more likely that an investor would understand the nature of the risks he was assuming.
5. Realtors are fond of insisting that "every market is different," and that prices vary from area to area, but it is clear the "placelessness" such a statement implies is a double source of the real estate evils of our day.  One thinks so "globally" only when homes are primarily conceived of as investments; one thus thinks in this manner when it is the fungibility rather than the stability of the home one regards as essential.  Further, one can think in these terms only when mobility — above all, job or career mobility — is thought unproblematic.  As Sugrue hints, one facet of the housing crisis per se, as well as the long crisis that is life in a deracinated capitalist system, is the perpetual mobility of Americans in pursuit of their next dollar.  Home ownership can and should only be desirable to those who understand it as at once the cumulative and foundational symbol of a commitment of a particular community.  If career and financial opportunities become the true end Americans chase, they can have little hope of putting down the kinds of roots that relatively illiquid home ownership entails.
Only if we are willing to conceive of the place we are born, or at least the place we now live, as something to which we belong and to which we owe a certain fidelity, could we reasonably think home ownership a cultural good rather than a systemic inefficiency.  (Home ownership is the blocked artery of global capital).  And to think that way, frankly, you have to be capable of saying, "I would rather change jobs than change locales.  I would rather do what my local economy and culture allow than join the fluid and homeless stream." (If you are a cultural fallout of the 'Seventies, try saying, as a self-esteem exercise in the mirror every morning, "I shall not envy the deracinated meritocrats!" and "I shall not fawn over visitors from Boston, because they come from a 'real place' unlike Celina, Ohio!").  Such a statement is incomprehensible to econometrics, but there is no person who does not sense in his soul the decisiveness of this crossroads of economics, anthropology, and theology.  Again, I insist, all of us feel it, and many of us set it aside just as our ancestors in the Nineteenth Century set faith and theology aside as a matter of "sentiment" and "fancy."
6.  I underscore with a separate point the pith of the previous: commitment to a home as property is tied to a commitment to domestic and local economy.  Home ownership is superfluous, even dangerous, if not conceived as the necessary neighbor of one's work and place of work.  This means communities should be more selective in how they solicit investments and the attraction of business and industry, working to ensure that those investments are coupled with long-term commitments.  The illiquid nature of home property thus impinges necessarily on assumed liquidity of business, just as, at present, the obscene mobility of business capital impinges upon the power of families to establish stable households.  Myriad implications spiral out of this: the reassertion of local control over commerically zoned property, the creation of entrance and exit costs of businesses, the proper treatment of business mobility as a liability for everyone but the most distant investors.
7. Let us eliminate the large lenders whose size and organizational complexity turns a home loan into a matter ajudicated in Washington, D.C., and bartered in New York City; let us consider doing to ourselves what our better spirits do in the third world: reconfiguring lending in general on a local, even micro-finance, scale.  As I have argued elsewhere, in the short term, this will probably reduce the total number of home owners but will strengthen their security and longevity and will, in turn, serve as a foundation for the cultivation of lasting and richer communities across the country.  The experience of Spain and Italy suggest that, long term, we may actually expect a higher percentage of home ownership increased by the gain in stability.
The brevity of Sugrue's article makes it hard to conceive of any alternative besides either a country of renters or a country of tenuous home owners whose mortgages are legislated and secured by "Uncle Sam."  But how about, at the least, reducing the scale of the lending industry to the size of states (or to an even lower level), where risks and benefits can be gaged more responsibly?  We might, further, work home ownership into local and state tax structures; as Jeremy Beer has suggested, it may be in a community's best interest to structure property taxation on a schedule that rewarded long tenure, as it may also be in the interest of communities to tax in a way favorable to those who live and work within the borders of a given locality.  Such ideas are fanciful only because the great bulk of our tax burden flows to the Federal government, which then redistributes it across the country as a whole.  A placeless policy of taxation for a placeless people — which would be fine if only human beings did not have to live and die somewhere instead of anywhere or nowhere.
Free enterprise and a free market are wonderful things so long as they are no less tied to the concrete circumstances of place and community than human beings, when they are flourishing human beings, are.  I almost agree with Sarah Palin that state lines are "artificial"; they circumscribe far too vast a territory for the eye to survey.  So let us set our sights a bit lower, upon the natural boundaries of our communities, and treat them as the foundations of good limited government.
8. All this will lead to a certain state-to-state inequity, of course, because God and Nature alike make choices of love and fortune.  The sooner we suffer such inequities gladly, the sooner we shall each get back to understanding what local self-government means and why its burden is a leaven.  My suggestions also apply much more naturally to suburban and rural parts of our country; but I do not want to suggest prudential solutions for all people in all places, only to make it possible for local communities to practice the virtue of prudence once more.  Barney Frank is incapable of serving as the conscience of a country.
8. Smaller houses financed by smaller lending structures regulated by localized administrations shepherding naturally limited commual areas: such a program would impose, insofar as such things can be imposed, the conditions, the "necessity," that encourage the virtue of long-tenure property ownership whose loves are for family stability and commitment to local community.
This would seem very un-American; it would appear rather Italian, even a little bit Spanish.  Happily, it is not the least bit French, as Sugrue verifies.  And it would be the first act of repentance for the real Original Sin of the American founding, where our forefathers sought to triumph over the determination of soul to body, of man to family, of family to home, of home to community, and of community to place.