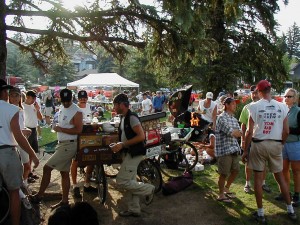 My father in-law, Ron, tells me a story of what life was like when he moved his young family (my wife not yet born) to the bucolic Southern California college town of Claremont in the mid-1960's. Life was simpler then: "dry town" simple, take your garbage to the dump simple. It was the confluence of these two conditions that provided the basis for an interesting local custom. With the town dump located just outside Claremont's boundaries, Ron quickly learned that the weekend trip with the garbage was rarely made without young kids in tow, and a six-pack or martini-shaker. It was a weekly neighborhood cocktail party. After busy weeks these excursions provided the rare opportunities for these young professionals and their families to connect with the help of that great lubricant for community building: alcohol.
But some times, simple is not good enough. Within a couple years, the city government decided that they had enough of this frontier existence.  A measure was passed that provided curbside garbage pick-up. My father in-law remembers most clearly the sound of clinking liquor bottles in the garbage bags his neighbors walked to the end of the driveway. The former large group gatherings with kids were replaced by smaller, formal, adults-only get-togethers. The weekend congregations were placed in the garbage can of history. In the building of community in Claremont, ease proved to be the enemy of simplicity.
Our friends in the "dismal science" coined the phrase "crowding out" to describe the process by which government spending "crowds out" private sector (non-profits, individuals, business) spending and investment. The measure is purely financial as either directly (government services supplant private sector offerings) or indirectly (government spending drives up interest rates, reducing private sector investment). One wonders when some bright young economist will analyze the loss to community due to government intervention – there could be a Nobel Prize in it for her. There was for Gary Becker. His research on the approximate subject of the impact of public policies – from no-fault divorce laws to Social Security (!) – on the most elemental community: the family, earned him that distinction in 1992. In his Nobel Lecture that year, "The Economic Way of Looking at Behavior", Becker concluded that "these developments [predominantly the growth of social spending programs] have generally made people better off, but they have also weakened the personal relations within families between husbands and wives, parents and children, and among more distant relatives, partly by reducing the incentives to invest in creating closer relations."
In previous centuries the elemental public policy question has been normative: what should governments do? The general reply – at least in the United States – was "as little as possible, and as locally as possible", leaving still glaring societal needs to be addressed by civil society and families.  Out of necessity (taxes were low and governments small) and mores, governing institutions more often played the role of enabling and promoting these intermediate institutions rather than supplanting them. In a recent interview for AEI's organ, The American, the godfather of "compassionate conservatism", Marvin Olasky, tells the story of Associated Charities in Boston at the turn of the 20th century, where an older widower had applied for support. Rather than just provide aide, the organization searched for (and eventually found) a family member that would take him in.  The result, as Olasky quotes from the tattered case file, was to rebuild relationship: "If there had been no careful investigation, the man would have received some bread but would have remained alone."
As the nation grew more prosperous throughout the last century, governments began to ask this same basic policy question in a more pragmatic way: what can government do? In recent decades, and in other (mostly European) countries, this query has been answered in the positive, as governments at all levels, but increasingly centralized in national capitals, have taken on greater responsibilities for a public that increasingly demands greater services. This has been a symbiotic relationship for both the individual and the government, but community-reinforcing frameworks from family to civil society have, in many instances, paid a heavy price.
This historic movement in the growth of government is, of course, a subject on which Tocqueville was prescient. But while he used the language of "schoolmasters" and "immense tutelary power"'s, it is the rhetoric of business that more aptly describes what has taken place over the last three decades particularly. The organization I work with, Common Sense California, consults with city and regional governments as they engage their publics around these role questions. What many of these local leaders tell me is that the private sector focus on things like "TQM" ("Total Quality Management") and "Customer-Centric Service" in the mid-1970's through the 1980's bled into the public sector. This new paradigm moved beyond the Progressive's "expert/uninformed masses" connection to a more enervating "expert service provider/expectant client" tension. Few have communicated more forcefully on this topic, and what it portends, than Northwestern University's John McKnight, who has written, "The service ideology [in governments] will be consummated when citizens believe that they cannot know whether they have a need, cannot know what that remedy is, [and] cannot understand the process that purports to meet the need."
Putting the "chicken/egg" question aside for now, at the same time city halls and state governments and school districts were implementing this new service "ethic", we, as citizens allowed our consumerist values to poison how we interact with our governing institutions. The highly respected City Manager of nearby Ventura, Rick Cole, uses the "vending machine/customer" metaphor to describe what has become the de facto relationship between citizens and their governing institutions. As Cole tells it, "the unspoken mindset of many of our customers (italics mine) is that local government is like a vending machine. You put your money in the slot and expect to receive the goods and services you desire." Instead of regarding our governing institutions as enforcers of laws and protectors of freedoms, which can be used to participate in civil society, we see an increasing dependence on governments as the sole service provider – taxes have become the bills we pay in transacting this business. "We the People", have become "We the Customers" – and yes, we want fries with that!
The costs to community from this process have been relegated to nostalgia, but as they have become fiscal, governments and citizens are being forced to review and change their relationship.  One wonders if the present national economic calamity, which has been caused in part by this "service ideology", might also be the "stimulus" for a new awakening in communities around the country, as our governments draw back from spheres they have recently come to inhabit. As Mayor Dennis Donohue of John Steinbeck's hometown, Salinas, recently told me: "The gap between service expectations by the public and the public sector's inability to deliver those services needs to be bridged."  This comes from a man who leads a city with a $20MM deficit, and incredible gang problems.
But "bridges" are built from both banks, and stories – some heart-warming, some breathtaking – from Maryland to Kauai demonstrate that, when left to their own devices by their cash-strapped governments, Americans still know how to use them. In all of these instances, the absence of government ignited community with face-to-face relationships built around modern-day barn-raisings – tremendous examples of self-interest rightly understood.
Through one lens this is a uniquely American dilemma, through another it is uniquely modern – even current. Our deficit-riddled governments – from Claremont to Washington, DC – wrestle as never before over questions about the roles they will play and the services they will provide. Tocqueville who famously remarked, "Everywhere that, at the head of a new undertaking, you see the government in France and a great lord in England, count on it that you will perceive an association in the United States." The aforementioned Cole believes that while we have moved from citizens to customers, we are not on a path to return to the "rugged individual" citizen status of the 19th century and earlier. Instead, we are moving into a new period of "customer-citizens".
After all, from driver's licenses to building permits to passports, we will continue to interact with some of our governing institutions as clients, expecting short lines and prompt service – even if we rarely receive it. Still, on a growing number of issues – ranging from education (charter and home-schooling) to public safety (neighborhood watches and church-based prisoner re-entry programs) to even some infrastructure projects (see Kauai story above) – citizens and governments are mediating a new relationship. One in which governments returns to their convening roles, and citizens return to communities founded in self-governance.
Pete Peterson is executive director of Common Sense California, a multi-partisan organization that supports citizen participation in policymaking (his views do not necessarily represent those of CSC). He also lectures on State & Local Governance at Pepperdine's School of Public Policy.