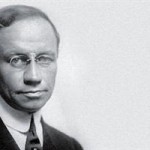 Almost lost among the bicentennial celebrations of Lincoln's and Darwin's births is the centenary of Herbert Croly's The Promise of American Life, a child of theirs and one of the truly evil books of the twentieth century. Not evil in the theological or even moral sense (although a case could be made for that, too) but in the older usage, from the Middle English evel, "overstepping accepted limits," "harmful" (as in evel laws), "pernicious," "destructive." His ideas especially harmed what was left of the American republic.
The Promise of American Life had a simple and compelling thesis. Croly's friend Walter Lippmann would later call it "the dominant dogma of the age." Croly's conviction was that government, national government, has the ability to make us happy. He believed that the Constitution was a living, growing thing, "capable of development chiefly as the instrument (my emphasis) of positive political ideas." National "purpose" trumped individual rights, locality, religion, and tribal heritage. Hard-headed planning by a "disinterested" elite would bring the "promise" to fruition.
The promise was what Charles Forcey called in 1961, describing Croly's impact on American politics, "The prevailing faith of most Americans" — democracy and equality. Since neighborhoods and congregations and (especially) families didn't seem to make us egalitarian democrats rapidly or completely enough, an instrumental Constitution interpreted by a strong national executive had to step in and complete the job.
As a political idea a strong national state with the power to make us all happy and equal was not particularly original. Marx had a better idea. But Croly caught the American Progressive moment, the instant that Alexander Hamilton, Ralph Waldo Emerson, Abraham Lincoln, Charles Darwin, Sigmund Freud, and John Dewey (and/or William James) all connected. We can also add the names of the English Fabians and the powerful mothers of feminism, Jane Addams and Margaret Sanger.
The late Robert Crunden got to the heart of Progressive faith when he discovered that almost all American Progressives were raised in Calvinist homes and, under the influence of some combination of the men and women of Croly's moment, lost their Christianity and replaced it with some form of what they thought of as "science." Democracy, activated through science, became what religion once was. Seeing a world that had changed so much since about 1850 — Henry Adams said that a boy born in 1850 was born closer to the year zero than to 1900 — and a generation that had conquered the night (electricity), geography (trains and automobiles and airplanes) and even nature itself, which was for the first time vulnerable to the whims and ambitions of human reason, Progressives had some grounds for their optimism about their belief in "mastery" as opposed to "drift," as Walter Lippmann put it.
But here's the interesting — and tragic — thing: Croly and all his fellow Progressives found that they needed to give up not only Christianity (Croly had no problem with that — he was actually baptized in the "Religion of Humanity"), but also the authority of tradition, locality, and family. In fact, they had to minimize, maybe even destroy, any authority that competed with the national state and its leaders. They had to make the national state the center of a new religion. They needed "democracy" and "equality" to be, as Crunden said, "far more than a form of government," but rather a "political structure having divine sanction," or as Dewey put it, the "means by which the revelation of truth is carried on."
The autodidact curmudgeon Albert Jay Nock called him "Crolier than thou." Edmund Wilson said that in an earlier age Croly would have founded a religious order. H. L. Mencken believed that he was one of the "kept idealists" of the new age. All of the Progressive publications (and many of the traditional ones) of the twentieth century needed keepers; in Croly's case the keeper was the family of Doris Whitney Straight, whose son Michael would become a communist casualty of the English Cambridge group.
Croly was the sanctimonious Progressive's progressive. He cofounded the New Republic with Walter Weyl and Walter Lippmann in 1914 and remained its guiding spirit until his death in 1930. One reads the first decade of the New Republic's issues as a Progressive archive. Croly wanted it to a primer of the "arts" as well as politics, but it turned out that everything was political, and that Progressives never produced any literature worth remembering. They couldn't; they had no sense of irony, and no sense of humor. In fact, there was no major literary figure of the Progressive century who was Progressive. Not one.
That some people who call themselves "conservative" look back with honor on Teddy Roosevelt, who acknowledged Herbert Croly as the first great political philosopher of the twentieth century, shows how evil The Promise of American Life was. Another Teddy, the journalist Theodore White, discovered in the 1950s that almost all stories worked their ways back to Washington. Homer, Aristotle, Aquinas, Dante, Tocqueville, and Russell Kirk would find that unfortunate.