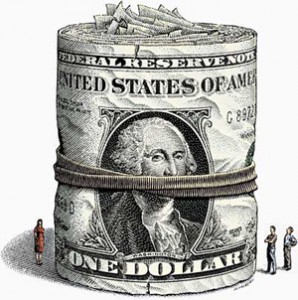 Kearneysville, WV. Things are looking up. According to the "experts" the global economy appears to be stabilizing. For what it's worth, the use of phrases like "economic Armageddon" are not being uttered with the frequency they were last fall. The world, which only months ago, was teetering on the brink of disaster is daring to utter a sigh of relief. The wise men, it seems, have saved us again. Soon everything will be back to normal. But we ought not uncork the champagne just yet. True, the Obama administration has injected an unfathomable number of dollars into the U.S. economy, but American citizens have yet to do their part. This from the Associated Press:
"The brightening outlook in Europe and Asia and the improvement in U.S. credit markets and indicators reflect heavy government stimulus spending. Many analysts question whether the top economies can sustain recoveries after stimulus measures and easy-credit policies have run their course—and in the absence of significant new consumer spending, especially among Americans."
Yes, Americans have committed a dizzying amount of money to the recovery, leveraging their collective future and, what's more, the futures of generations yet born. But there is more we can do. Nay. According to the experts, there is more we must do: Consumer spending must increase. To be sure, great numbers have flocked to the auto dealers to exchange their old cars for more energy efficient ones. But Americans, it seems, have thus far been reluctant to spend on items that, unlike the "cash-for-clunkers" affair, do not include a hefty tax incentive. It appears that Americans are trying to be more careful with their money. The threat of financial disaster has apparently produced a reluctance among Americans to consume with the same gusto as before.
But isn't saving good? Isn't living within one's means financially wise? Well, these ideas seem a bit old fashioned. Our brave new economy is predicated on one unquestioned axiom: growth. A healthy economy is a growing economy, and an economy that experiences "negative growth" is sick. This from the same Associated Press article:
"It's not clear that [Asian and European] economies can continue to move forward without stimulus," said Mark Zandi, chief economist for Moody's Economy.com. "And that's in part why stock markets across the globe are nervous. It will be difficult for other countries to pull out of recession until the U.S., still one quarter of the world economy, starts growing."
The world is depending on us to consume so that our economy can grow and, thereby stimulate the economies of the world. But, again, isn't saving a good thing? Doesn't saving (and the investing that accompanies it) provide capital for producers? This creates jobs, which provides disposable income and thereby frees up money to purchase more stuff and, in the process, drive the whole mechanism toward new and greater heights.
Everything hums along like clockwork as long as consumers consume. A wrench is thrown into the entire affair if consumers choose not to spend. And so, we find economists worrying that the genius of the stimulus is threatened by a reticence among Americans to open their wallets. This, of course, raises a whole set of further questions: what would happen to the economy if Americans began to barter for, rather than purchase, at least some of the things they need? What if neighbors began, say, sharing mowers, roto-tillers, ladders, and other tools rather than filling every garage in the neighborhood with same items? What if more Americans began growing some of their own food, making do with one car rather than two, eating at home, and generally attempting to live lives characterized by simplicity and frugality? If Americans are already beginning to make changes in this direction, are they recklessly threatening the economic recovery?
Growth is necessary for a return to a healthy world economy. But growth is threatened when people make alterations in their lives based on a recognition of limits. The obvious conclusion is unsettling given the axiomatic nature of the idea of growth. Perhaps, though, the idea of perpetual growth needs to be reassessed. The economist E.F. Schumacher's suggestively titled book, Small is Beautiful: Economics as if People Mattered, provides a helpful roadmap toward this re-evaluation.
Schumacher argues that the idea of perpetual growth is an error lying at the heart of modern economic thought. The idea of growth is attractive because it is quantifiable, but focusing exclusively upon quantity neglects the idea of quality, which would seem at least equally important. For example, the economist can measure the GNP and determine that it has grown, say, 3%. But the economist would dismiss the question as nonsense if one were to ask whether or not the growth itself was good or bad. According to Schumacher, "he would lose all his certainties if he even entertained such a question: growth of GNP must be a good thing, irrespective of what has grown and who, if anyone, has benefitted. The idea that there could be pathological growth, unhealthy growth, disruptive or destructive growth, is to him a perverse idea which must not be allowed to surface."
In other words, the vast majority of economists assume, as an article of faith, that growth is necessary and always good, but Schumacher points out an obvious problem: infinite growth in a finite environment is an obvious impossibility."[1] Given the natural resource crunch that many are predicting, given the issues of pollution and global warming that have recently come to the fore, the idea that infinite growth is impossible needs to be considered. But this, according to Schumacher, does not mean that we simply need to seek a cessation of growth. Even those few economists who agree that infinite growth is not possible, "cannot get away from the purely quantitative growth concept. Instead of insisting on the primacy of qualitative distinctions, they simply substitute non-growth for growth, that is to say, one emptiness for another."[2]
We need, then, to wean ourselves from the habit of favoring quantitative facts over qualitative facts. Instead, we must, according to Schumacher, subordinate the quantitative to the qualitative. We must first attempt to grasp what is good for human beings before we can determine whether or not some forms of growth are good or not. Of course, that requires hard work, much thought, and is susceptible to error in ways that simple quantities are not. Nevertheless, it is an enterprise that must be undertaken.
Schumacher continues by arguing that "from an economic point of view, the central concept of wisdom is permanence. We must study the economics of permanence."[3] What does that mean? Well for one thing, I suspect this means practicing the habit (or art?) of being satisfied. That is to say, we must be content with what we have. Perhaps it means resisting the siren song of consumerism and looking to intangible things for satisfaction, for "what is seen is temporal, but what is unseen is eternal." I think it must mean cultivating the habit of saving and preserving as opposed to profligacy and waste. One wonders what Lawrence Summers and the rest of the President's men would say to Schumacher's modest proposals.
Ultimately, we are faced with a choice. The economic wise men chide us to rise to the challenge. Americans, return to your profligate ways and save the world! But, according to Schumacher, another way exists; perhaps it is only dimly seen now, but we can find it if we seek it. We can make the choice to understand and pursue an economics of permanence. If we neglect this fairer way, we may one day find ourselves compelled to learn its lessons by dint of hard necessity.
---
[1]
Schumacher, 51. Italics added.
[2] Schumacher, 51. Italics in original.
[3] Schumacher, 34.